Yellow comfi Colors Crazy Monthly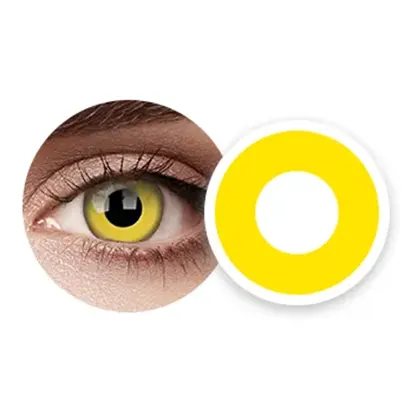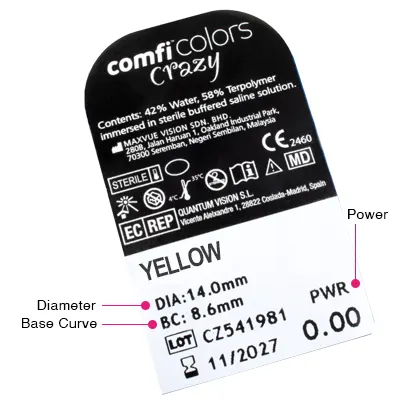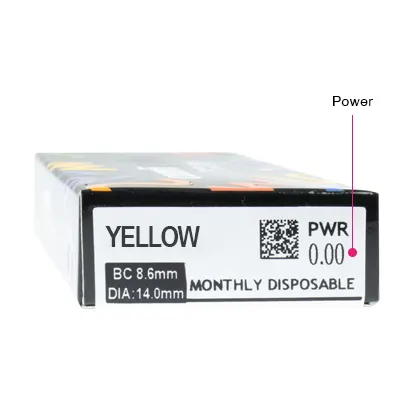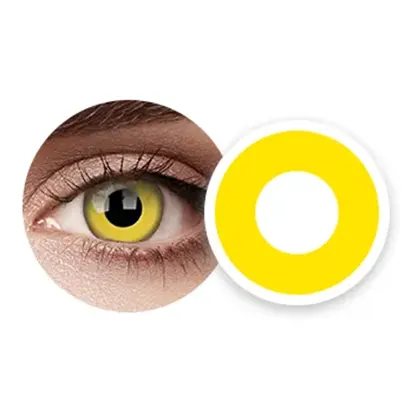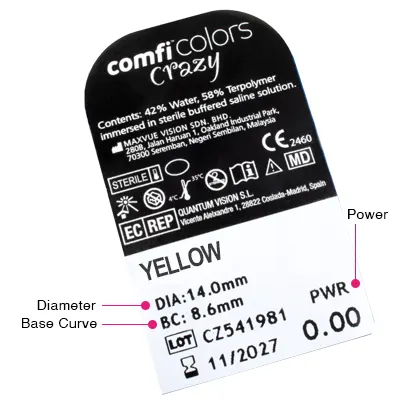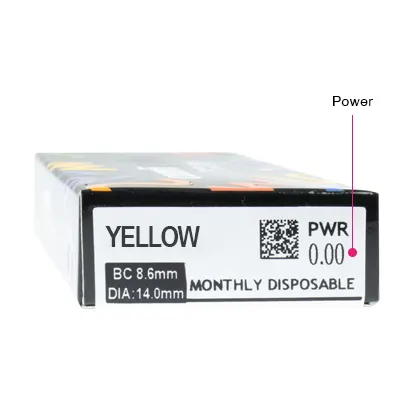 Yellow comfi Colors Crazy Monthly Benefits and Features
Available in 20 different styles
Made from hydrogel terpolymer
Reusable monthly lenses
Suitable for all eye colours
Recommended For
Halloween and dress up costumes
Those who want a striking new eye colour
Those who want to dress up as Cheshire Cat, Maleficent or Avatar
Alternative to Yellow comfi Colors Crazy Monthly
Product Description
Complete your Halloween look with these stunning yellow contact lenses by comfi Colors Crazy. These lenses give you plenty of options when it comes to costumes – think Minions, Cheshire Cat and Avatar. And we bet you didn't know that Pink Panther also has striking yellow eyes! These lenses can be reused for up to a maximum of 30 days from the date of opening, so why not make the spooky season all month long?
The Yellow comfi Colors Crazy Monthly come in a bright yellow colour, defined by a dark outer ring. Made from hydrogel terpolymer material, the lenses can be worn for up to 12 hours. Ensure you practise proper contact lens hygiene by using a lens solution to clean your lenses after each wear and keeping them stored within a fresh solution-filled contact lens case. Discard after 30 days.
Yellow comfi Colors Crazy Monthly Parameters
| | |
| --- | --- |
| Manufacturer | comfi |
| Brand | comfi |
| Wearing type | Monthly Contact Lenses |
| Power range | 0.00 |
| Base curve(s) | 8.6mm |
| Diameter(s) | 14.0mm |
| Lens material | Hydrogel Terpolymer |
| Water content | 42% |
| Oxygen permeability | 16.7 Dk/t |
| Pack size | 2 Pack |
Further Optical Advice
How long can you use Yellow comfi Colors Crazy Monthly?
Yellow comfi Colors Crazy Monthly can be worn daily for up to 30 days, provided they are cleaned and stored in solution overnight. However, the comfi Colors Crazy collection also features daily disposable contact lenses, so be sure to check the individual product.
Are Yellow comfi Colors Crazy Monthly contact lenses safe?
Yes, Yellow comfi Colors Monthly contact lenses are safe, provided you are using them correctly and maintain a daily cleaning routine. Dispose after 30 days from opening. Always follow the advice given by your optician.
What else should I know about comfi Colors Crazy lenses?
As always, you should check with your optician before purchasing new non-prescribed lenses.
We do not recommend driving in comfi Colors Crazy lenses as the design may cover parts of your pupil and affect your vision.
Please also note that hydrogen peroxide solutions are not suitable for use with comfi Colors Crazy monthly lenses.
In Stock
Estimated Delivery
Tomorrow
Order within
15hrs 13mins