comfi Purest 1 Day Benefits & Features
UV protection
Ideal for dry eyes
Silicone hydrogel material, more breathable than hydrogel lenses
No lens cleaning required
Recommended For
People who favour the convenience of a daily disposable lens
Working professionals and anyone with a busy and active lifestyle
Those looking for a premium lens at an accessible price
Use alongside suitable UV-blocking sunglasses for full sun protection
Alternative to comfi Purest 1 Day Contact Lenses
comfi Purest 1 Day lenses are a cheaper alternative to the following lenses:
Market Equivalents
This is a recommendation made by Feel Good Contacts. If you wish to try alternative contact lenses you will need to consult your optician to make sure they are suitable for you and are fitted correctly.
Product Description
comfi Purest 1 Day are comfortable silicone hydrogel contact lenses. These breathable UV-protection lenses are daily disposables, so you won't have to bother with an arduous lens cleaning routine. These lenses can be worn for a full day ahead of being thrown away before you go to sleep, providing the ultimate convenience. A blue handling tint allows you to insert the lens more easily too, to make the process even easier.
With 45% water content, these lenses are perfect for dry eyes as they feel so comfortable, you might even forget that you're wearing them. This lens provides comfort, hydration and affordability. With the comfi Purest 1 Day cost you can enjoy, upgrading to a silicone hydrogel lens is a simple decision to make, and from there the comfi Purest 1 Day benefits speak for themselves.
If you'd like to try out these lenses for a shorter period, you could try the comfi Purest 1 Day (5 Pack).
comfi Purest 1 Day Parameters
| | |
| --- | --- |
| Manufacturer | comfi |
| Brand | comfi |
| Wearing type | Daily Contact Lenses |
| Power range | +8.00 to -10.00 |
| Base curve(s) | 8.6mm |
| Diameter(s) | 14.2mm |
| Lens material | Innofilcon A |
| Water content | 45% |
| Oxygen permeability | 70 Dk/t |
| Pack size | 30 Pack |
Further Optical Advice
Can I wear comfi Purest 1 Day Contact Lenses?
If you're wondering whether comfi Purest 1 Day contact lenses are the right lenses for you, take a look at our list under 'Alternative to comfi Purest 1 Day contact lenses'. If you wear any of these lenses, you'll find that comfi Purest 1 Day is a more affordable alternative that could be right for you. For more information you can contact our optical team, and they will be happy to advise you on contact lens options. You can call them on 0800 458 2090 or email cs@feelgoodcontacts.com.
Does comfi Purest 1 Day cost a lot of money?
comfi Purest 1 Day is one of the most cost-effective contact lenses available, especially for a premium silicone hydrogel material lens. While daily disposable contact lenses often work out to be more expensive than Two Weekly or Monthly modality lenses, comfi Purest 1 Day costs comparatively less than lenses of a similar quality and specification. Despite the savings you can make by switching, comfi Purest 1 Day reviews show that it truly is a premium contact lens, whether you're on a budget or not.
What is comfi?
comfi is a premium range of contact lenses, solutions and eye care products at accessible prices for everyone to enjoy. You can be sure to find other premium quality cheap contact lenses and eye care essentials across the entire range, available exclusively at Feel Good Contacts. Get the best price for comfi Purest 1 Day and collect Reward Points to get future discounts on items sitewide.
Reviewed by our Optical Team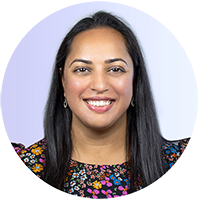 Tina Patel, Contact Lens Optician.
Tina Patel is a qualified Contact Lens Optician and part of the Optical Team at Feel Good Contacts, which promises the same attentive and quality service offered on the high street. With an outstanding 25 year strong career in the optical industry, Tina offers expert advice and support on contact lenses, solutions and eye care.
Sulley, A. and Dumbleton, K. (2020) 'Silicone hydrogel daily disposable benefits: The evidence', Contact Lens and Anterior Eye, 43(3), pp.298-307.
https://www.sciencedirect.com/science/article/pii/S1367048420300199
Dumbleton, K. A., Richter, D., Woods, C. A., Aakre, B. M., Plowright, A., Morgan, P. B., Jones, L. W. (2013) "A multi-country assessment of compliance with daily disposable contact lens wear", Contact Lens and Anterior Eye, 36(6), pp. 304-312.
https://www.sciencedirect.com/science/article/pii/S1367048413000817
Andley, U.P., Malone, J.P. and Townsend, R.R. (2011) 'Inhibition of Lens Photodamage by UV-Absorbing Contact Lenses', Investigative Opthalmology & Visual Science, 52(11), pp.8330-8341.
https://iovs.arvojournals.org/article.aspx?articleid=2187208
In Stock
Estimated Delivery
Tomorrow
Order within
23hrs 18mins

comfi Purest 1 Day Reviews
(54)
These are good comfortable lenses at a sensible price. Whilst not the best lenses available they are definitely the best value after being disappointed by the base range product.

Deborah Walsh

-

21 Aug 2023

Very good pleased with the contacts

Great price, cheaper and just the same as Specsavers.