Biofinity Toric Benefits & Features
Monthly contact lenses
Designed for astigmatic correction
Optimised Lens Geometry ensures stable and precise vision
Can be worn as an extended wear lens for up to a week (if approved by your optician)
48% water content
Recommended For
Correcting astigmatism
Those who are comfortable with a cleaning routine
Anyone after a hydrating monthly toric lens
Alternative contact lenses to Biofinity Toric
Avaira Vitality Toric is a suitable alternative contact lens to Biofinity Toric, as it also uses Optimised Lens Geometry.
Optician Equivalents
Vision Express Eyexpert Silk Toric
Specsavers easyvision Monthly Opteyes Toric
Specsavers easyvision Monthly Opteyes Toric (Ultimate)
This is a recommendation made by Feel Good Contacts. If you wish to try alternative contact lenses you will need to consult your optician to make sure they are suitable for you and are fitted correctly.
Product Description
Biofinity Toric contact lenses provide stable vision and all-day comfort for regular contact lens wearers. Designed by CooperVision, these toric contact lenses are a hygienic and reliable monthly lens option for correcting astigmatism.
Optimised Lens Geometry ensures that your monthly Biofinity Toric contact lenses remain stable on your eyes during wear for zero interruptions to your vision. Enjoy freedom from glasses, and no distracting glare or halos with these impressive monthly contact lenses for astigmatism.
Excellent lens breathability
These silicone hydrogel contact lenses allow a flow of oxygen to pass through the lens up to six times greater than standard hydrogel lenses. An increased supply of oxygen promotes healthier eyes, keeping them feeling fresh and comfortable during wear. Biofinity Toric contact lenses have been designed for long-lasting moisture with Aquaform Technology, offering hydration for your eyes all day long. Perfect for those with a busy schedule or who are out of the house all day, these toric lenses can stand up to the demands of even the most tiring of days – simply check out Biofinity Toric reviews for confirmation!
Maintaining your Biofinity Toric contact lenses
Maintain the quality of these contact lenses by following a simple lens cleaning regime. Every night you'll need to take out your lenses, then clean and store them overnight in lens solution. If approved by your optician, you can wear Biofinity toric as extended wear contact lenses for up to a week, both day and night.
Please note: This wearing modality is not suitable for everyone, and it will not make any difference to the total Biofinity Toric cost.
Need more optical advice help? Ask our optical experts
Further Optical Advice
How long can you wear Biofinity Toric contact lenses?
These contact lenses can be worn daily for up to a month, provided they are removed, cleaned and stored each night in contact lens solution. You can also wear these lenses continuously for 7 days, provided you have approval from your optician.
Can I sleep in Biofinity Toric contact lenses?
You can sleep in these contact lenses for up to 6 nights, only when approved by your optician. Advice that you may see in a Biofinity Toric review is not always the best modality for you, and so you should always stick to your unique prescription and the recommendations given by your optician.
Are Biofinity Toric lenses good?
Biofinity Toric contact lenses are popular and reliable lenses that correct astigmatism and keep the eye comfortable and hydrated throughout the day.
Reviewed by our Optical Team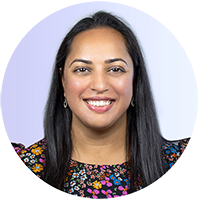 Tina Patel, Contact Lens Optician.
Tina Patel is a qualified Contact Lens Optician and part of the Optical Team at Feel Good Contacts, which promises the same attentive and quality service offered on the high street. With an outstanding 25 year strong career in the optical industry, Tina offers expert advice and support on contact lenses, solutions and eye care.
Court, J.L., Redman, R.P., Wang, J.H., Leppard, S.W., Obyrne, V.J., Small, S.A., Lewis, A.L., Jones, S.A. and Stratford, P.W. (2001) 'A novel phosphorylcholine-coated contact lens for extended wear use', Biomaterials, National Library of Medicine, 22(24), pp.3261–3272.
https://pubmed.ncbi.nlm.nih.gov/11700798/
Cheng, L., Muller, S.J. and Radke, C.J. (2004) 'Wettability of silicone-hydrogel contact lenses in the presence of tear-film components', Current Eye Research, 28(2), pp.93-108.
https://www.tandfonline.com/doi/abs/10.1076/ceyr.28.2.93.26231
Momeni-Moghaddam, H., Naroo, S.A., Askarizadeh, F. and Tahmasebi, F. (2014) 'Comparison of fitting stability of the different soft toric contact lenses', Contact Lens and Anterior Eye, 37(5), pp.346–350.
https://www.sciencedirect.com/science/article/abs/pii/S1367048414000472
In Stock
Estimated Delivery
Tomorrow
Order within
22hrs 36mins

Biofinity Toric Reviews
(390)
Friend of Ted

-

26 Nov 2023

Has and always worked for me, comfortable and does not cause dry eyes

First time using monthly lenses and they're so comfortable! For anyone who is looking to go from daily to monthly or try a different brand, I would recommend these

Zahra Abbas

-

15 Nov 2023

Comfy. Don''t get as much dry eyes as other lenses. Fell asleep in them a few times as well and they were ok.