Air Optix plus HydraGlyde Benefits & Features
Suitable for dry eyes
HydraGlyde Moisture Matrix technology keeps lenses hydrated
Enjoy consistent comfort from day 1 to day 30
Silicone hydrogel lens design allows more oxygen into the eye
SmartShield technology protects against deposits
Recommended For
Contact lens wearers who struggle with dry eyes
Those who need extra protection from irritants
Those who prefer monthly wear lenses over daily wear lenses
Alternative to Air Optix plus HydraGlyde Contact Lenses
comfi Air are similar monthly lenses. Other contact lenses you can try include comfi Purest 1 Day and Dailies Total 1, both of these are daily contact lenses.
This is a recommendation made by Feel Good Contacts. If you wish to try alternative contact lenses you will need to consult your optician to make sure they are suitable for you and are fitted correctly.
Product Description
Air Optix plus HydraGlyde lenses are monthly contact lenses by Alcon & Ciba Vision. They utilise dual technologies to offer long-lasting hydration for your eyes and a presence you'll barely feel.
These silicone hydrogel contact lenses are a new addition to the renowned Air Optix range, which offers enhanced comfort due to HydraGlyde Moisture Matrix technology. This technology keeps your contact lenses moist and comfortable to wear for even longer. This makes them ideal if you frequently experience dry eyes from working long hours in front of a computer screen. When coupled with the highly breathable silicone hydrogel material of these monthly contact lenses, this technology makes sure your eyes are feeling fresh and healthy all day long.
SmartShield technology provides a protective layer, making these monthly contact lenses are ultra-resistant to any build-up of protein or dirt, keeping vision undisturbed and eyes free from irritation. Enjoy clear vision all day long with Air Optix plus HydraGlyde contact lenses, which offer the same amazing level of performance and visual acuity on the last day of the month as they do on the first.
Why not stock up with the 6-pack edition, offering a 6 month supply of lenses.
Need more optical advice help? Ask our optical experts
Further Optical Advice
What is HydraGlyde?
HydraGlyde is a wetting agent designed to attract moisture to the surface of the lens, to retain hydration and reduce the feeling of dry and gritty eyes.
How long can I wear Air Optix plus HydraGlyde?
You can wear Air Optix plus HydraGlyde for 30 consecutive days as daily wear lenses for 16 hours at a time.
Is Air Optix HydraGlyde monthly?
Air Optix plus HydraGlyde is a monthly contact lens which must be removed, cleaned and stored in fresh contact lens solution overnight. This ensures they stay soft, wettable and sanitary, so they are safe to wear again the next day.
Can I sleep in Air Optix HydraGlyde?
Air Optix Plus HydraGlyde can be worn for up to 6 nights if approved by your optician as extended wear contact lenses.
Is Air Optix with HydraGlyde better than the Aqua?
Air Optix Aqua and Air Optix plus HydraGlyde are the same lens, only the HydraGlyde caters to a broader power range, it also has more advanced technologies such as HydraGlyde and SmartSheild.
Reviewed by our Optical Team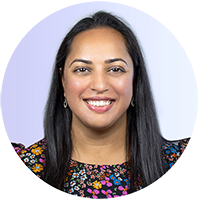 Tina Patel, Contact Lens Optician.
Tina Patel is a qualified Contact Lens Optician and part of the Optical Team at Feel Good Contacts, which promises the same attentive and quality service offered on the high street. With an outstanding 25 year strong career in the optical industry, Tina offers expert advice and support on contact lenses, solutions and eye care.
In Stock
Estimated Delivery
Tomorrow
Order within
19hrs 17mins

Air Optix Plus HydraGlyde Reviews
(261)
Recommend by optometrist and always comfortable to wear

Comfortable and reasonably priced

Easy to order. Next day delivery. Extremely happy customer.

Mrs viv caird

-

04 Aug 2023

Comfortable easy to put in and moist. I go for these every time.

Very good quality and comfortable