Auto-Replenish is a quick and easy way of receiving your contact lenses regularly, without having to go online or re-enter your order.

Just choose your contact lenses, enter your prescription; add any additional products (e.g. solutions or eye-drops) you want; and opt in to Auto-Replenish at the check-out. Your order will be sent out regularly at the set interval that you specify. The minimum interval that you can set is, every 15 days.
Benefits of Auto-Replenish?
5% off ALL orders - you will automatically receive 5% off every Auto-Replenish order
Automatic Ordering - you don't need to remember to top up your supplies, we can do that for you!
No strings attached - you can cancel whenever you like
Prescription availability - We will always have your prescription in stock with Auto-Replenish. This is great for people with specific prescriptions
Select 'Automate your future orders' at the checkout

OR

Sign in to 'My Account' and click on the Auto-Replenish tab. Then, simply select 'Auto-Replenish' on any previous order.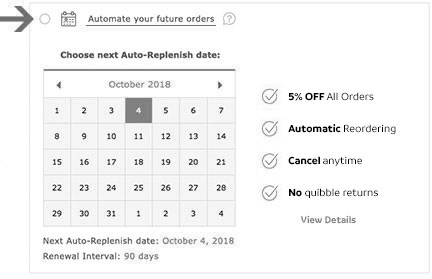 How to manage Auto-Replenish orders
To manage your Auto-Replenish orders, log in and go to the My Account section. From the 'Auto-Replenish' tab, you'll be able to review your orders and change the schedule and/or frequency of your deliveries.

If you want to change the products, prescription, address or payment details, you'll need to get in touch with customer service.

For further details, view our full terms and conditions.