Acuvue Oasys For Astigmatism Benefits & Features
Two weekly toric contact lenses for astigmatism
Can be worn daily for two weeks, or continuously for one week (if approved by your optician)
Silicone hydrogel material with Hydraclear technology for exceptional comfort
Visibility tint and 1-2-3 inversion indicator for easy application
UV protection
Recommended For
People who require toric lenses as a cheaper alternative to monthly lenses
Dry or sensitive eyes caused by excessive screen use
Fresh and comfortable vision for those with busy and active lifestyles
Use alongside UV protection sunglasses to protect the eye and surrounding area
Similar to Acuvue Oasys For Astigmatism Contact Lenses
Acuvue Oasys 1 Day for Astigmatism is a similar daily toric lens while Biofinity Toric contact lenses are alternatives as monthly toric lenses.
This is a recommendation made by Feel Good Contacts. If you wish to try alternative contact lenses you will need to consult your optician to make sure they are suitable for you and are fitted correctly.
Product Description
Acuvue Oasys For Astigmatism are two weekly toric contact lenses by Johnson & Johnson. These toric lenses sharpen blurry vision caused by astigmatism, providing the wearer with clear vision and optimal comfort.
Acuvue Oasys astigmatism contact lenses are soft toric lenses made from Senofilcon A, a silicone hydrogel material with a water content of 38%. This premium material allows exceptional levels of oxygen to reach the eyes for optimal comfort.
Accelerated Stabilised Design technology ensures clear and stable vision throughout the day, no matter how active you are. Class 1 UV-blocking helps protect your eyes from the sun's harmful rays. It is recommended to wear sun protective eyewear to protect the area around the eye along with the eye.
Acuvue Oasys For Astigmatism with Hydraclear Plus Technology
Hydraclear Plus technology helps to stabilise the tear film and provides long-lasting hydration to the eyes. This unique technology helps to combat dryness, blurry vision and tired eyes, promoting comfortable wear and making Acuvue Oasys For Astigmatism a suitable choice for those who spend much time in front of digital devices.
Acuvue Oasys for Astigmatism Parameters
Manufacturer
Johnson & Johnson
Brand
Acuvue
Wearing type
Two Weekly Contact Lenses
Power range
+6.00 to -9.00
Cylinder
-0.75, -1.25, -1.75, -2.25, -2.75
Axes
10° - 180°
Base curve(s)
8.6mm
Diameter(s)
14.5mm
Lens material
Senofilcon A
Water content
38%
Oxygen permeability
129 Dk/t
Pack size
6 Pack
Want to compare lenses? Browse our extensive contact lens specification page.
Further Optical Advice
How long can you wear Acuvue Oasys for Astigmatism?
Acuvue Oasys For Astigmatism can be worn as two weekly disposable lenses or as extended wear contact lenses for up to six nights, if approved by your optician.
Is Acuvue Oasys For Astigmatism an extended wear toric lens?
Acuvue Oasys Astigmatism contact lenses can be worn as extended wear lenses. The manufacturer is approved in the United States by the FDA to produce this product for extended wear for up to 6 nights and 7 days. These extended wear lenses are made with highly breathable silicone hydrogel technology that allows an increased level of oxygen to pass through, making it a great lens for longer days and even as extended wear lenses.
Can you sleep in Acuvue Oasys For Astigmatism contact lenses?
You can sleep in Acuvue Oasys For Astigmatism contact lenses for up to 6 nights if worn as extended wear lenses, as long as your optician has approved this. If you wish to sleep in these toric lenses, they must be thrown away after a week.
Is Acuvue Oasys For Astigmatism a monthly lens?
Acuvue Oasys For Astigmatism is not a monthly lens. These toric lenses are worn as two weekly lenses when removed at the end of each day or as weekly replacement lenses when worn as extended wear.
How is Acuvue Oasys For Astigmatism priced?
At a slightly higher price-point than other reusable contact lenses, the Acuvue Oasys For Astigmatism price is based on the premium quality that it provides for wearers. It provides exceptional levels of comfort and is recommended for those who benefit from a more convenient wearing modality.
As with many eyecare products, customers can find the best price for Acuvue Oasys For Astigmatism online, via a trusted retailer such as Feel Good Contacts.
Reviewed by our Optical Team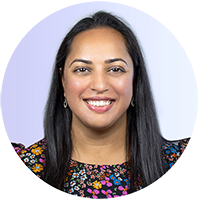 Tina Patel, Contact Lens Optician.
Tina Patel is a qualified Contact Lens Optician and part of the Optical Team at Feel Good Contacts, which promises the same attentive and quality service offered on the high street. With an outstanding 25 year strong career in the optical industry, Tina offers expert advice and support on contact lenses, solutions and eye care.
Sulley, A., Hawke, R., Lorenz, K.O., Toubouti, Y. and Olivares, G. (2015) 'Resultant vertical prism in toric soft contact lenses', Contact Lens and Anterior Eye, 38(4), pp.253–257.
https://www.sciencedirect.com/science/article/pii/S1367048415000375
Andley, U.P., Malone, J.P. and Townsend, R.R. (2011) 'Inhibition of Lens Photodamage by UV-Absorbing Contact Lenses', Investigative Ophthalmology & Visual Science, 52(11), pp.8330-8341.
https://iovs.arvojournals.org/article.aspx?articleid=2187208
Guillon, M. Ph.D. and Maïssa, C. Ph.D. (2010) 'Long-term effects of the daily wear of senofilcon A silicone hydrogel contact lenses on corneal and conjunctival tissues', Optometry – Journal of the American Optometric Association, 81(12), pp.680-687.
https://www.sciencedirect.com/science/article/abs/pii/S1529183910004896
In Stock
Estimated Delivery
Tomorrow
Order within
20hrs 41mins