Step into the future: glasses and sunglasses virtual try on
With our augmented reality based virtual try-on technology, you have the option to try on the glasses and sunglasses virtually in 3 easy steps. So, instead of physically trying them on in store, try from the comfort of your own home.
1. Open the tool
Choose your favourite colour or style of frames. Click on the 'Virtual Try-on' button and get started!

2. Fit your face in the frame
If you wear glasses, please put them aside. Align your face within the face guide shown on the screen.

3. Try on the eyewear
See yourself in your selected glasses/sunglasses. Try as many frames as you like.
Shop from an extensive collection of glasses
Enjoy up to 70% OFF glasses.
Get blue light glasses to protect your eyes
against screentime and get FREE lenses!

Shop from an extensive collection of sunglasses
Enjoy up to 60% OFF
with our range of 100% UVA/B protected
sunglasses. Check out Feel Good Collection
for designer dupes at a lower price.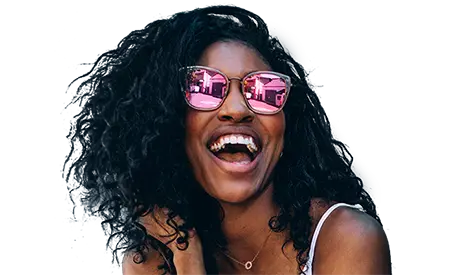 Try on our bestselling glasses
Try on our bestselling sunglasses

Customer reviews
Virtual try-on FAQs
Virtual try-on enables the user to try on a product digitally through augmented reality. This feature makes the shopping experience very smooth and speeds up the decision-making process.
Yes, you can try on as many glasses as you want through our virtual try on functionality. The process is pretty easy. Just click on the virtual try on option and get started. Every retailer will have a different journey. With Feel Good Contacts, your virtual image is just one click away.
If your camera isn't working for virtual try on, check if any other open windows on your computer or mobile is accessing your camera. Your camera will only be able to work with one platform at a time. For example, if you're on a video call and trying to try on a pair of glasses through virtual try on, your camera won't work for the glasses.

If that's not the case, there might be issues with your privacy settings, or a problem with your antivirus software.
Virtual try-on can be used on any smart device, from a mobile to a computer, provided the device has a camera.
Yes, virtual try-on gives accurate result. This smart technology measures the smallest of parameters of your face, such as distance between your eyes, your face shape and size to align the eyewear accordingly.
Yes, you can see how the eyewear looks from different angles with the virtual try on feature. The virtual try on technology is designed to automatically fit the eyewear you have selected on to your face. And, as you move your face from left to right, the eyewear will also move along with your face movement, as if you're actually wearing the glasses or sunglasses you have chosen.
To save an image of you wearing the glasses or sunglasses virtually, click on the circular button, located at the bottom of your screen. You can either download your image or share straight away with friends with the 'share' option displayed on the screen.
Virtual try on is available for anyone at any time. Be it prescription glasses or non-prescription/cosmetic glasses or sunglasses, you can use virtual try-on technology to smooth and ease your decision-making process.
Yes, virtual try-on works for all face shapes. You can easily try your favourite eyewear virtually to make a decision.