1 Day Acuvue Moist Benefits & Features
LACREON technology wetting agent is imbedded in the lens to provide moisture and comfort
Ideal for sensitive and dry eyes
1-2-3 indicator to show if the lenses are inside out
VISITINT technology (tint) makes your lenses easy to put in and take out
UV absorbing contact lenses (should be worn with protective UV absorbing eyewear to protect the eye and surrounding area)
Made from Etafilcon A lens material for comfortable wear
Recommended For
Designed to correct short-sightedness (myopia) and long-sightedness (hyperopia)
Perfect for those who suffer from dry eyes, irritation or allergies whilst wearing contact lenses
1 Day Acuvue Moist contact lenses have been specifically designed to fit a busy lifestyle
Alternative to 1-Day Acuvue Moist Contact Lenses
comfi Purest 1 Day and Biotrue ONEday are alternative daily disposables.
This is a recommendation made by Feel Good Contacts. If you wish to try alternative contact lenses you will need to consult your optician to make sure they are suitable for you and are fitted correctly.
Product Description
What is 1 Day Acuvue Moist?
1 Day Acuvue Moist by Johnson and Johnson is the best-selling and most popular contact lens in the world. 1 Day Acuvue Moist with LACREON Technology contains a highly moisturising wetting agent to keep eyes hydrated throughout wear. As a daily lens, it should be disposed of at the end of the day, before bedtime.
1 Day Acuvue Moist with Lacreon
The LACREON technology retains moisture on the surface of the lens to ensure they don't dry out as the day goes on. Inspired by the natural behaviour of tears, LACREON keeps 1 Day Acuvue Moist contact lenses hydrated and comfortable with a presence you'll barely feel. With a medium level of water content, 1 Day Acuvue Moist provides a hydrated feel that stays consistent throughout the day. 1 Day Acuvue Moist is UV blocking, making it suitable to wear all year round (just remember to wear UV-protective eyewear as well as your contact lenses to fully protect your eyes from UV rays).
Get 1 Day Acuvue Moist for the cheapest price online, at Feel Good Contacts. You can also get 1 Day Acuvue Moist with next day delivery when you order before 11.45pm.
Need more optical advice help? Ask our optical experts
Further Optical Advice
Can I wear Acuvue Moist overnight?
1 Day Acuvue Moist are not suitable for sleeping in as they are daily disposable contact lenses and must be removed before bed.
Can you wear Acuvue 1-day contacts twice?
You should never re-wear daily disposable contact lenses. Daily wear disposable lenses are designed to be worn for a whole day and thrown away before bedtime.
Reviewed by our Optical Team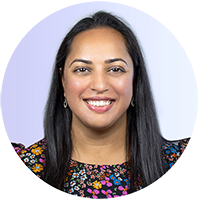 Tina Patel, Contact Lens Optician.
Tina Patel is a qualified Contact Lens Optician and part of the Optical Team at Feel Good Contacts, which promises the same attentive and quality service offered on the high street. With an outstanding 25 year strong career in the optical industry, Tina offers expert advice and support on contact lenses, solutions and eye care.
Cho, P. and Boost, M.V. (2013) 'Daily disposable lenses: The better alternative', Contact Lens and Anterior Eye, 36(1), pp.4–12.
https://www.sciencedirect.com/science/article/abs/pii/S1367048412002809
Moore, L. and Ferreira, J.T. (2006) 'Ultraviolet (UV) transmittance characteristics of daily disposable and silicone hydrogel contact lenses', Contact Lens and Anterior Eye, 29(3), pp.115–122.
https://www.sciencedirect.com/science/article/abs/pii/S1367048406000488
H. Sheardown, Liu, L. and Jones, L. (2006) 'Chemical Characterization of 1–DAY ACUVUE® MOIST(tm) and 1–DAY ACUVUE® Contact Lenses', Investigative Ophthalmology & Visual Science, 47(13), pp.2388–2388.
https://iovs.arvojournals.org/article.aspx?articleid=2392236
In Stock
Estimated Delivery
Tomorrow
Order within
20hrs 30mins

1 Day Acuvue Moist Reviews
(1935)
Can irritate my eyes a little after extended wear. I fluctuate between these and another type of Acuvue with a higher silicone content which are more comfortable for longer wear.

feels great on eyes and vision is perfect

Used these a lot when I was younger, went back to them recently and still great very comfortable

maria san jose

-

17 Sep 2023

Shiva Mackison

-

15 Sep 2023

Excellent service, great quality, good price.