Clariti 1 Day Multifocal Benefits & Features
Daily multifocal lenses to correct presbyopia
Ideal for anyone with a busy or active lifestyle
Silicone hydrogel design allows high level of oxygen transmission
Unique dual Intermediate Vision Zones provides seamless vision at any distance
UV absorbing contact lenses (should be worn with protective UV absorbing eyewear to protect the eye and surrounding area)
WetLoc technology keeps the lenses moist throughout the wearing time
Recommended For
People with presbyopia
Busy or active lifestyles
Those who don't want the hassle of a contact lens care routine
Alternative to Clariti 1 Day Multifocal Contact Lenses
Dailies Total 1 Multifocal and, MyDay Multifocal are alternative daily disposable lenses.
This is a recommendation made by Feel Good Contacts. If you wish to try alternative contact lenses you will need to consult your optician to make sure they are suitable for you and are fitted correctly.
Optician Equivalents
Boots Oxylens 1 Day for Presbyopia
Specsavers easyvision Daily Umere Multifocal
Eyexpert Finess 1 Day Multifocal
Product Description
Clariti 1 Day Multifocal by CooperVision are daily disposable multifocal contact lenses designed to correct presbyopia. These daily contact lenses are made from a highly breathable silicone hydrogel material, allowing more oxygen to pass through the lens and reach your eyes. You can expect healthy and hydrated eyes all day long with these silicone hydrogel contact lenses.
Clariti 1 Day Multifocal contact lenses feature four smooth progressive zones to allow seamless transitioning when focusing on all distances, removing the need for reading glasses. The UV filter will protect your eyes against harmful UV rays. In order to protect the eyes and the area around the eyes, it is essential to wear UV protected eyewear.
Exclusive WetLoc technology in these lenses promise to keep your eyes hydrated by binding water molecules to the surface of the lens, for clear vision all day. This reduces the possibility of dry eyes, headaches and blurry vision. These lenses are comfortable, easy to use and provide advanced vision correction for presbyopia.
Buy Clariti 1 Day Multifocal lenses 30 pack. Order before 11:59pm for next day delivery. Get the Clariti 1 Day Multifocal for the best price with Feel Good Contacts, with our Price Match Guarantee, which means if you find this product cheaper elsewhere, we will refund you the difference. Not sure? Checkout the Clariti 1-day Multifocal reviews.
Need more optical advice help? Ask our optical experts
Further Optical Advice
What are Clariti 1 Day Multifocal lenses made of?
Clariti 1 Day Multifocal contact lenses are made of Somoflicon A, a silicone hydrogel polymer that delivers optimal eye health and comfort. It has a water content of 56% and an oxygen permeability of 86 (Dk/t). Somoflicon A is currently used to make all the lenses in the Clariti range by CooperVision.
Is Clariti 1 Day Multifocal available as a normal or toric lens?
Yes, Clariti 1 Day Multifocal is available as a toric lens. Clariti 1 Day Toric is one of the few silicone hydrogel toric lenses available on the market. You can also purchase Clariti 1 Day as a spherical prescription lens for both long-sighted and short-sighted prescriptions.
Is Clariti 1 Day Multifocal a good contact lens?
Clariti 1 Day Multifocal lenses are designed to correct presbyopia. With the exclusive WetLoc technology, your lenses will remain moist supporting excellent all-day wearing comfort. Clariti 1 Day Multifocal has been reviewed by our Optical Team.
Reviewed by our Optical Team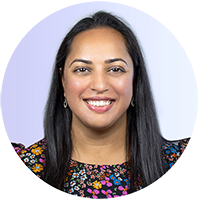 Tina Patel, Contact Lens Optician.
Tina Patel is a qualified Contact Lens Optician and part of the Optical Team at Feel Good Contacts, which promises the same attentive and quality service offered on the high street. With an outstanding 25 year strong career in the optical industry, Tina offers expert advice and support on contact lenses, solutions and eye care.
In Stock
Estimated Delivery
Tomorrow
Order within
13hrs 42mins

Clariti 1 Day Multifocal Reviews
(10)
Lesley Walden

-

05 Jul 2023

They are better than wearing 2 pairs of glasses

Midnight in Paris

-

02 Aug 2022

Very comfortable to wear, have ordered more lenses.

Ideal and good value for money

Would certainly recommend