Whiteout comfi Colors Crazy 1 Day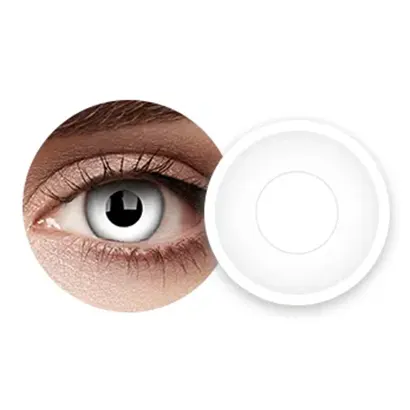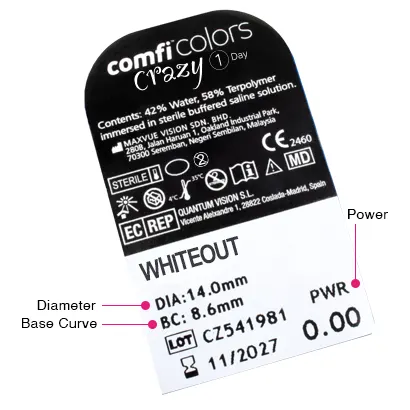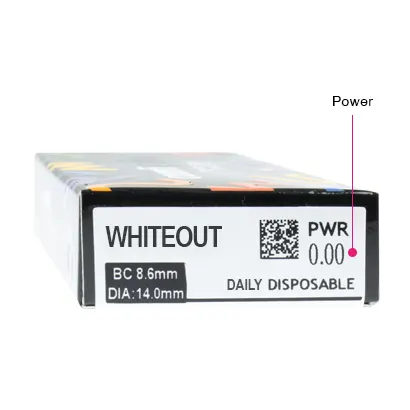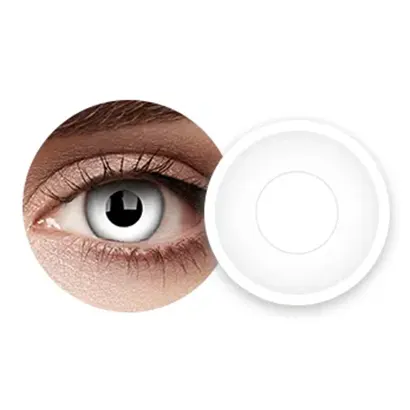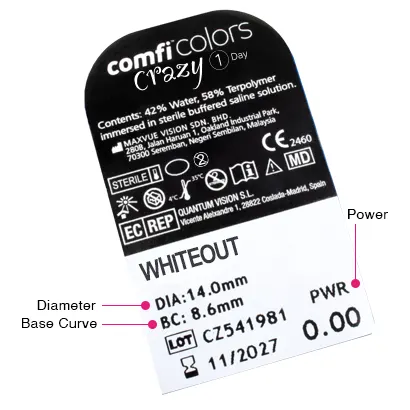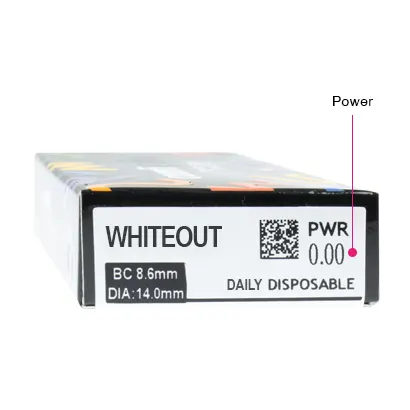 Whiteout comfi Colors Crazy 1 Day Benefits and Features
Hydrogel material for a comfortable wearing experience
Plano (0.00 power) lens
Affordable daily disposable
Suitable for all eye colours
Recommended For
Getting a zombie or witch look
Those who want to wear lenses as a one off
Looking for hygienic lens wear option
Alternative to Whiteout comfi Colors Crazy 1 Day
Product Description
Choose Whiteout comfi Colors Crazy 1 Day contact lenses and transform into a Zombie from Walking Dead, spooky angel or Taylor Swift from 'Look What You Made Me Do'.
Whiteout contact lenses feature a striking white canvas, with just your pupil left intact. Ideal for Halloween costumes or any event where you want to zombify your look with white lenses. Now, you can effortlessly become your favourite character donning your Halloween outfit with these spine-chilling whiteout contact lenses.
Made with 42% water content these daily disposable lenses can be worn for up to 12 hours. These lenses must not be reused and should be disposed of after use. Enhance your look and create a jump scare moment for Halloween.
Whiteout comfi Colors Crazy 1 Day Parameters
| | |
| --- | --- |
| Manufacturer | comfi |
| Brand | comfi |
| Wearing type | Daily Contact Lenses |
| Power range | 0.00 |
| Base curve(s) | 8.6mm |
| Diameter(s) | 14.0mm |
| Lens material | Hydrogel Terpolymer |
| Water content | 42% |
| Oxygen permeability | 20 Dk/t |
| Pack size | 2 Pack |
Further Optical Advice
Is putting Whiteout comfi Colors Crazy 1 Day lenses in for the first time difficult?
Are Whiteout comfi Colors Crazy 1 Day lenses expensive to buy?
Whiteout comfi Colors Crazy 1 Day lenses are available at just £6.95 at Feel Good Contacts. There are 20 different styles to choose from such as, Volturi, Vikingdom, Twilight, Red Devil and much more.
What else should I know about comfi Colors Crazy lenses?
As always, you should check with your optician before purchasing new non-prescribed lenses.
We do not recommend driving in comfi Colors Crazy lenses as the design may cover parts of your pupil and affect your vision.
In Stock
Estimated Delivery
Tomorrow

Whiteout comfi Colors Crazy 1 Day Reviews
(1)