Whether you like oversized butterfly frames, square frames of round retro shades, we've got a style and budget that will fit you. Enjoy our ultimate list of top trending summer sunglasses, treat yourself or someone else to a new pair of shades. Feel Good Contacts promises the best prices on your designer sunglasses compared to any other online retailers.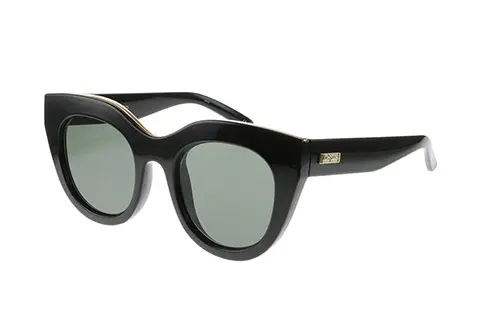 1)Le Specs Air Heart Black

Le Specs has become a fave among celebrities and even Royals. The Duchess of Sussex, Meghan Markle was spotted in the trendy shades, causing a frenzy among fashion lovers who follow her every fashion step.

The thick over-sized butterfly frames offer a high-fashion finish to any outfit. The temples are finished with the Le Specs logo in a stunning gold. The dark frames offer not only a touch of mystery, but also complete UV protection against the sun's UV rays.
The chic lenses are also available in a tortoise print. The flamboyant frames feature a burst of deep amber, the perfect pair of sunglasses to make a summer fashion statement. The Le Spec sunglasses are presented in a soft and foldable leather case, to protect it from damage when not in use.
2) Kendall + Kylie KK5003 Melrose Crystal Speckle 106

Love to Keep Up with The Kardashians? Keep up with their style too with a pair of designer sunglasses from Kendall and Kylie. The social media and reality tv stars have designed a stylish range of high-fashion sunglasses. Get the Hollywood look without stepping on a plane.

These Melrose Crystal Kendall and Kylie sunglasses pentagonal design and black and grey marble finish. The oversized sunglasses feature a thick frame and single gold bar across the top brow. The darkened lenses are tinted a deep grey, perfectly complimenting the marble frames and offering UV protection from the sun. The sunglasses come presented in a trendy hard case to protect the sunglasses from dirt, debris and scratches.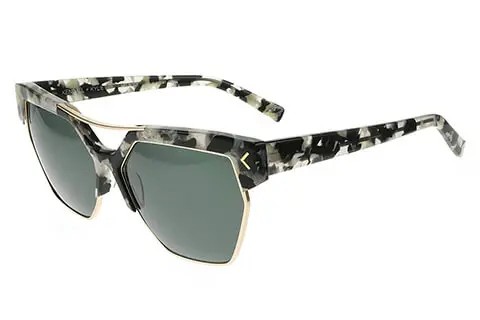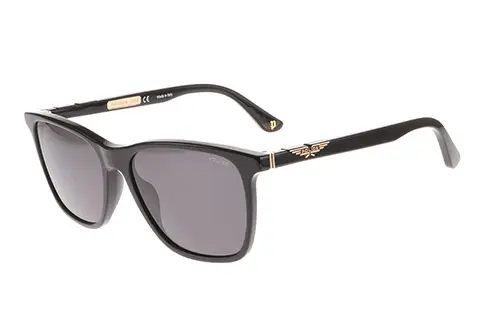 3)Police SPL872 Origins 1 700P Shiny Black Polarised

This summer saw the return of the classic 90's blockbuster Men in Black, this time starring Tessa Thompson and Chris Hemsworth. The classic hit was given a complete makeover and hint of girl power, as well as a sprinkling of style. Police partnered with the Men in Black franchise, to create a line of sleek and stylish movie inspired sunglasses.

The cool shades feature the Police emblem in gold at the temples. They also feature the classic, Men in Black blacked out lenses, for that slicked out MIB Agent mystery and allure. The square silhouette of the frames will complement any face shape and can be worn by both men and women.
4) Sunpocket Samoa All Black

Sunpocket Samoa all black sunglasses offer a cool and contemporary look and are the perfect pair of shades to finish off any outfit. The sunglasses bring together style and innovation and can fold to become pocket sized. Highly versatile, the trendy glasses can be worn by both men and women and are highly versatile. The round frames and finished with a light polish and are made of a strong and durable plastic. The tinted lenses offer complete UV protection from the sun and complement the dark frames.

When folded they will sit comfortably into their accompanying Sunpocket sunglasses case. The hard case features a leather texture and will protect the sunglasses from dirt, debris and scratching when not in use.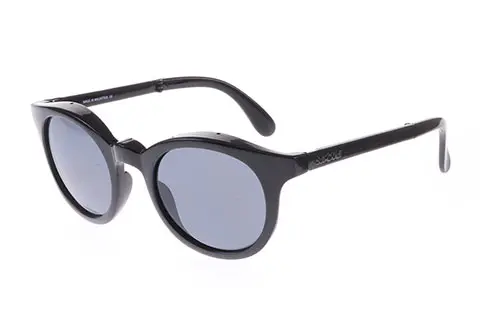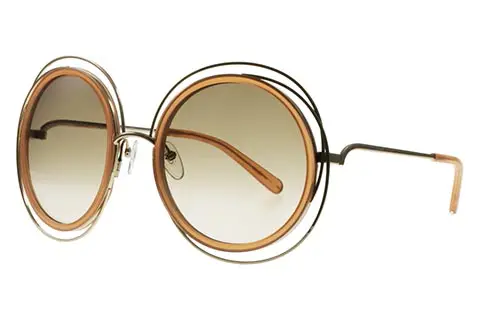 5) Chloe CE120S Carlina Gold Transparent Peach 724

They say imitation is the best form of flattery, and these Chloe designer sunglasses have been mimicked by many high-street stores. Nothing beats the original of course and the unique design of these oversized sunnies have made them a must have and cult classic for style extraordinaire who can't resist the fun, playful and feminine design of Chloe shades. The peach round frames are surrounded by thin metal coils, perfectly complimented by thin arms. Rubber temple tips and soft nose pads ensure all day comfort during wear. Stay in Vogue and get the supermodel look with these stunning shades.

The fashion-forward Chloe shades are also available in transparent khaki, transparent peach and transparent tortoise.
As well as adding a dose to style to your overall look, sunglasses are also an important part of maintain good eye health. Learn more about protecting your eye from UV rays here.