We take an extra special interest and care in the world of optics and eyes. It's always a great feeling to be able to assist somebody in maximising their ability to see. However, there's a certain kind of personality type for whom, to 'see', just isn't enough. For these elite legends, seeing is just a small fraction of what can be achieved with your eyes…
Balloon Animal
Introducing, 'Wo Zyou' who is the record-holder for blowing up the largest balloon in one minute. With his tear ducts! Using his eyes, Wo blew up a balloon to the diameter of 16.1cm. This happened in 2011 on location in Milan.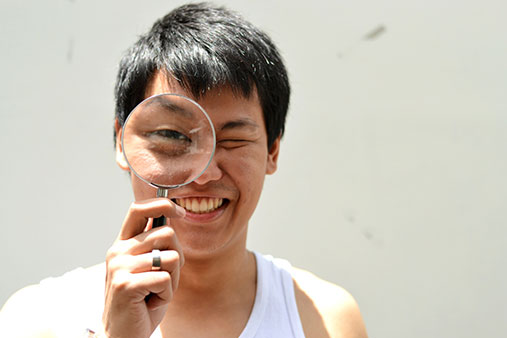 Socket to 'em
The next plaudit goes to Manjit Singh. Now, you may remember him as a strong man from series 3 of Britain's Got Talent. No? Us neither. Manjit has exactly the kind of heavily built and bumpy body that could smash more than a few strength records. But as you may have already guessed, it's all in the eyes. 24kg with his eye sockets. Beat that! No, don't bother trying – you'll only do yourself an injury. Other notable Manjit Singh successes include: pulling a double decker bus with his teeth, using just his ear to pull a minivan, picking up Imran Khan with his hair and Miss USA with his ears.
Pop Eyedol
The next Feel Good pat on the back goes to Kim Goodman, her eye record gives her a firm and deserved place place in the eye hall of fame. Kim can 'pop' her eyes 12mm out of their sockets…a real sight to behold. This record has stood for almost a decade, if there's anybody out there who thinks they can break it, write in!
Test Indies / Test Germany
In December 2013, the Shah Satnam Ji Research & Development Foundation organised a screening for 11,715 Indian people! In 2005 the Kuratorium Gutes Sehen in Germany were able to organise a whopping 19,157 eye tests in one day! These are two records we hope will soon be broken.
Eye-Sassin
You probably never knew that squirting milk from your eyes was a huge thing. Well, outside of the Guinness World Records, it isn't. However, try telling that to Ilker Yilmaz who in 2004 squirted milk a distance of 279.5cm! What a marksman.
Eye-er Brigade
Brandon 'Youngblood' Kee managed to ignite five targets by eye-squirting milk into glass targets…he carried out this Herculean task in just 34.9 seconds.
Ru Anting from China managed to extinguish five candles in an incredible 17 seconds. He can also write perfect calligraphy from 10 feet away. In order to carry out these amazing feats, these heroes have to suck the liquid up through their noses.
This last award goes to
you
. Your eye muscles move in excess of 100,000 times a day. That's more than any other muscle in the human body. Feel Good like to think that in this way, we're all Guinness World Record-holders! While you may never possess the strength of a Manjit Singh, the dedication of a Kim Goodman or, the supreme skill of Ilker Yilmaz! – you can make sure that your eyes are always functioning to the best of their ability by
shopping at Feel Good
! Make sure to stock up on your
contact lenses
and other
eye-accessories
at the
most competitive prices around
.