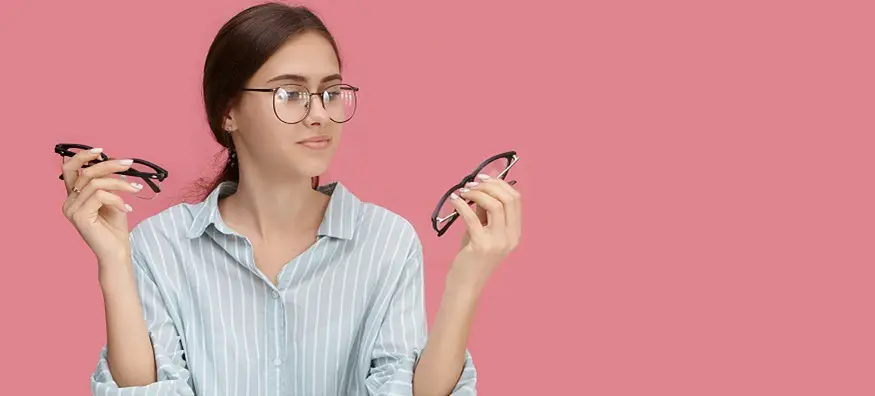 For most of us, getting a new prescription means getting new glasses. It's understandable that after spending money on your glasses, you don't really want to just throw them away. Many of us are guilty of hiding them away in drawers or in the back of our wardrobes.

Whether you have one or a dozen frames stacked up from over the years, there are some more sustainable ways to give your old glasses a second life. We've put together a few suggestions to help you get rid of your old glasses.
1. Give them to charity or your family/friends
Some charity shops also take prescription glasses, but it's important to check with them first. You can ask in store or call the shop directly for more information. If the charity accepts those kinds of donations, then you can either drop the glasses off to your local charity shop or post the frame to them.

Alternatively, ask your family or friends who might share the same prescription. Their prescription will need to match precisely with the one in the glasses you are giving them, as a slight difference can have an impact on their eyes. Otherwise, if they would just like some new glasses to fit their own lenses, make sure to pop the lenses out before handing them over.
2. Recycle
Most opticians will recycle your glasses for you, from big brands to the local ones. However, you can also send your glasses to other companies to be recycled. You can recycle your unwanted glasses through various sites, such as:
Before recycling, it's recommended that you take the lenses out of the frames first. Once you're at the recycling centre, you will need to put the lenses and plastic or metal frames into the appropriate recycling bin.

There are also some recycling centres that accept spectacles, these can be found on the recyclenow website.
Upcycle
Glasses can also be turned into accessories to extend their usefulness. You can remove the lenses and turn these into pendants for necklaces, brooches for your coats or keyrings. The temples can be removed to become statement earrings, temples that are tortoise or gradient are especially good for this. There are many tutorials for how to turn glasses into jewellery available on Pinterest.
3. Put new lenses in
If your prescription has changed, but you'd like to keep your favourite frames, reglazing is the perfect answer. Reglazing is a simple process of replacing the lenses in your current frames. This is an excellent option for those with old or damaged lenses, even if you want to upgrade to a better-quality lens design. This typically works out cheaper as you avoid the cost of buying a new pair of glasses.
4. Sell them
Selling your glasses online is a great idea to earn some money back from your initial purchase. Designer prescription glasses are very desirable and will often sell for more, just make sure they are in good condition and suitable to sell online.

Most popular sites to sell unwanted glasses on include eBay, Vinted and Depop. Just ensure that you post very clear photos of the accessory and include any scratches or imperfections it might have, so that the buyer knows exactly what condition it is in before purchasing.
5. Keep them for fancy dress
If you love to dress up for parties, why not save your old glasses for Halloween? Reading glasses can be the perfect addition to many looks, whether you're choosing to dress up as Harry Potter or Wilma from Scooby Doo, glasses will come in handy for many spectacle-wearing characters.
Re-use your glasses frames
As you can see, there are many ways to make use of your old glasses. If they can't be used for new prescription lenses or worn by someone else, they can always be turned into creative pieces of jewellery or donated to someone in need. For all your eye care needs and some of the most affordable glasses around, shop at Feel Good Contacts.

Glasses don't have to be thrown away once you get a new prescription, use the above steps to give them a second life. If you re-purpose your old glasses, share your creations with us on Facebook,Instagram or Twitter.