Tops tips to make your eyes look bigger with glasses
Making your eyes look bigger when wearing glasses is no problem when you have eye makeup to your advantage. Here are our top makeup tips to make the size of your eyes appear larger and stand out when wearing glasses:
1. Steer clear of dark eye shadows
If you wear glasses to correct myopia, you'll find that your eyes already look smaller due to the concave lenses, so you don't want to shrink them further with dark and heavy makeup. Instead, why not choose a neutral eyeshadow colour such as a beige, brown or ivory shade. This will help to brighten up the eye socket and make the eyes appear more prominent. Shimmery or sparkly eyeshadow can also help by giving you more light reflection.
2. Define your eyes with a soft eyeliner
A soft eyeliner in brown will define your eyes without making them look small. Make sure you blend the lines to prevent them from appearing too harsh.
3. Apply a white pencil to your waterline
Using a white pencil on your lash line or water line will help to boost that wide-eyed look and make your eyes appear even larger.
4. Finish off with a coat of mascara
A good coat of mascara will add further definition to your eyes, and if you'd like to give your eye area an extra lift, grab your eyelash curlers and curl your lashes.
5. Brighten up the undereye area with concealer
A good quality concealer will do wonders to brighten up the under-eye area and cover dark circles, giving you the appearance of larger eyes and a more awake look, especially if you're eyes are looking tired from a lack of sleep.
6. Give yourself a strong brow
Remember to fill in your brows with a brow gel or pencil as you don't want them to disappear behind your frames. This will also help to frame your eyes and draw more attention to them.
7. Choose the right frame
Make sure you choose a frame that's the right size and shape for your face. Smaller, thinner frames are a great choice if you wish to enlarge your eyes, while large, thick frames will make your eyes appear smaller.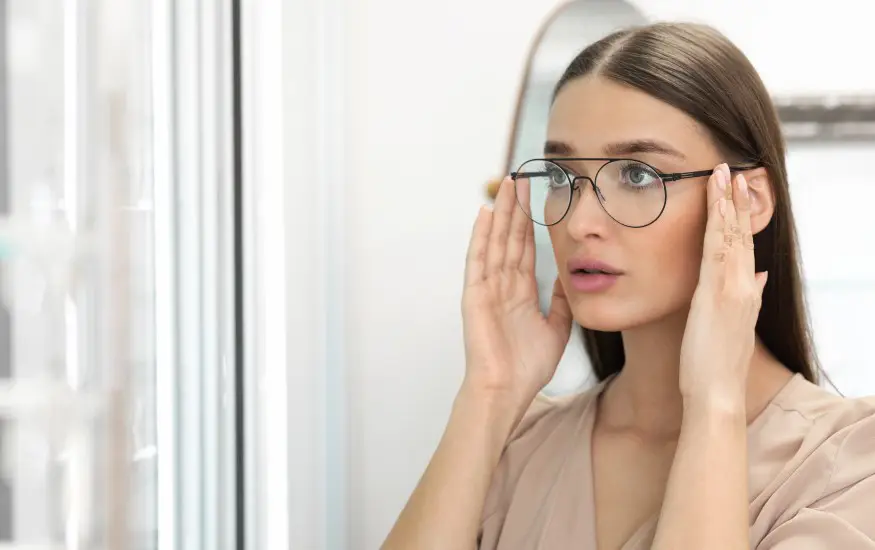 8. Opt for thinner lenses
If you have myopia with a high prescription causing your eyes to appear small, you'll be pleased to know that lens technology has come a long way. You can now opt for thinner lenses to make your eyes appear larger. At Feel Good Contacts, we do different lens packages. You can choose lenses up to 35% thinner and lighter with our 'Super Thin' package and lenses up to 20% thinner and lighter with our 'Thin' lens package.
9. Switch to contact lenses
Contact lenses are a great way to avoid the appearance of small eyes while still correcting your vision, so if you don't mind switching, this could be the solution for you.

You can even go that extra step and switch to coloured contact lenses for that further eye enhancement. You can shop a range of prescription coloured contact lenses in a variety of corrective powers at Feel Good Contacts. For the appearance of bigger eyes, we would recommend our FreshLook Illuminate lenses by Alcon & Ciba Vision. These will add definition to your natural eye colour and feature a starburst pattern to brighten up the iris for a natural yet alluring look.
Why do my eyes look so small with glasses?
Your eyes will look small with glasses if you have high myopia. As the lenses get stronger in power, they lead to minification. This is usually more noticeable when a wearer has a prescription higher than -4.00 dioptres.
What prescription glasses make your eyes look bigger?
'Plus' lenses for hyperopia (farsightedness) can make your eyes appear bigger, especially if one has a high prescription. A strong 'plus' lens can cause magnification and usually requires a thicker lens.
Do thicker lenses make your eyes look bigger?
Thicker lenses can make your eyes look bigger, especially if you have a prescription for hyperopia, higher than 3.00 dioptres. However, the lens design can influence the appearance of your eyes and choosing a thinner lens design can reduce magnification.
Buy prescription glasses from Feel Good Contacts
If you're looking for the most affordable prescription glasses delivered straight to your door, look no further than Feel Good Contacts. You can shop Ray-Ban, Oakley and Tommy Hilfiger glasses at low prices. If you want the designer look without the big price tag, you can shop our affordable, high-quality Feel Good Collection glasses. You can even benefit from a first-time discount with us as our welcome offer to you. For all your other eye care needs, Feel Good Contacts are your one-stop shop for eye care essentials, stocking well known brands such as Acuvue and Blink eye drops. Prioritise your eye health for the most affordable prices today.