Under new regulations, the UK government has closed all non-essential shops and advised the public not to leave the house, with the exception of getting essentials like food and medicine, and to exercise (whilst maintaining social distance from others of 2 meters). We also need to be washing our hands more regularly and avoid touching our eyes. Our earlier post on coronavirus and eye care addresses the misinformation circulating online about wearing contact lenses at this time.
The British Prime Minister has also advised that everybody should work from home if they can. Right now, you might be trying to figure out a new routine for yourself. Without the re-assuring repetitiveness of your daily commute and the friendly banter from your co-workers, it can feel like you're a little out of place.
Structure makes our brains happy because the patterns and routines we don't have to think about will allow our brain to go into autopilot. Routines help us save precious energy for important things that take more brainpower. Establishing a set routine (with some room for flexibility) will give your day some structure. This should make you more efficient, productive and hopefully more at ease in these uncertain times.
Create a routine
A routine is just as important for your mental health as it is for your productivity levels. It can be as simple as getting up at the same time every day, reading a book or doing a workout, making a coffee and breakfast, then setting down to start your workday.
Personalise the routine to work for you. As long as you are consistent and the routine loosely mimics the one you had when you were at the office, it should work for you.
Communication is key
You can't turn around to your boss and ask that quick question when you're not in the office. Communication is even more important when the only way to contact your co-workers is online or through the phone. You'll probably find yourself having more regular meetings via video chat, which will help you all to be on the same page about all the projects you're working on.
Get outdoors
Seeing the same four walls non-stop isn't good for anyone. Exercise will stop you feeling lethargic from sitting at home all day. If you go for a walk you're getting some movement and some air at the same time, a win-win. You could try listening to a podcast or your favourite music playlist, to pass the time as you walk. Remember to stay 2 metres away from other people whilst you're out.
In the UK we're currently being advised to stay at home and only leave the house when necessary. This means you can leave the house once a day to exercise (this of course is subject to changing conditions). Some find it useful to get a walk or a run in early before they start their day. Another option is to exercise at lunchtime to refresh yourself in the middle of the day. Even doing a stretch in the garden or on your balcony (if you have either) can help.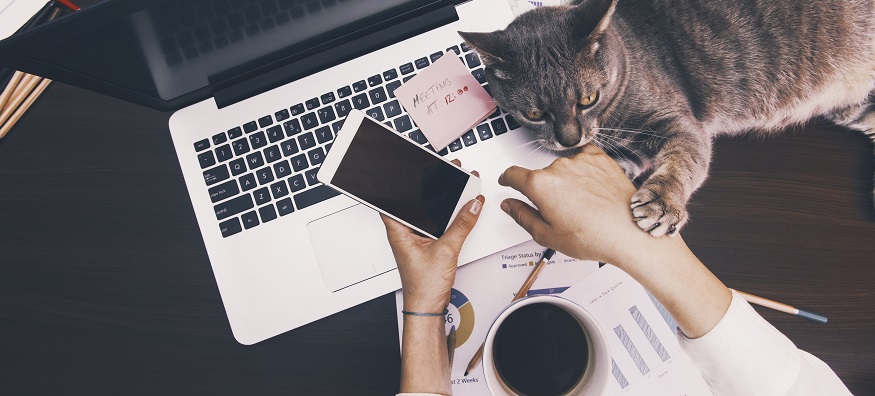 Keep in contact with friends and family
It's hard to ignore the constantly developing events of coronavirus, especially when it dominates the news headlines. Staying indoors all day without seeing your friends would be isolating for anyone. Particularly if you live alone, keeping more regular contact with your loved ones is especially important right now.
A quick video chat every day will give you peace of mind that your friends/family/partner are safe. This should stop some of the worries that can play on your mind throughout the day when you're trying to focus on other things. Midday is a good time to do this as you can both eat together (virtually, of course).

Get dressed
Even if you put on sweatpants and a jumper, putting on your daytime clothes will make a big difference to your mindset. If you work in your pyjamas you'll still be in 'relax mode' which won't make you motivated to get things done.
You don't have to put clothes on that will make you uncomfortable like jeans, comfort is the aim, just make sure they are clothes you would actually wear outside. The added bonus of this is that when you leave the house to get food or do some exercise, you'll already be ready.
Designate a workspace
If you work in bed you may be comfortable – although not for long as you may develop back issues – however, your mind probably won't be in 'work mode'. If you don't have a desk, the dining room table or even the sofa are better places to work than your bed.
Listen to ambient music
Music can be incredibly comforting, especially if the songs you listen to evoke happy memories attached to them. Whether you prefer to have the bass pumping loudly, or a lower volume just in the background, there are so many genres to choose from that we're spoilt for choice. Music also releases endorphins in our brains to make us feel better, a little music every day can significantly lift your mood and make you feel more focused.
Stick to your work hours
Unless you have a particular deadline that you need to hit, you should stick to your structured work hours as much as possible. It's important to be able to relax after your workday and not keep thinking about work. This is easier to do if you shut the laptop and ignore your emails from the moment your workday ends.
Try to organise fun and relaxing things for yourself to do after work, like having a bath, a video chat or reading a book to help you slip more easily into 'relax mode'.

A thank you to our heroes
We hope our tips make working from home that little bit easier for you. To thank all the amazing NHS staff and frontline workers that are keeping our nation safe and healthy, we're offering 20% off all orders on Blue Light Card!