There's still plenty of things to do with your children on Halloween night, October 31. From spooky baked treats to family web calls, here are the best things you can do this Halloween.
Make slime
One of the most fun Halloween activities for kids is making slime. Did you know you can make slime out of contact lens solution? We recommend our comfi All-in-One Solution. Check out our previous blog post on how to do it.
Baking
Baking is fun any time of year, but especially when the baking is Halloween themed. You can find many Halloween cookie cutter stencils online and in the shops that don't cost a lot. Once your scary biscuits are cooked and cooled down, you can all have fun icing them in bright colours using food colouring and icing.
Pumpkin carving
This is where everybody's creativity can shine. If you have children, you could give them some stencils to help them outline their pumpkins, or just let them loose and see what they come up with. Then put tea lights inside to create jack-o-lanterns.
If you want to do your own pumpkins (and can't be bothered with the carving), then there are plenty of ways to decorate pumpkins without carving them that you can find on Pinterest.
Watch some scary films
Some excellent spooky shows that are suitable for children are:
Casper
Hocus Pocus
The Nightmare Before Christmas
Coraline
Monster House
The Addams Family
Beetlejuice
Coco
Corpse Bride
Ghostbusters
Gremlins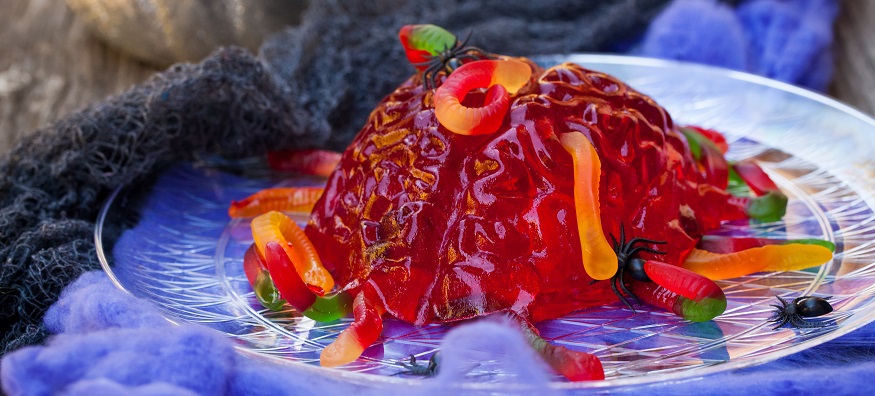 Make scary jelly
For a table centrepiece that's sure to spark fear in your little ones, a plate of brain jelly is just the thing. You can purchase a brain jelly mould on Amazon, Etsy and in some supermarkets. Simply make the jelly using the packet instructions and leave to set in the fridge. When the jelly is set, tip it onto a plate and cover with fake spiders/eyeballs or gummy worms.
Bake pumpkin pie
Don't waste your pumpkins once Halloween is over! This pie is more of an American tradition for the fall, but a delicious one nonetheless. If pumpkin pie isn't your thing, then you can always cut the pumpkin up into cubes, toss them in olive oil with some spices and roast them in the oven. Pumpkin soup is also a wonderful winter warmer.
Make costumes
Even the simplest costume will help your children feel more in a Halloween mood. Easy costumes include a ghost (cut some eye holes out of an old bedsheet) or a witch (create a pointy hat out of a cereal box).
Have a family Halloween Zoom call
If you haven't seen some parts of your family for a long time due to the coronavirus restrictions, this is a great opportunity to arrange a virtual call. You can read our previous blog post for tips on how to throw your own virtual Halloween party.
Decorate your home
Halloween decorations can be found everywhere online and in supermarkets, as well as in many other shops across the high street. Decorating your home is an excellent way to get the kids involved in craft activities, combining Halloween fun to distract them for a few hours with some spooky Halloween decorations is the perfect two in one. You could also create a 'bobbing for apples' corner, all you'll need is a large bucket, water and some apples.