Guide to Acuvue Contact Lenses
Acuvue contact lenses are created by renowned manufacturer Johnson & Johnson, known to offer high quality contact lenses for sensitive eyes to stand up to the demands of todays challenging environments. The Acuvue range gives you freedom from wearing glasses to enjoy an active lifestyle with the options of daily, two weekly and monthly contact lenses to choose from.
The Acuvue family have an extensive range of vision correction for myopia (short-sightedness) and hyperopia (long-sightedness), as well as astigmatic correction with toric contact lenses and presbyopic correction with multifocal contact lenses. Please note, you will need to seek approval from your optician before trying different contact lenses to ensure they are suitable for your eyes.
Acuvue Oasys
Acuvue Oasys contact lenses correct short-sightedness, long-sightedness, presbyopia and astigmatism. They are specifically designed for contact lens wearers who spend a significant amount of time in front of digital screens, as they help minimise dryness in the eye and maintain moisture all day long. You can be sure of a comfortable lens wearing experience with these lenses and they are available in daily disposable and two weekly disposable form to meet your contact lens needs.
Acuvue TruEye vs Moist
1 Day Acuvue TruEye and 1 Day Acuvue Moist are titled as Johnson & Johnson's most popular lenses. They boast a high level of UV protection and being a daily disposable means they're an incredibly hygienic way of wearing contact lenses. So, you can enjoy a fresh new pair of contacts every day. The soft and spherical design of the contacts allow for easy application with the additional benefits of a 123-inversion indicator, to tell you if they're inside out. So, what are the differences between them?
Moist
1 Day Acuvue Moist contact lenses deliver incredible comfort to keep up with your busy day, designed specifically for people who suffer from allergies, or itchy eyes. Made with advanced Lacreon technology, the lenses are designed with an embedded wetting agent to provide long-lasting cushion of moisture, making them an ideal daily disposable option for anyone with a busy lifestyle. They are available in both toric and multifocal form.
TruEye
1 Day Acuvue TruEye contact lenses offers a high level of hydration and comfort, perfect for people who wear their lenses regularly for a long period of time during the day. Thanks to Hydraclear technology and its silicone hydrogel material, these highly breathable lenses are constantly lubricated and allow six times more oxygen into the eye compared to standard hydrogel lenses. They can last long hours to keep up with prolonged screen use and dry or dusty environments, making them ideal for the active contact lens wearer.
Acuvue Define Shimmer vs Sparkle
1 Day Acuvue Define coloured contact lenses is designed to enhance the colour of your eyes, without compromising on vision or comfort. Compared to other coloured contact lenses, these lenses won't change the colour of your eyes. Instead, the lenses only cover the edge of the iris for a natural and defined look. If you aren't sure whether to go for 1 Day Acuvue Define Shimmer or Sparkle, here's what sets them apart.
Acuvue Define Natural Shimmer delivers a more intense look, with golden-brown flecks, whereas Acuvue Define Sparkle uses blue and green tones to offer a brightening effect. Whilst, Alcon and Ciba Vision's FreshLook Illuminate ensures a more striking and alluring effect for darker coloured eyes. These defined coloured lenses are all available as a daily disposable option, so you can be sure of exceptional hygiene.
How does Acuvue compare?
Acuvue Oasys vs Air Optix Aqua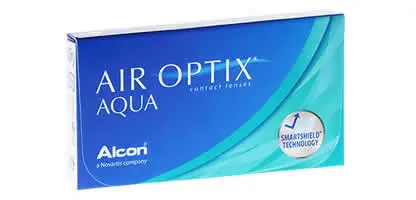 Acuvue Oasys and Alcon and Ciba Vision's Air Optix Aqua are both silicone hydrogel contact lenses to keep your eyes healthy and hydrated. Both from well-respected manufacturers, they permit more oxygen to travel through the lens and into your eye compared to standard hydrogel lenses. They also have visibility tints for easy handling.
However, Acuvue Oasys contact lenses are advanced in that they are two weekly contact lenses, giving you the option to replace them more regularly than monthly disposable lenses. Acuvue Oasys also transmit more oxygen through the lens compared to Air Optix Aqua and has a Dk/t of 147 vs 138.
Acuvue vs Biofinity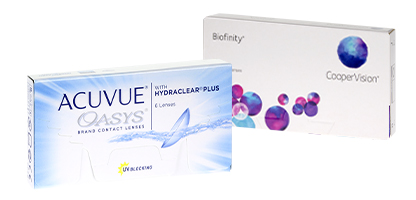 Acuvue Oasys and CooperVision's Biofinity offer superior comfort as high performing silicone hydrogel contact lenses. They achieve a significant level of oxygen transmissibility and are designed with wetting agents to keep the lenses moisturised from morning till night.
Acuvue Oasys are to be replaced every two weeks, whilst Biofinity can be replaced every 30 days. Hence, Acuvue Oasys can be considered a more hygienic way of wearing contact lenses as they are replaced more often than Biofinity. However, Biofinity vs Acuvue holds more water content and allows more oxygen through the lens.