Best eye drops for dry eyes 2021
Dry eyes can be an uncomfortable daily reality for many people. Dry and irritated eyes can be caused by external factors such as too much screen time, central heating or wearing contact lenses. Luckily, there are ways to alleviate the symptoms of dry eyes; one way is to use eye drops (also known as artificial tears). There are many eye drops on the market designed to aid different eye issues. Below we go through the best eye drops to treat dry eye syndrome.
Best value: comfi Soothe Drops
For incredible comfort and long-lasting relief at an affordable price, comfi Soothe Drops are the perfect fit. These drops are rich in sodium hyaluronate (HA), which replicates your natural tears, perfect for persistently dry eyes. These drops can be used with or without your contact lenses in, making them ideal for rewetting your lenses on the go. These drops will keep your eyes hydrated and protected from irritants like pollution, smoke and wind as well as excessive screen time. These drops must be used before the expiry date and discarded 60 days after opening.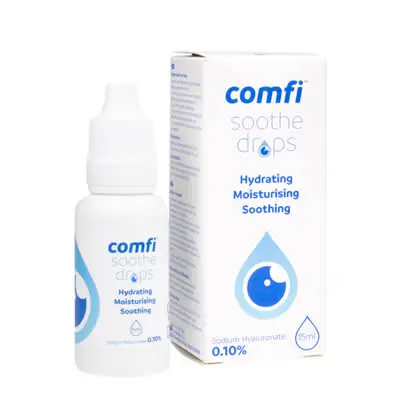 Really nice soothing eyedrops for my always dry and irritated eyes. Highly recommend!!

brilliant eye drops makes my lenses feel comfortable all day.