Thealoz Duo Eye Drops - 10ml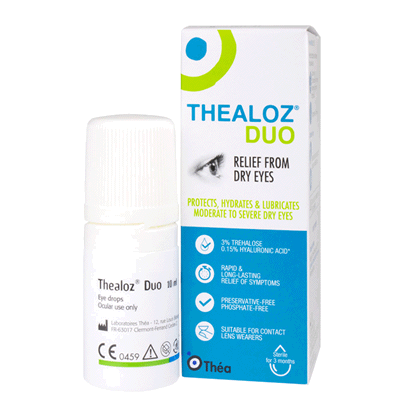 Thealoz Duo Eye Drops Benefits and Features
Hydrating eye drops
Preservative free
For all contact lens wearers
Recommended For
Dry eyes
Sensitive eyes
Irritated eyes
Product Description
Thealoz Duo Eye Drops thickens the tear film, to encourage more hydration for the eyes. Sodium hyaluronate helps the eyes to retain moisture by thickening the tear film, providing lasting relief from moderate to severe dry eye. The moisturising effects of these eye drops have been clinically proven to last for at least 4 hours, these drops can be reapplied as and when required.
These soothing eye drops are ideal for excessive screen use, and drying environments such as air-conditioned spaces and central heating. If you have dry eyes, blurred vision, stinging eyes or a condition such as blepharitis, these soothing and hydrating eye drops are the ideal way to reduce those symptoms. This bottle will last 3 months after opening.
Need more optical advice help? Ask our optical experts
Product Details
| | |
| --- | --- |
| Manufacturer | Théa |
| Brand | Théa |
| Ingredients | Trehalose 3g, Sodium Hyaluronate 0.15g, Sodium Chloride, Trometamol, Hydrochloric acid, Water |
| Pack Size | 1 x 10ml bottle |
Cautions
Do not use this solution if you are allergic to any ingredient in this product.
For Use
Apply 1 drop into each eye. These drops can be applied 4 to 6 times a day.
Thealoz Duo can be used when wearing contact lenses. Do not use if you are allergic to any of the ingredients. Do not touch the surface of the eye with the tip of the bottle.
Frequently Asked Questions
How long does Thealoz Duo Eye Drops last?
These eye drops can be used as often as needed, they must be discarded 3 months after opening.
What is Thealoz Duo Eye Drops used for?
These eye drops are for people with moderate to severe symptoms of dry eye.
Product Summary
Thealoz Duo Eye Drops soothes and hydrates dry eyes. Suitable for all contact lens wearers both before and during wear.
In Stock
Estimated Delivery
Tomorrow
Order within
20hrs 39mins

Thealoz Duo Eye Drops - 10ml Reviews
(3)
Jozef Szlagowski

-

23 Jun 2023

Great for dry eyes, easy and quick to use

June Gornall

-

06 Apr 2022

These eye drops really work for me. Ok, they are expensive but if you need them, you''ve got to have them.

Eunan Macintyre

-

17 Jul 2021

Excellent service and product.