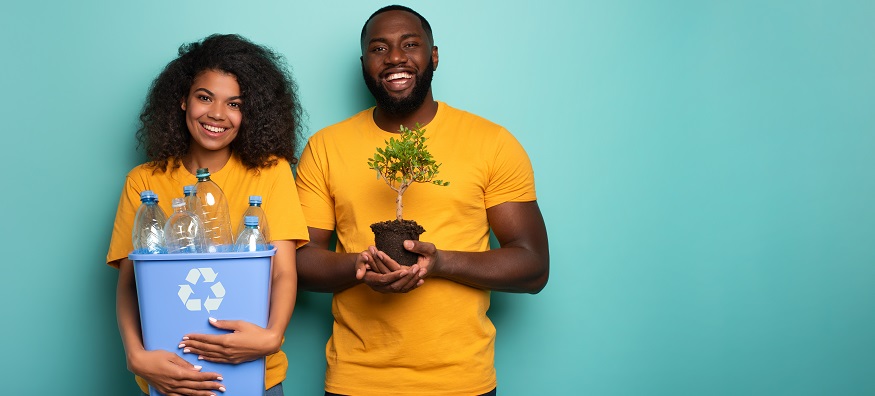 Protection of the environment is vital, if we collectively do our bit, then we can create a more circular economy. Sustainable practices need to be implemented not just by individuals, business owners and governments but policies are also needed to be created that benefit the environment. There's only one earth, so we need to look after it.
The problem with plastic
We rely on plastic in our everyday lives, our shampoo and milk bottles, toothbrushes and phone cases are all made from plastic. It's become such an essential that we often don't stop to think about what all that plastic is doing to the environment. To make matters worse, half of all the plastic that is produced is designed to be used only once. The average life of a coffee cup, for example, is just 7 minutes!

All the plastic that has ever been created is still on the earth in some form or another, as plastics cannot decompose. Over many years, plastic breaks down into microplastics and can even break down further into nano plastics, the latter is so small that it can't even be detected under a microscope. These small pieces of plastic end up in landfill, the ocean and even in the air we breathe.
3 easy ways you can be more sustainable
There are many ways you can contribute to a better environment, but there's no need to feel overwhelmed. Starting with small changes is the best way to make consistent positive change. Here are three ways you can live more sustainably.
Invest in eco-friendly eyewear
If you have a prescription, you should explore affordable eco-friendly eyeglasses. Our EARTH range are stylish glasses models made from recycled acetate – a plastic material sourced from post-consumer waste, giving old consumer products a second life through recycling.

Our EARTH sustainable glasses range also features models that are made from bio-based acetate – an innovative plant-based plastic which is biodegradable upon lab treatment, it then becomes waste without leaving any harmful micro-plastics behind.
EARTH Eliza Black
These black, square glasses offer a medium fit. Made from sustainable material, this classic frame is sure to complement your everyday style with ease.
Superdry SDO 2015 108 Grey Crystal
These Superdry glasses are made from biodegradable bio-based acetate. The transparent grey colourway and flattering square shape works well with the silver detailing at the hinge.
Polaroid PLD D474/G LOJ 50 Gold Crystal
The subtle hexagonal shape of this Polaroid frame will give your look some edge. The gold-coloured frame is made from sustainable metal, for a stylish accessory that's also good for the planet.
Take your own cup/containers
Coffee cups are lined with plastic to make them waterproof, although practical, this makes the cup incredibly difficult to recycle. A lot of coffee shops will give you a discount if you bring your own cup. Some cafes have even banned takeaway cups altogether, giving customers the choice to drink inside the café using mugs or to bring their own cup to take the coffee to go.

If all cafes followed suit, customers would need to remember their cup or risk not being able to enjoy their coffee to go. A slight inconvenience, but it would stop many cups from going to landfill and many more places which would harm the earth.
Buy second-hand
This goes for fashion, furniture and really anything else you buy. Charity shops and vintage stores are constantly getting new stock, so it's worth checking them regularly to make sure you don't miss out on any deals. You should also try to consume less, try to repair things, try DIYs instead of replacing them and if it can't be repaired, recycle it if possible.