This week our #30DaysOfShades series puts the spotlight on one of the most influential brands of the 21st century, Gucci.
History
It all began in 1920 when Guccio Gucci opened the House of Gucci in his home town of Florence. His passion for leather and luxury goods had begun years earlier when he was a hotel worker in Paris, then later, London. Guccio observed and learned the styles behind high fashion, then headed home to Florence to start his own business. Once back in Italy, Gucci organised his workrooms for industrial methods of production, however maintained the traditional aspects of fabrication, leather craft and attentive finishing from which Florence was revered. This, combined with the use of high quality materials, made the shop an instant success and he was soon ready to expand throughout Italy. He enlisted the help of his three sons, Aldo Gucci, Vasco Gucci and Rodolfo Gucci to open up stores in Rome and, then Milan. Aldo and Rodolfo later built on the success of the brand in Italy and established an office on New York's Fifth Avenue. Gucci became known as the glamorous brand that it remains today, and the merchandise became an international status symbol.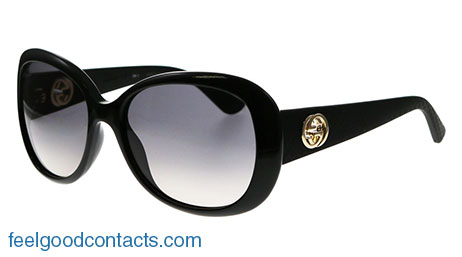 Gucci Sunglasses
The Gucci eyewear collection is known for contemporary materials, distinctive style and luxurious design, with popular models pushing the creative boundaries. This focus on style and modern materials led to Gucci becoming hugely popular with Hollywood stars in the 1960s. Stars such as Grace Kelly and Peter Sellers have been associated with the brand.
However, Gucci sunglasses are not only known for style and design, their eyewear collection is also known for its innovation. Gucci is a pioneer in unisex sunglasses, with the Gucci 1923, amongst the most popular sunglasses by 'fashionistas'. The blackish green shades with the gold plated frames appeals to both the male and female audience. Innovation is the key phrase when observing the hugely popular Gucci 3132, the oversized lenses, purple shades and singled bridged frames are designed to make you stand out and look stylish.
However, Gucci has taken the focus on innovation one step further, with their technologically-advanced line, which includes models made from sustainable products and eco-friendly materials. The Gucci sunglasses made from liquid wood are a biodegradable material, while the wood fibre is cut from managed forests and the lenses are manufactured using natural wax.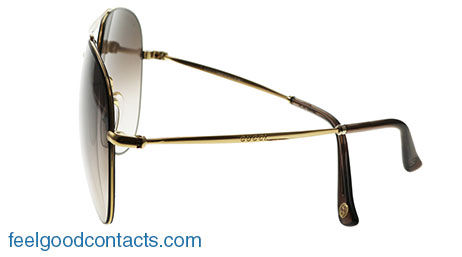 Gucci Eyewear Collection
This season's Gucci eyewear collection focuses on stylish frames with engaging colours and exciting materials. The sunglasses are perfect for a summer holiday but equally effective for everyday use, with a style and shape to suit everyone - whether you're after something simple or more extravagant. Feel Good Contacts are delighted to be one of the few exclusive Gucci online retailers. Furthermore, you can be sure to get your
designer sunglasses
at the
best possible UK price
.