While both start-ups and major tech players have been facing the challenge of creating smart glasses with AR technology for a while, you'll be pleased to know this vision is now a reality. Both Apple and Facebook have already confirmed plans to launch these.
What are smart glasses?
Smart glasses are devices worn as regular glasses but have inbuilt technology that can merge what you see in reality with virtual information, such as the kind you'd find on the screen of your smartphone. This information is usually overlaid on one of the lenses of the frames. For example, you could see navigation for maps or notifications flashing up from various apps on your phone. When speaking about smart glasses, people also talk about augmented reality, which means emphasizing the real world with more information provided by an information system.
What can smart glasses do?
Smart glasses can deliver a wealth of information to the wearer, be it information about the surrounding environment, navigation for maps, facial recognition of people coming towards the wearer or even notifications flashing up from various apps on the phone.

The wearer can communicate with the smart glasses through voice, touching, tapping or swiping with their fingers, for example. The controls built into the frames allow the wearer to do this. Some smart glasses also have gesture recognition of head, eye and hand movements.
Google Glass and smart glasses
Google Glass was the first to launch smart glasses in 2013. They introduced Google Glass Explorer intending to build on the popularity of other wearable technology devices such as smartwatches. However, there were lots of flaws with Google Glass Explorer. It was too expensive and uncomfortable to wear, not to mention somewhat robotic in its appearance. For this reason, Google took it off the shelves just 18 months after it was released.

While Google Glass Explorer was not a success, it certainly provided a good archetype for smart glasses. Since its introduction, other major tech players, including Facebook and Amazon, have refined their own smart glasses.
New smart glasses 2021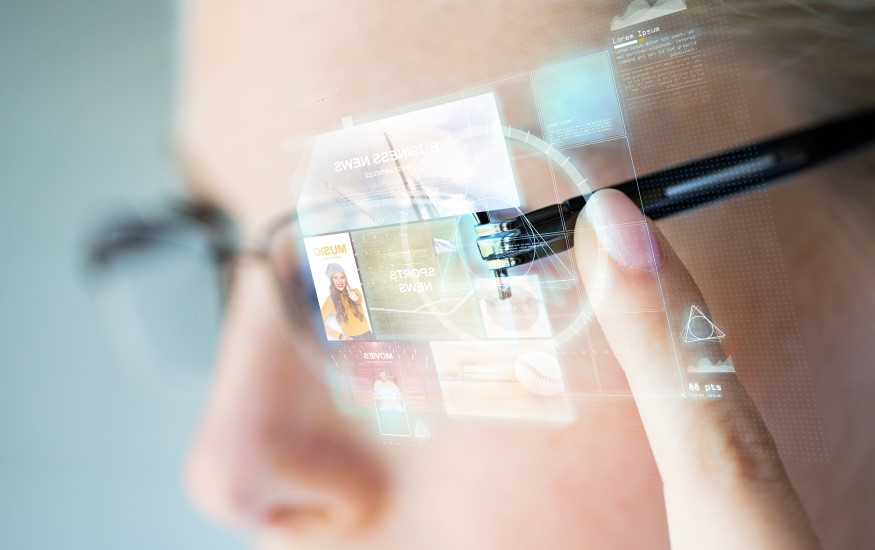 With plenty more innovation coming our way, here are the latest smart glasses of 2021:
Facebook Ray-Ban smart glasses
Facebook founder Mark Zuckerberg has collaborated with Luxottica to create Ray-Ban branded smart glasses. While we don't know what these smart glasses will have to offer yet, according to Zuckerberg, they will let you do some 'pretty neat things.'

What Zuckerberg has confirmed, however, is that they won't have an integrated display which leads us to believe that they will rely on a paired smartphone app for controls. They won't be your typical AR glasses, and they certainly won't have the digital overlay associated with augmented reality. Nevertheless, he is keeping us on our toes by not divulging further information about what features these smart glasses will possess.
Amazon Echo Frames (2nd gen)
Amazon's Echo Frames are like having Alexa but in a pair of frames. They have taken a pair of regular glasses and incorporated the voice assistant into the design. Similar to the Facebook Ray-Ban smart glasses, they are not AR, so you don't see anything.

They have four directional speakers built into each stem through which Alexa feedback can be played. With these Amazon Echo Frames, you can control your smartphone by talking to Alexa without the people around you hearing the responses.

These frames can be fitted with a set of prescription lenses or made into sunglasses by an eye care professional. In addition to this, they can be updated to include blue light filtering and polarised lenses.

Made from a carbon fibre and titanium, the Echo Frames from Amazon are lightweight and water-resistant. They allow roughly an hour of music, half an hour of phone calls, and 120 incoming notifications over 14 hours. When the frames are placed upside down for three seconds, they automatically turn off.
Snap Spectacles AR (4th gen)
The latest Snap Spectacles by Snapchat are a huge design update from their previous spectacles and are the first of its spectacles range to include a real-time AR wearable display. However, these smart glasses are not available for sale and are only being offered to developers and creators to figure how best they can be used and what they can be used for.
Lenovo ThinkReality A3
Lenovo ThinkReality A3 smart glasses have been created for the purpose of working professionals (financial services professionals in particular) so that one can view up to 5 virtual displays and increase productivity.

These smart glasses allow professionals to create customised, expanded personal workspaces anywhere and are especially useful for recreating an office set up in a work-from-home scenario. In addition to this, they offer complete privacy so that one can view sensitive information without fear of people looking over their shoulders. They provide the perfect fit with a customisable head size and nose pieces, and prescription lenses can be mounted to the nose piece if desired.

The Lenovo ThinkReality A3 smart glasses are designed to be connected to PCs and workstations running Windows 10, enabling users to utilise their existing applications. These smart glasses can also be connected with a Motorola smartphone.
What are the most advanced smart glasses?
Vuzix Blade Upgraded smart glasses have been hailed as the most advanced smart glasses. They feature a wide range of advanced features, including augmented reality, speakers, noise-cancelling microphones and a great 8MP camera that can record HD videos at 30 frames per second.

These smart glasses use a full-colour display on the right lens which relies on Waveguide optics technology to integrate digital images as an overlay onto the real world. They also feature head motion tracking to allow an immersive augmented reality experience. The Vuzix Blade Upgraded smart glasses can be paired with a smartphone through the 'companion app', which allows you to customise its functionality even more and receive your phone notifications on your glasses.
Smart glasses and better vision
Smart glasses can also fulfil the obvious visual role of all glasses, which is seeing better. Developers have incorporated liquid crystal technology into the designs of smart glasses to allow the wearer to adjust the brightness coming through the lenses, changing the light in their environments. This is a huge advancement from photochromic lenses and even sunglasses.

If you thought that smart glasses were innovative enough, take a look at smart contact lenses of the future.