Both start-ups and major tech players have been facing the challenge of creating smart glasses with AR technology for a while, you'll be pleased to know this vision is now a reality. Oppo, Amazon, and Facebook have already launched their own versions.
What are smart glasses?
Smart glasses are devices worn as regular glasses but have in-built technology that can merge what you see in reality with virtual information, such as the kind you'd find on your smartphone's screen. This information is usually overlaid on one of the lenses of the frames. For example, you could see navigation for maps or notifications flashing up from various apps on your phone. When speaking about smart glasses, people also talk about augmented reality, which means emphasising the real world with more information provided by an information system.
What can smart glasses do?
Smart glasses can deliver a wealth of information to the wearer, be it information about the surrounding environment, navigation for maps, facial recognition of people coming towards the wearer or even notifications flashing up from various apps on the phone.

The wearer can communicate with the smart glasses through voice, tapping, or swiping with their fingers. The controls built into the frames allow the wearer to do all these activities. Some smart glasses also have gesture recognition of head, eye, and hand movements.
New smart glasses 2022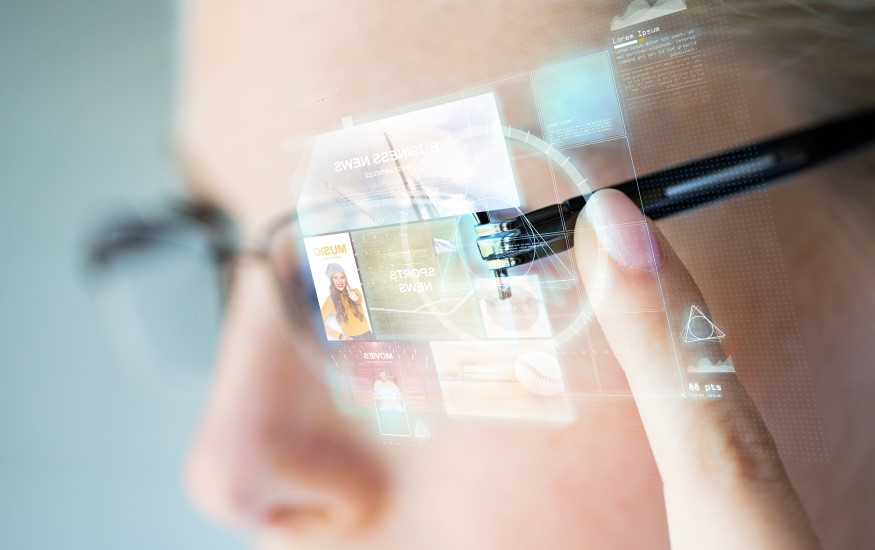 With plenty more innovation coming our way, here are the latest smart glasses of 2022:
Google AR glasses
Google is developing a pair of glasses that can translate what someone is saying in real time. The prototype has a digital display that only the wearer can see, the technology within these glasses displays the translated words as they are spoken. Wearing these glasses will allow you to go to any country or interact with anyone, you won't have to learn the language for you to understand what people are saying to you.

This incredible tool will break down language barriers that can make day-to-day life so difficult for people. Especially for those living abroad for the first time or even for watching TV and film without having to put the subtitles on. We aren't sure when this product will be available to the public, but the prototype will soon be tested by some selected Google testers in real life settings. After the failure of Google Glass, it's clear that the company wants to take its time in the testing phase and make sure the product is 100% ready for consumers.
OPPO Air Glass
The OPPO Air Glass are smart glasses that are stylish and minimal in design. A clear digital display is guaranteed even in changing light conditions. Actions can be achieved through voice, touch, hand motions and even head movements. These actions can be used for things like playing and pausing music, dismissing notifications, and switching applications. These glasses can be used to check the weather, follow map directions, listen to music and even translate words spoken in real-time, much like the Google AR glasses. This product isn't available to the public yet but is due to release soon.
Ray-Ban Stories smart glasses
Facebook founder Mark Zuckerberg has collaborated with Luxottica to create Ray-Ban branded smart glasses. These futuristic glasses have WIFI and Bluetooth capability as well as an integrated display that can take photos and record videos through touch as well as voice commands. These glasses can be used in conjunction with the Facebook View app where you can share the content you create and manage your settings.

These prescription glasses contain Transitions technology, which means that the lenses remain clear when indoors and darkens/provides 100% UVA and UVB protection when you are outdoors. The glasses can be used with both IOS and Android, it also comes with a charging case, cleaning cloth and USB cable.
Amazon Echo Frames (2nd gen)
Amazon's Echo Frames are like having Alexa but in a pair of frames. Amazon has taken a pair of regular glasses and incorporated the voice assistant into the design, allowing you to play music through the four directional speakers built into each stem, although it doesn't utilise bone conduction like the Bose frames do. With these Amazon Echo Frames, you can control your smartphone by talking to Alexa, the people around you won't be able to hear Alexa's responses.

Similar to the Facebook Ray-Ban smart glasses, they are not AR, so you don't see any digital display. These frames can be fitted with a set of prescription lenses or made into sunglasses by an eye care professional. In addition to this, they can be updated to include blue light filtering and polarised lenses.

Made from carbon fibre and titanium, the Echo Frames from Amazon are lightweight and water-resistant. They allow roughly an hour of music, half an hour of phone calls, and 120 incoming notifications over 14 hours. When the frames are placed upside down for three seconds, they automatically turn off, a very handy feature.
Snap Spectacles AR (4th gen)
The latest Snap Spectacles by Snapchat are a huge design update from their previous spectacles and are the first of its spectacles range to include a real-time AR wearable display. However, these smart glasses are not available for sale and are only being offered to developers and content creators to figure out how best they can be used and what they can be used for.

The frame is incredibly lightweight, but this smaller form also limits the technological capabilities of the glasses. The battery life is only 30 minutes (the case holds up to 4 charges). There is no digital display within the lens itself, but wearers of this device will be able to see augmented reality elements in their environment, a lot like the popular app Pokemon Go.
Lenovo ThinkReality A3
Lenovo ThinkReality A3 smart glasses have been created especially for working professionals (financial services professionals in particular). These glasses allow the wearer to view up to 5 virtual displays at once, helping to increase productivity.

These smart glasses allow professionals to create customised, expanded personal workspaces anywhere, useful for recreating an office set up in a work-from-home scenario. In addition to this, these glasses offer complete privacy, as only you can see the digital displays, allowing you to view sensitive information without fear of people looking over your shoulders.

The Lenovo ThinkReality A3 smart glasses are designed to be connected to PCs and workstations running Windows 10, enabling users to utilise their existing applications. These smart glasses can also be connected with a Motorola smartphone. They provide the perfect fit with a customisable head size and nose pieces, and prescription lenses can be mounted to the nose piece if desired.
What are the most advanced smart glasses?
Vuzix Blade Upgraded smart glasses have been hailed as the most advanced smart glasses. They feature a wide range of advanced features, including augmented reality, speakers, noise-cancelling microphones and a great 8MP camera that can record HD videos at 30 frames per second.

These smart glasses use a full-colour display on the right lens which relies on Waveguide optics technology to integrate digital images as an overlay onto the real world. They also feature head motion tracking to allow an immersive augmented reality experience. The Vuzix Blade Upgraded smart glasses can be paired with a smartphone through the 'companion app', which allows you to customise its functionality even more and receive your phone notifications on your glasses.
Smart glasses and better vision
Smart glasses can also fulfil the obvious visual role of all glasses, which is seeing better. Developers have incorporated liquid crystal technology into the designs of smart glasses to allow the wearer to adjust the brightness coming through the lenses, changing the light in their environments. This is a huge advancement from photochromic lenses and even sunglasses.

If you thought that smart glasses were innovative, take a look at smart contact lenses of the future.