When is pancake Day 2021?
Pancake Day falls on February 16 this year which happens to be tomorrow. It is always 47 days before Easter Sunday, so the date varies from year to year.
Why do we celebrate it?
Also known as Shrove Tuesday, Pancake Day is a Christian Holy day. It falls on the day before Ash Wednesday which marks the start of Lent.

On Shrove Tuesday, Christians traditionally prepare for lent by participating in confession to be absolved from their sins.

Many Christians celebrate Shrove Tuesday by eating pancakes as this allows them to use up eggs and fat before starting the Lenten fast. This tradition has been adopted by many non-Christians too.

Another tradition that people usually partake in is pancake races, and to amp up the excitement of it all, they sometimes wear fancy dress. Unfortunately, it doesn't look like these races will be going ahead this year due to the lockdown restrictions. However, that doesn't stop us from celebrating pancake day.

At Feel Good Contacts, we have decided to roll up our sleeves by making our very own sweet treats which you can try yourself, so why not celebrate pancake day at home this year?
How do you make pancakes?
Pancakes are easy to make and require minimal ingredients; mainly flour, milk and eggs for a simple pancake mix. Our selection of recipes cater for everyone, no matter your diet, and we won't hold it against you if you want to improvise on the toppings. As these recipes make 10-20 pancakes, you'll be happy to know that you can keep leftover pancake batter in the fridge for a couple days.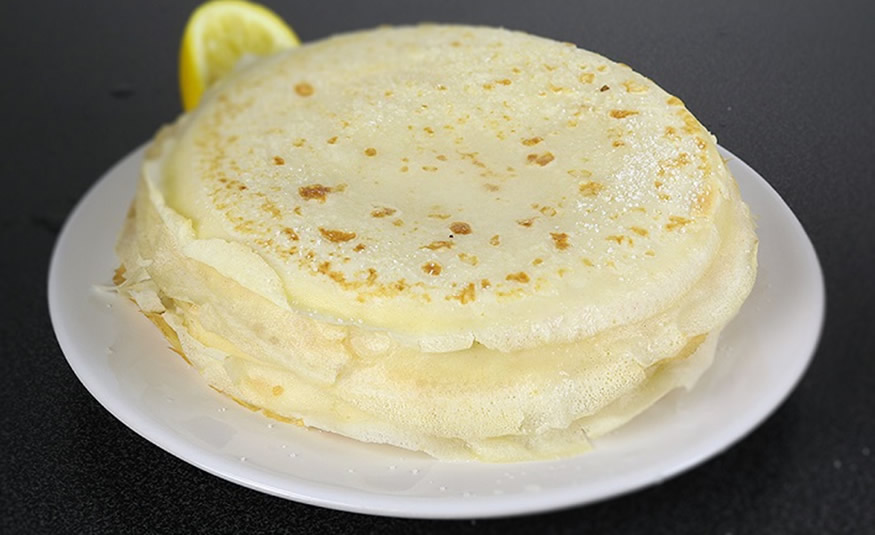 Classic crêpes pancake recipe
Why mess with a winning formula? The most classic of our choices, this tasty French-style pancake can be served with a sweet or savoury topping. In our case, we used lemon juice and sugar.
Ingredients (makes 20 pancakes):
250g flour
3 eggs
600ml milk
A pinch of salt
2 tbsp sugar
2 tbsp vegetable oil
Topping ingredients:
2 tbsp sugar
2 tbsp lemon juice
Instructions:
Sift the flour into a mixing bowl, and create a hollow in the middle.
Add the eggs, sugar, oil and salt to the mixture.
Mix gently while adding milk gradually until the batter thickens.
Heat a small splash of oil in a pan.
Pour in a ladle of batter, and spread it across the pan.
Cook on a low heat until the pancake is cooked on one side, then flip over until golden on both sides.
Top with some lemon juice and a sprinkle of sugar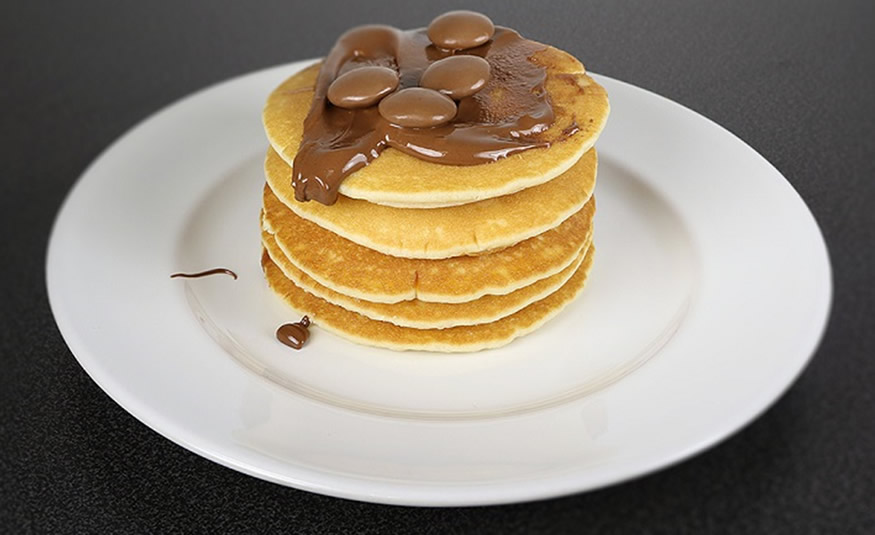 Nutella scotch pancakes recipe
Scotch pancakes are immortalised in American movies as the ultimate breakfast food. More often than not they're served with a deliciously sweet chocolate topping. So, we thought we'd take these classic Nutella pancakes and go one step further by adding some Minstrels, for all the sweet-toothed breakfast lovers out there.
Ingredients (makes 10 pancakes):
220g self-raising flour
2 eggs
280ml milk
50g caster sugar
A pinch of salt
1 tbsp of vegetable oil
Topping ingredients:
1 tbsp of Nutella
Minstrels
Instructions:
Sift the flour, sugar and salt into a large mixing bowl.
Whisk the eggs and milk together in a bowl, before gradually adding them to the flour and mixing everything together.
Once mixed, add the oil and mix again until the batter is formed.
Heat a small amount of oil in a frying pan, before adding 2 tablespoons of batter to the pan.
Heat until the pancake solidifies, flip the pancake and cook until both sides are golden brown.
Serve with a generous scoop of Nutella and garnish with Minstrels.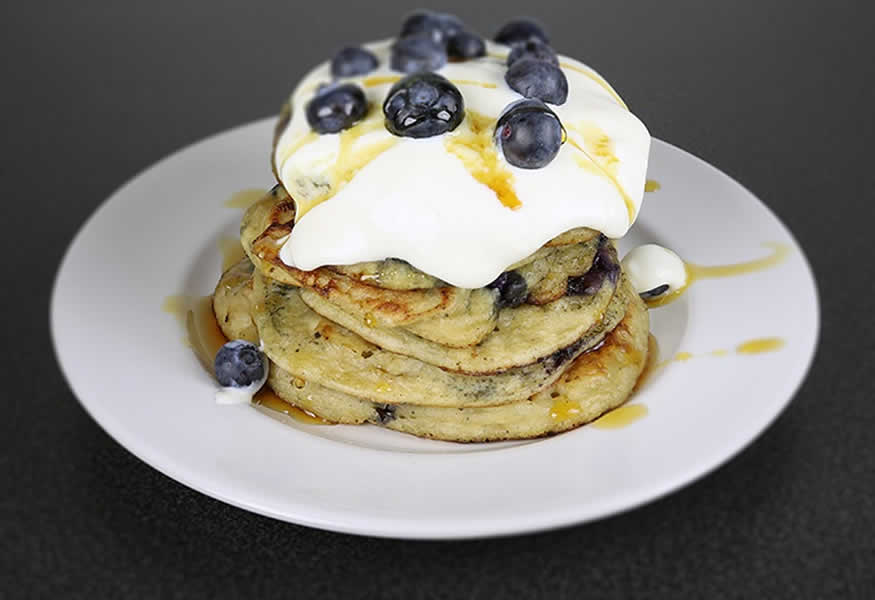 Vegan blueberry pancakes recipe
Veganism is on the rise in the UK and has been for a while! As this last January has shown, with many people undertaking Veganuary, it's becoming easier and more popular to follow a vegan lifestyle. That's why we thought we'd add our favourite vegan recipe for pancakes this year.
Ingredients (makes 10 pancakes):
200g self-raising flour
1 tsp baking powder
300ml soya milk
1 banana
15g vegan butter, melted
75g blueberries
Tsp sunflower oil
Topping ingredients:
Dairy-free yoghurt
Maple syrup
75g blueberries
Instructions:
Add the flour and baking powder to a large bowl and mix together.
Form a hollow in the centre of the mixture, adding in the soya milk and whisking to form a thick batter.
Mash up the banana, and mix with melted vegan butter, before adding to the mixing bowl.
Mix in with the batter thoroughly, before gently stirring in half of the blueberries.
After heating a teaspoon of oil in a large frying pan, add 3 or 4 tablespoons of the batter to the pan (one for each pancake).
Cook for 3 minutes until the pancakes solidify, then flip and cook for a further 2-3 minutes until both sides are golden brown.
Top with maple syrup, dairy-free yoghurt and the rest of the blueberries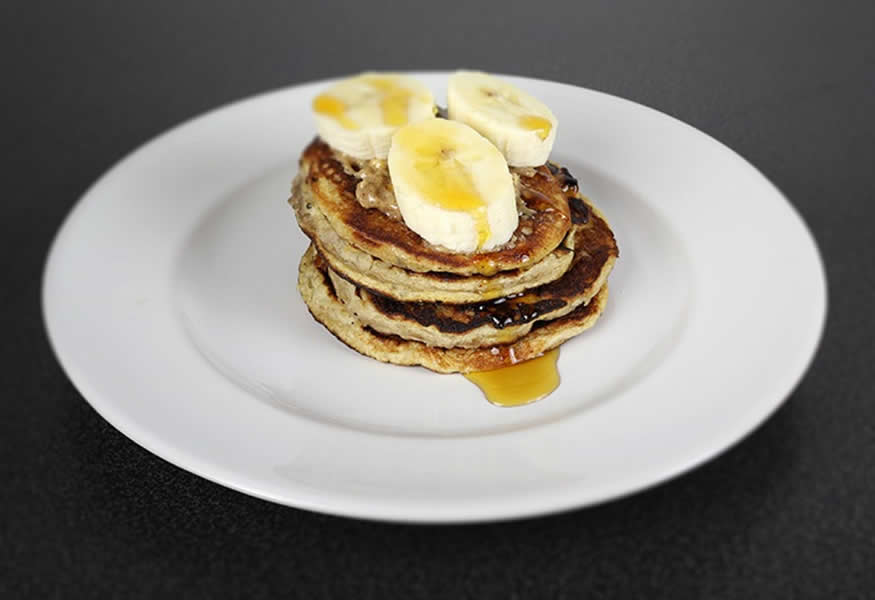 Protein pancakes recipe
Now it'd be unfair if all the gym nuts out there couldn't also enjoy Pancake Day with the rest of us! Which is why we've packed these pancakes full of delicious vanilla flavoured protein powder, to help aid muscle recovery after a morning workout.
Ingredients (makes 10 pancakes):
40g vanilla protein powder
2 bananas
4 eggs
½ tsp baking powder
¼ tsp cinnamon
½ tsp salt
Topping ingredients:
2 tbsp peanut butter
2 chopped banana
Maple syrup
Instructions:
Separate the whites from the yolks of the eggs, and place them in two separate bowls.
Whisk the egg whites thoroughly, until they form soft peaks.
Mash up the bananas, and add it along with the protein powder, baking powder, cinnamon and salt to the egg yolk and mix together.
Fold ¼ of the egg white into the mixture and whisk gently, being careful not to knock the air out. Then repeat with the rest of the egg whites (a ¼ at a time).
Heat a non-stick pan with a small amount of oil
Add ¼ of the pancake mixture and cook for approximately 1 minute on each side, until golden brown.
Top with peanut butter, chopped banana and maple syrup.
How the perfect pancake recipe may help to treat Glaucoma
Not only do pancakes make a delicious treat, but did you know that the perfect pancake recipe may help to treat glaucoma?

Scientists have been studying pancakes as a way of improving surgical techniques for treating people with glaucoma. According to researchers at UCL 'studying how water escapes from the pancakes can help understand how flexible sheets, such as the human retina, interact with fluids and vapours, such as those that occur in glaucoma.'

What can we say, you learn something new every day!