The data, requested under a Freedom of Information (FOI) request, showed the Government received 166,148 DVLA health notifications in 2013, compared to 200,289 last year. In addition, the number of licenses that were "refused on application or revoked for eyesight-related conditions over the last five years" totalled 42,803 for Group 1 drivers (car/motorcycle) and 6,965 for Group 2 drivers (lorry/bus).

With National Eye Health Week later this month, and Road Safety Week in November, it couldn't be a better time to stress the importance of this topic. We have many customers who require eyewear for driving; it's crucial not only for their eye health but for the safety of other road users. Regular eye tests are highly recommended, especially if you're struggling to see a minimum of 20 metres away, the minimum eyesight standard required by all drivers. It's also imperative that you raise a DVLA health notification immediately if anything changes in regards to your eye health.

For a wealth of information about eye care, contact lenses and prescriptions, visit the Feel Good Eyecare Hub.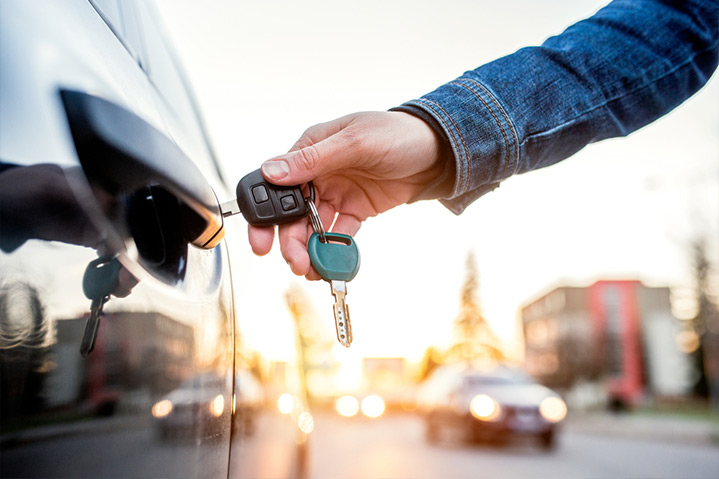 The FOI data also revealed that men are six times more likely to be disqualified from driving. 421,565 men were banned from driving from January 2014 to the end of July 2018, compared to 66,272 women in the same period.

Further data highlighted disqualification by gender, age and gave a breakdown of why the individual was disqualified. The age at which men were most frequently disqualified is 26, totalling 18,107 over the past four years. Comparatively, the common female age for disqualification was three years older at 29, totalling 2,267 women.

Men were also over:

23 times more likely to be disqualified for dangerous driving

16 times more likely to be banned for driving whilst already disqualified

15 times more likely to be banned for driving or attempting to drive whilst above the limit for drugs

10 times more likely to be disqualified for driving without due care or consideration for other road users
Rodney Kumar, spokesman for UK road safety charity IAM RoadSmart, said: "These findings strongly back up our research and that of the Government, which shows we need a targeted approach aimed at the biggest 'at risk' group in the UK when it comes to road crashes – that is young men in their early to mid-twenties. If we are to make any inroads into significantly reducing the numbers of people killed or injured on our roads, we need to directly influence this group through re-education on attitudes from an early age, backed up by zero tolerance in enforcement to stop them in their tracks and make them realise bad driving just isn't worth it."


Disqualifications By Age And Gender
Females
Age at disqualification
2014
2015
2016
2017
2018
Female total
29
300
460
558
606
343
2,267
26
333
508
511
589
306
2,247
27
362
509
456
554
321
2,202
28
340
451
541
532
328
2,192
30
327
454
459
560
332
2,132
25
342
467
483
527
308
2,127
24
367
447
480
506
244
2,044
34
318
439
458
480
282
1,977
32
279
408
496
506
281
1,970
31
292
403
461
504
293
1,953
33
333
405
418
470
288
1,914
23
336
389
458
443
272
1,898
35
274
396
432
486
257
1,845
22
349
398
435
404
210
1,796
36
257
404
408
456
255
1,780
37
242
313
432
412
251
1,650
38
265
312
368
408
260
1,613
40
303
341
343
372
211
1,570
45
265
340
396
358
192
1,551
21
306
330
375
321
214
1,546
39
244
326
344
383
243
1,540
42
289
322
344
361
218
1,534
43
277
333
349
379
191
1,529
41
294
330
340
340
219
1,523
44
266
323
372
332
204
1,497
20
253
290
321
384
198
1,446
46
271
312
367
316
177
1,443
47
248
293
348
352
143
1,384
48
263
297
321
317
182
1,380
49
213
315
291
304
174
1,297
50
230
270
273
279
158
1,210
19
188
235
280
298
153
1,154
51
212
229
245
258
144
1,088
52
183
209
214
242
149
997
53
158
182
216
245
140
941
54
155
173
202
189
127
846
55
112
148
168
193
99
720
18
123
163
157
151
106
700
56
120
146
153
146
116
681
57
104
140
119
143
86
592
58
84
129
110
122
85
530
59
84
103
110
90
55
442
60
66
90
98
84
51
389
61
78
74
84
94
49
379
62
55
61
70
70
47
303
63
51
45
62
58
38
254
64
53
46
44
58
28
229
17
41
52
53
48
32
226
65
37
54
43
35
28
197
66
31
37
46
43
32
189
67
25
31
36
43
25
160
68
31
40
31
28
28
158
69
25
33
35
31
20
144
70
24
32
19
22
18
115
72
9
25
38
21
6
99
71
17
16
15
30
20
98
16
6
13
22
25
10
76
73
7
20
24
11
12
74
74
4
16
21
15
10
66
76
8
5
9
14
11
47
77
5
8
8
9
6
36
78
2
8
12
7
5
34
75
7
7
7
8
4
33
80
5
8
11
6
2
32
79
4
9
8
6
3
30
15
2
3
7
7
3
22
81
7
5
8
1
21
82
5
5
7
4
21
84
4
1
5
1
4
15
83
1
3
4
3
1
12
14
2
2
4
2
10
85
2
3
2
1
1
9
86
3
1
3
2
9
87
2
5
1
8
88
1
3
3
1
8
89
1
1
1
3
6
13
2
3
5
90
2
1
1
4
91
1
1
2
92
1
1
2
93
1
1
2
12
94
96
97
Total
10,873
13,747
14,895
15,516
8,974
64,005
Males

Age at disqualification
2014
2015
2016
2017
2018
Male total
26
2,357
3,704
4,558
4,842
2,646
18,107
25
2,510
3,852
4,510
4,523
2,549
17,944
24
2,444
3,844
4,282
4,505
2,513
17,588
27
2,241
3,644
4,216
4,771
2,589
17,461
23
2,331
3,680
4,223
4,445
2,382
17,061
28
2,122
3,385
4,108
4,439
2,591
16,645
22
2,180
3,524
4,110
4,185
2,269
16,268
29
2,046
3,265
3,767
4,226
2,470
15,774
21
1,906
3,228
3,702
3,827
2,098
14,761
30
1,835
2,995
3,551
4,012
2,254
14,647
31
1,868
2,878
3,365
3,662
2,184
13,957
20
1,622
2,748
3,324
3,388
1,854
12,936
32
1,693
2,695
2,964
3,365
1,951
12,668
33
1,680
2,597
2,950
3,100
1,869
12,196
34
1,611
2,420
2,734
2,962
1,699
11,426
19
1,325
2,364
2,870
2,897
1,634
11,090
35
1,483
2,410
2,516
2,753
1,678
10,840
36
1,285
2,215
2,537
2,750
1,571
10,358
37
1,192
1,882
2,316
2,497
1,503
9,390
38
1,218
1,795
1,994
2,275
1,490
8,772
39
1,246
1,720
1,905
2,138
1,325
8,334
40
1,116
1,678
1,762
1,915
1,141
7,612
18
922
1,664
1,954
1,979
968
7,487
41
1,200
1,602
1,703
1,873
1,069
7,447
42
1,067
1,550
1,598
1,770
1,028
7,013
43
1,051
1,497
1,607
1,740
951
6,846
44
1,018
1,537
1,665
1,682
942
6,844
45
993
1,450
1,467
1,568
900
6,378
46
948
1,372
1,411
1,522
850
6,103
47
886
1,331
1,371
1,392
854
5,834
48
905
1,268
1,331
1,369
788
5,661
49
782
1,199
1,237
1,314
793
5,325
50
801
1,119
1,119
1,146
702
4,887
51
751
1,018
1,089
1,139
642
4,639
52
708
969
1,061
1,067
608
4,413
53
687
984
919
1,033
597
4,220
17
450
865
1,118
1,053
491
3,977
54
601
833
867
904
549
3,754
55
518
720
786
794
513
3,331
56
506
716
651
742
411
3,026
57
448
587
632
700
398
2,765
58
371
551
558
644
350
2,474
59
371
481
546
534
308
2,240
16
212
475
585
570
243
2,085
60
346
456
427
456
303
1,988
61
297
437
392
389
237
1,752
62
314
357
372
396
212
1,651
63
278
340
302
327
183
1,430
64
219
309
296
324
205
1,353
65
213
281
276
245
162
1,177
66
191
254
235
264
159
1,103
67
210
238
245
243
136
1,072
15
87
217
242
281
131
958
68
150
203
188
185
120
846
69
153
193
162
179
98
785
70
113
171
127
182
77
670
71
112
132
142
147
86
619
72
78
114
117
103
64
476
73
63
85
91
98
63
400
14
38
80
112
103
45
378
74
53
81
90
92
53
369
75
62
74
62
57
39
294
76
47
80
56
58
33
274
77
36
61
66
46
26
235
78
30
44
44
44
23
185
79
18
27
43
42
34
164
80
24
28
32
29
17
130
82
20
20
19
30
15
104
13
11
26
21
30
15
103
81
14
22
27
26
12
101
83
9
17
26
21
9
82
85
3
15
12
10
14
54
84
8
12
14
11
5
50
86
5
13
16
8
4
46
87
3
11
10
10
1
35
88
8
7
5
1
21
89
2
6
7
2
3
20
90
2
5
1
6
3
17
12
1
4
1
3
2
11
91
2
2
3
1
3
11
92
2
2
1
2
7
93
2
1
1
4
94
1
1
1
3
96
2
2
97
1
1
Total
58,721
90,737
101,826
108,470
61,811
421,565
Disqualification By Offence Type And By Gender And Year Od Disqualification
Females
Code
Description
2014
2015
2016
2017
2018
Female Total
AC10
Failing to stop after an accident
17
60
71
73
42
263
AC12
AC20
Failing to give particulars or report an accident within 24 hours
5
12
12
10
7
46
AC22
AC30
Undefined accident offences
BA10
Driving while disqualified by order of court
132
352
422
458
248
1,612
BA12
1
3
1
BA14
BA20
BA30
Attempting to drive while disqualified by order of court
BA40
Causing death by driving while disqualified
BA60
Causing serious injury by driving while disqualified
CD10
Driving without due care and attention
35
99
98
97
50
379
CD12
CD20
Driving without reasonable consideration for other road users
1
1
2
CD30
Driving without due care and attention or without reasonable consideration for other road users
9
43
25
30
17
124
CD40
Causing death through careless driving when unfit through drink
1
2
1
3
7
CD50
Causing death by careless driving when unfit through drugs
4
1
1
6
CD60
Causing death by careless driving with alcohol level above the limit
4
2
2
1
9
CD70
Causing death by careless driving then failing to supply a specimen for alcohol analysis
CD80
Causing death by careless, or inconsiderate, driving
16
50
55
43
31
195
CD90
Causing death by driving: unlicensed, disqualified or uninsured drivers
2
1
3
CU10
Using a vehicle with defective brakes
CU20
Causing or likely to cause danger by reason of use of unsuitable vehicle or using a vehicle with parts or accessories (excluding brakes, steering or tyres) in a dangerous condition
1
2
1
4
CU24
1
1
CU30
Using a vehicle with defective tyre(s)
1
1
2
4
CU34
CU50
Causing or likely to cause danger by reason of load or passengers
1
1
CU54
CU80
Breach of requirements as to control of the vehicle, such as using a mobile phone
6
6
12
13
37
CU84
DD10
Causing serious injury by dangerous driving
6
26
66
44
34
176
DD40
Dangerous driving
75
203
212
239
126
855
DD42
1
1
DD44
DD46
1
1
DD60
Manslaughter or culpable homicide while driving a vehicle
DD80
Causing death by dangerous driving
2
10
15
15
6
48
DD82
DD90
Furious driving
1
1
2
DG10
Driving or attempting to drive with drug level above the specified limit
70
552
719
525
1,866
DG40
In charge of a vehicle while drug level above specified limit
2
2
3
7
DG60
Causing death by careless driving with drug level above the limit
DR10
Driving or attempting to drive with alcohol level above limit
7,955
7,669
7,780
7,522
3,987
34,913
DR12
3
1
1
5
DR14
DR20
Driving or attempting to drive while unfit through drink
90
109
97
118
61
475
DR30
Driving or attempting to drive then failing to supply a specimen for analysis
984
988
1,032
1,053
591
4,648
DR31
Driving or attempting to drive then refusing to give permission for analysis of a blood sample that was taken without consent due to incapacity
2
1
3
DR40
In charge of a vehicle while alcohol level above limit
42
123
118
104
66
453
DR50
In charge of a vehicle while unfit through drink
7
19
14
12
9
61
DR60
Failure to provide a specimen for analysis in circumstances other than driving or attempting to drive
21
53
51
58
37
220
DR61
Refusing to give permission for analysis of a blood sample that was taken without consent due to incapacity in circumstances other than driving or attempting to drive
1
1
DR70
Failing to provide specimen for breath test
2
14
14
7
5
42
DR80
Driving or attempting to drive when unfit through drugs
97
99
93
93
42
424
DR90
In charge of a vehicle when unfit through drugs
2
1
8
4
2
17
IN10
Using a vehicle uninsured against third party risks
205
381
388
416
257
1,647
IN12
1
1
IN14
11
15
17
10
7
60
LC10
LC14
LC20
Driving otherwise than in accordance with a licence
6
18
21
22
6
73
LC24
LC30
Driving after making a false declaration about fitness when applying for a licence
LC40
Driving a vehicle having failed to notify a disability
LC50
Driving after a licence has been cancelled (revoked) or refused on medical grounds
2
1
1
1
5
MR09
Reckless or dangerous driving (whether or not resulting in death, injury or serious risk)
1
1
1
3
MR19
Wilful failure to carry out the obligation placed on driver after being involved in a road accident (hit or run)
MR29
Driving a vehicle while under the influence of alcohol or other substance affecting or diminishing the mental and physical abilities of a driver
5
10
5
5
2
27
MR39
Driving a vehicle faster than the permitted speed
MR49
Driving a vehicle while disqualified
MR59
Other conduct constituting an offence for which a driving disqualification has been imposed by the State of Offence
3
1
4
MS10
Leaving a vehicle in a dangerous position
1
1
MS20
Unlawful pillion riding
MS50
Motor racing on the highway
MS60
Offences not covered by other codes (including offences relating to breach of requirements as to control a vehicle)
2
5
3
5
6
21
MS90
Failure to give information as to identify of driver etc
17
51
57
51
31
207
MW10
Contravention of special roads regulations (excluding speed limits)
1
1
NE96
NE97
3
4
4
11
NE98
14
25
36
40
28
143
NE99
20
32
46
43
26
167
PC10
Undefined contravention of pedestrian crossing regulations
PC20
Contravention of pedestrian crossing regulations with moving vehicle
PC30
Contravention of pedestrian crossing regulations with stationary vehicle
1
1
SP10
Exceeding goods vehicle speed limits
2
2
4
SP20
Exceeding speed limit for type of vehicle (excluding goods or passenger vehicles)
1
1
SP30
Exceeding statutory speed limit on a public road
129
292
310
333
227
1,291
SP40
Exceeding passenger vehicle speed limit
1
1
SP50
Exceeding speed limit on a motorway
61
156
147
137
73
574
SP60
TS10
Failing to comply with traffic light signals
2
2
3
6
13
TS20
Failing to comply with double white lines
1
1
TS30
Failing to comply with 'stop' sign
TS40
Failing to comply with direction of a constable/warden
TS50
Failing to comply with traffic sign (excluding 'stop' signs, traffic lights or double white lines)
1
1
1
3
TT99
Special code - shows disqualification under 'totting-up' - if the total of penalty points reaches 12 or more within 3 years, the driver can be disqualified
1,118
2,989
3,490
4,177
2,665
14,439
UT10
UT20
UT40
UT50
Aggravated taking of a vehicle
72
202
164
143
75
656
UT52
UT54
1
1
Total
11,173
14,207
15,453
16,122
9,317
66,267
Males
Code
Description
2014
2015
2016
2017
2018
Male Total
AC10
Failing to stop after an accident
211
537
577
572
336
2,233
AC12
1
1
1
3
AC20
Failing to give particulars or report an accident within 24 hours
30
103
116
112
56
417
AC22
1
1
2
AC30
Undefined accident offences
1
1
1
3
BA10
Driving while disqualified by order of court
2,239
5,513
6,636
7,488
4,210
26,086
BA12
1
3
4
BA14
1
1
BA20
5
1
6
BA30
Attempting to drive while disqualified by order of court
1
1
1
3
BA40
Causing death by driving while disqualified
1
3
5
9
BA60
Causing serious injury by driving while disqualified
4
9
9
4
26
CD10
Driving without due care and attention
341
871
912
924
475
3,523
CD12
2
2
CD20
Driving without reasonable consideration for other road users
5
14
26
26
13
84
CD30
Driving without due care and attention or without reasonable consideration for other road users
128
346
334
332
170
1,310
CD40
Causing death through careless driving when unfit through drink
7
9
9
7
2
34
CD50
Causing death by careless driving when unfit through drugs
3
3
6
7
2
21
CD60
Causing death by careless driving with alcohol level above the limit
8
7
12
7
8
42
CD70
Causing death by careless driving then failing to supply a specimen for alcohol analysis
1
2
5
1
9
CD80
Causing death by careless, or inconsiderate, driving
62
144
199
186
92
683
CD90
Causing death by driving: unlicensed, disqualified or uninsured drivers
7
20
31
44
25
127
CU10
Using a vehicle with defective brakes
1
1
2
CU20
Causing or likely to cause danger by reason of use of unsuitable vehicle or using a vehicle with parts or accessories (excluding brakes, steering or tyres) in a dangerous condition
8
23
14
13
7
65
CU24
1
1
CU30
Using a vehicle with defective tyre(s)
9
25
17
17
8
76
CU34
1
1
CU50
Causing or likely to cause danger by reason of load or passengers
12
14
9
16
1
52
CU54
1
1
CU80
Breach of requirements as to control of the vehicle, such as using a mobile phone
29
75
52
81
90
327
CU84
1
1
2
DD10
Causing serious injury by dangerous driving
81
271
362
489
248
1,451
DD40
Dangerous driving
1,614
4,389
5,334
5,801
3,071
20,209
DD42
1
1
1
2
2
7
DD44
2
2
DD46
1
1
DD60
Manslaughter or culpable homicide while driving a vehicle
3
1
3
5
12
DD80
Causing death by dangerous driving
65
126
177
186
94
648
DD82
1
1
DD90
Furious driving
1
4
5
10
DG10
Driving or attempting to drive with drug level above the specified limit
1,637
8,558
11,264
7,041
28,500
DG40
In charge of a vehicle while drug level above specified limit
14
65
88
54
221
DG60
Causing death by careless driving with drug level above the limit
2
9
5
16
DR10
Driving or attempting to drive with alcohol level above limit
34,464
34,389
33,480
31,269
16,505
150,107
DR12
8
4
5
4
21
DR14
1
1
DR20
Driving or attempting to drive while unfit through drink
446
497
532
511
302
2,288
DR30
Driving or attempting to drive then failing to supply a specimen for analysis
4,598
4,835
5,390
5,461
2,897
23,181
DR31
Driving or attempting to drive then refusing to give permission for analysis of a blood sample that was taken without consent due to incapacity
5
5
17
28
15
70
DR40
In charge of a vehicle while alcohol level above limit
217
540
615
568
304
2,244
DR50
In charge of a vehicle while unfit through drink
34
81
90
89
54
348
DR60
Failure to provide a specimen for analysis in circumstances other than driving or attempting to drive
136
325
308
310
184
1,263
DR61
Refusing to give permission for analysis of a blood sample that was taken without consent due to incapacity in circumstances other than driving or attempting to drive
3
2
2
9
8
24
DR70
Failing to provide specimen for breath test
41
97
121
130
85
474
DR80
Driving or attempting to drive when unfit through drugs
838
866
773
574
331
3,382
DR90
In charge of a vehicle when unfit through drugs
18
34
24
35
12
123
IN10
Using a vehicle uninsured against third party risks
1,971
4,204
4,189
4,321
2,154
16,839
IN12
1
1
3
1
6
IN14
29
50
50
32
17
178
LC10
1
3
1
5
LC14
1
1
LC20
Driving otherwise than in accordance with a licence
131
297
288
290
155
1,161
LC24
1
1
LC30
Driving after making a false declaration about fitness when applying for a licence
2
2
4
LC40
Driving a vehicle having failed to notify a disability
1
1
2
LC50
Driving after a licence has been cancelled (revoked) or refused on medical grounds
1
4
7
14
12
38
MR09
Reckless or dangerous driving (whether or not resulting in death, injury or serious risk)
7
5
12
1
25
MR19
Wilful failure to carry out the obligation placed on driver after being involved in a road accident (hit or run)
1
1
2
MR29
Driving a vehicle while under the influence of alcohol or other substance affecting or diminishing the mental and physical abilities of a driver
12
31
23
48
7
121
MR39
Driving a vehicle faster than the permitted speed
1
2
3
2
8
MR49
Driving a vehicle while disqualified
3
1
1
2
7
MR59
Other conduct constituting an offence for which a driving disqualification has been imposed by the State of Offence
7
28
10
14
4
63
MS10
Leaving a vehicle in a dangerous position
1
2
3
MS20
Unlawful pillion riding
2
2
MS50
Motor racing on the highway
7
12
27
2
6
54
MS60
Offences not covered by other codes (including offences relating to breach of requirements as to control a vehicle)
51
136
98
101
56
442
MS90
Failure to give information as to identify of driver etc
82
273
314
297
123
1,089
MW10
Contravention of special roads regulations (excluding speed limits)
2
2
2
3
9
NE96
1
1
1
3
NE97
23
51
74
65
3
216
NE98
180
448
512
712
289
2,141
NE99
163
359
220
214
162
1,118
PC10
Undefined contravention of pedestrian crossing regulations
1
1
PC20
Contravention of pedestrian crossing regulations with moving vehicle
1
1
1
3
PC30
Contravention of pedestrian crossing regulations with stationary vehicle
1
2
3
1
7
SP10
Exceeding goods vehicle speed limits
38
119
72
66
41
336
SP20
Exceeding speed limit for type of vehicle (excluding goods or passenger vehicles)
1
7
11
11
11
41
SP30
Exceeding statutory speed limit on a public road
1,229
3,089
2,979
2,928
1,509
11,734
SP40
Exceeding passenger vehicle speed limit
2
2
11
3
18
SP50
Exceeding speed limit on a motorway
502
1,421
1,395
1,205
710
5,233
SP60
1
1
TS10
Failing to comply with traffic light signals
11
18
23
22
11
85
TS20
Failing to comply with double white lines
1
3
3
1
8
TS30
Failing to comply with 'stop' sign
2
1
1
4
TS40
Failing to comply with direction of a constable/warden
6
15
12
12
9
54
TS50
Failing to comply with traffic sign (excluding 'stop' signs, traffic lights or double white lines)
1
2
1
3
7
TT99
Special code - shows disqualification under 'totting-up' - if the total of penalty points reaches 12 or more within 3 years, the driver can be disqualified
7,478
21,825
24,150
29,137
18,726
101,316
UT10
10
7
2
19
UT20
2
2
UT40
6
16
3
25
UT50
Aggravated taking of a vehicle
1,096
2,449
2,495
2,252
1,080
9,372
UT52
1
1
UT54
1
1
Total
58,721
90,737
101,826
108,470
61,811
421,565
Total number of DVLA health notifications for the last 5 years (eyesight related conditions)
| | | |
| --- | --- | --- |
| | Year | Number of notifications |
| | 2013 | 166,148 |
| | 2014 | 161,117 |
| | 2015 | 156,367 |
| | 2016 | 173,975 |
| | 2017 | 200,289 |
| Total | | 857,896 |
Total number of licenses that have been refused on application for a licence or revoked for eyesight related conditions over the last 5 years
| | | | | |
| --- | --- | --- | --- | --- |
| | Year | Group 1 (car/motorcycle) | Group 2 (lorry/bus) | |
| | 2013 | 7,373 | 2,035 | |
| | 2014 | 9,077 | 1,306 | |
| | 2015 | 9,059 | 1,134 | |
| | 2016 | 9,094 | 1,298 | |
| | 2017 | 8,200 | 1,192 | |
| Total | | 42,803 | 6,965 | 49,768 |