It's no secret that some of the best performing photos on Instagram capture iconic landscapes showcasing the world's most picturesque areas of natural beauty. And, while likes and comments often stem from those who appreciate good photography, many are often from those who are simply jealous and wish they could be there too, rather than the confines of their office desk!
The global tourism sector is now being heavily influenced by social media - we've all heard about the hotel in Marrakesh that went from zero to hero overnight following a picture of its pool that went viral - and for many travellers, is now the first point of research when deciding on a new location to visit. But, which locations deliver the best bang for your buck in terms of social media engagement?
Instagram Bucket List 2019
If you're looking to grow your Instagram followers you could be in luck, Feel Good Contacts has put together 'The Ultimate Round the World Trip for Instagram Fame'. The 14-stop, seven month itinerary, uncovers the best places to go to snap up those instagrammable pictures of glory. At what cost you may ask, just £16,371* for the whole thing. Who needed that house deposit anyway…? With this investment, you should rack up on average over 86,000 organic likes, a great way to build an engaged Insta-following.
(scroll all the way to the bottom for the visual map with all figures included)
How to start a travel Instagram
The route is designed to maximise your Instagram engagement and includes some of the synonymous Insta-worthy locations such as Bali, Santorini and Rome, also reveals some of the hidden treasures you might be less familiar with. If you were going to follow the below itinerary, you would be flying out of London early June and be back in time for Christmas (following a final stop in Lapland!)
Desi Kadyova, Travel Blogger at The Curious Desi, said:
"You're more likely to purchase something if it has been recommended by someone you know. It's the same with choosing a travel destination. For many people, social media platforms like Instagram now carry the same level of social currency and trust as a personal recommendation. If lots of people have enjoyed it and post about it, it becomes a hot location."
(Pictured Desi Kadyova @thecuriousdesi pictured in Instagram paradise Bali, Indonesia)
Instagram Travel Trends Route 2019
Based on the below route, which takes in some of 2019's hottest Instagram spots you could expect to achieve on average just under 86,000 likes and 832 comments, while enjoying an incredible trip in the process - obviously the main priority, right?
With a first stop in North America in Alberta, Canada, the route will then take you through three stops in South America taking in the Colombian coastal resort of Cartagena, the Salt Fields of Bolivia and of course the infamous beaches of Rio de Janeiro.
Next, we head across to Oceania via a stop at Bora Bora in French Polynesia. A visit to the small island in the South Pacific could set you back a small fortune, but it's turquoise waters, sublime snorkelling facilities and hiking trails are well worth the trip. The island vibe continues as the route then heads across to the Whitsundays in Australia before moving north to Bali's most notoriously relaxed island, Gili Trawangan.
From here, the route heads north towards the Asian mainland, with stops in Vietnam's Sa Pa Rice Fields and Japan's Bamboo Forest providing a tranquil retreat before heading back to Europe for the final leg of the tour.
Greece, Italy, Slovenia and Finland make up the European spots on this round the world trip, with the whitewashed villages of Santorini, the sites and sounds of Rome, the Alpine waters of Lake Bled and the subarctic wilderness of Lapland in December.
Our Marketing Director at Feel Good Contacts, Nimesh Shah adds:
"With the continued rise in popularity of influencers, the impact of Instagram on how we choose our places to visit and the accommodation we opt for continues to grow and only expects to become more powerful in years to come.
"For those that are keen to grow their network and follower count, this 'Ultimate Round the World Trip for Instagram Fame' provides an insight into some of the hidden gems that you might not necessarily think of when it comes to your next holiday destination, but guarantees to pack a punch when it comes to your next holiday snaps."
Ready to jet off now? Shop our incredible range of men and women's designer sunglasses and travel in style.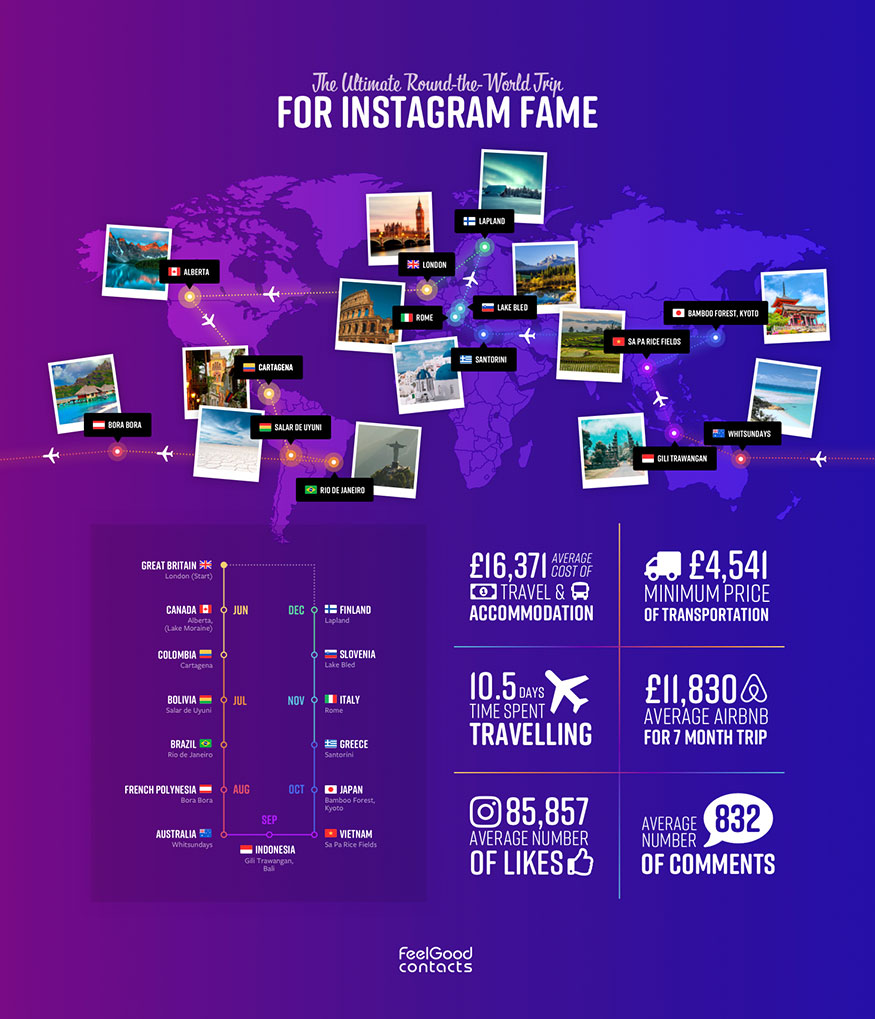 Provided by Feel Good Contacts
Embed This Infographic
Just copy the embed code below, and include it in your website.

*The total cost was based on the average flight fare between locations over the two week period for each flight route. The cost of accommodation was then added based on the average cost of an Airbnb / hotel room in each location. The average likes and comments were calculated from the top 50 posts on Instagram per location's geotag on this trip.
| | | | | | |
| --- | --- | --- | --- | --- | --- |
| Location | Country | Average likes | Average Comments | Posts per location | Average Airbnb Cost |
| Bora Bora | French Polynesia | 30146.72 | 132.98 | 1,200,000 | £119.00 |
| Salar De Eyuni | Bolivia | 14182.9 | 66.16 | 309,000.00 | £22 |
| Lake Moraine | Canada | 11271.54 | 119.8 | 39,100.00 | £43.00 |
| Lake Bled | Slovenia | 6775.34 | 112.88 | 206,000.00 | £84.00 |
| Torres Del Paine | Chile | 5490.46 | 59.96 | 419,000.00 | £50.00 |
| Santorini | Greece | 3144.26 | 50.9 | 4,900,000.00 | £154.00 |
| Gili Trawangan | Bali | 2608.5 | 45.74 | 12,000,000.00 | £46.00 |
| Rome | Italy | 2339.04 | 44.4 | 21,500,000.00 | £48.00 |
| Bamboo Forest | Japan | 2328.02 | 33.48 | 217,000.00 | £28.00 |
| Cartagena | Colombia | 2125.48 | 36.92 | 8,900,000.00 | £83 |
| Whitsunday Islands | Australia | 1985.26 | 55.16 | 587,000.00 | £275 |
| Lapland | Finland | 1625.76 | 34.54 | 1,000,000.00 | £97.00 |
| Rio De Janeiro | Brazil | 1527.88 | 32.2 | 22,400,000.00 | £75.00 |
| Sa Pa Rice Fields | Vietnam | 305.9 | 6.8 | 400.00 | £24.00 |