We've all heard spooky stories about the paranormal, and maybe you yourself have seen something that made you wonder; was that really a ghost, or do I just need an updated eye test?
Maybe you do need a visit to the opticians, but maybe you did legitimately see something worthy of investigation and you wouldn't be the first person. Stories of haunted forests, mysterious road accidents and floating figures in the night are many. Scroll through the list and decide what you believe. If you're feeling very daring, we've added the exact locations and you can go and explore them for yourself.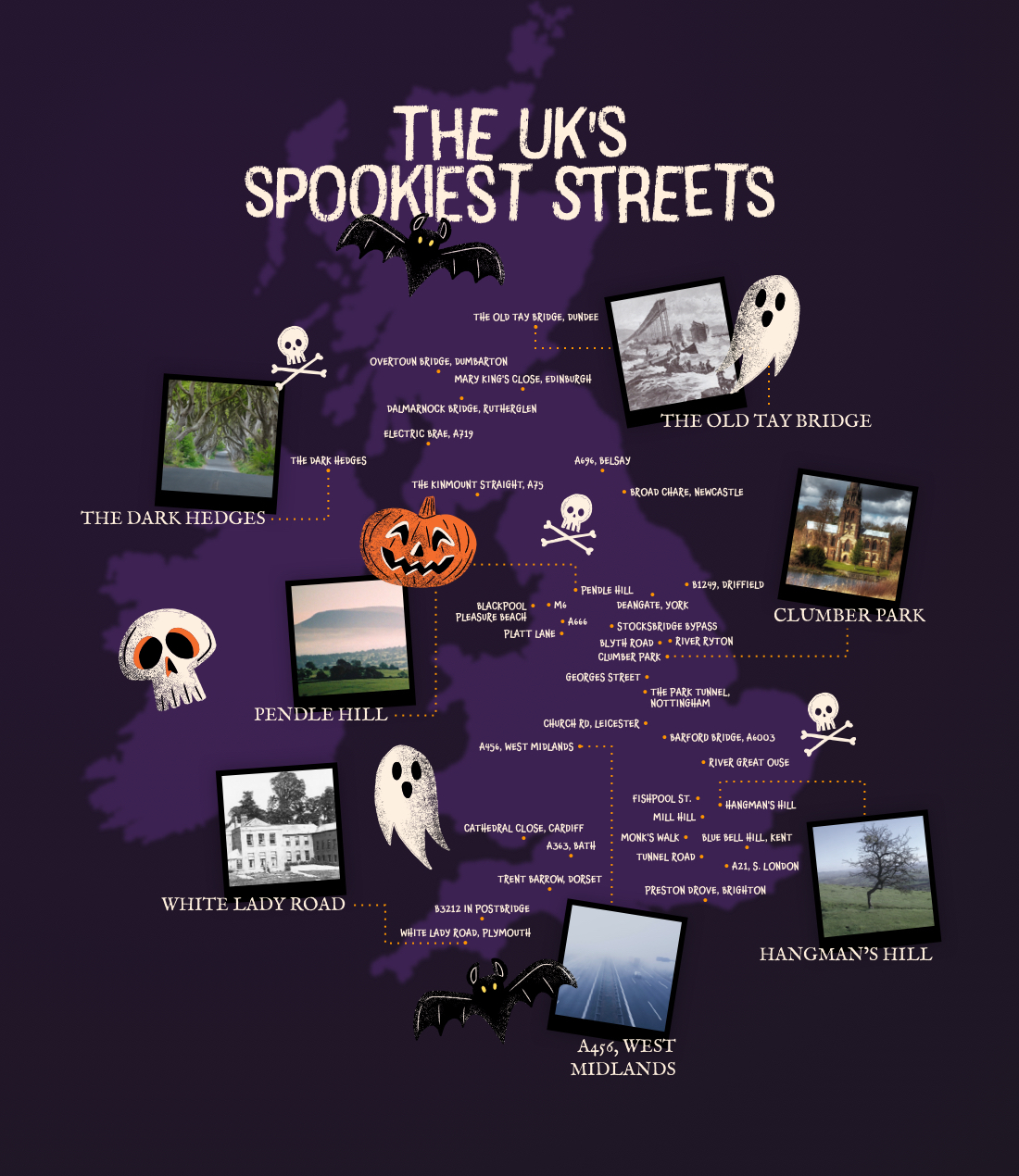 Georges Lane, Nottingham
There have been many a rumour about the haunted status of a road in Calverton called George's Lane. The road itself is a long, dark, windy and unlit country lane, where many accidents have taken place due to its conditions and the blind corners. Nearby residents can relay an urban myth which states that persons driving alone along this road in the dark often see, if they happen to glance in their rear view mirror, an old lady sitting in the back of the car.
Pendle Hill, near Burnley
Home of the Pendle witches, Pendle Hill has a spooky reputation for the Lancashire witch trials. Here in 1612, 12 supposed witches were accused of murdering ten people through the medium of witchcraft. At Halloween you see crowds of witches dressed as the Pendle witches giving it a perfectly eerie feel.
Cathedral Close, Cardiff
In this spot once existed a village and road titled "Road of the dead". Dead bodies were carried along this road to the River Taf, to be buried at the now abandoned graveyard. Sights of young kids playing, laughing and singing in the area are reported, linked to mass deaths of children during the 1800s.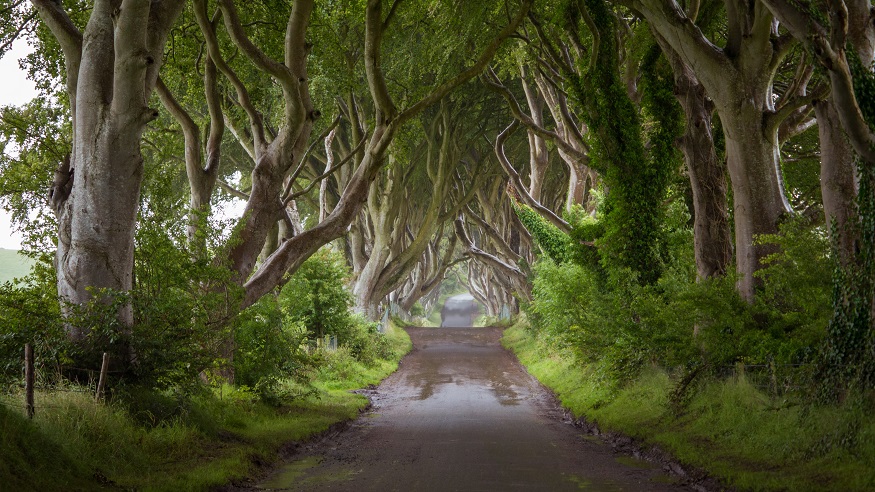 The Dark Hedges, Ballymoney, Northern Ireland
Used for filming the "King's Road" for Game of Thrones, the Dark Hedges is also known for the Grey Lady ghost who flits between the trees and road. On Halloween she is supposedly joined by other spirits from the abandoned graveyard under the fields making this a perfect "trick-or-treat" destination.
Stocksbridge Bypass, Sheffield
Labelled by many as the most haunted road in Britain, this road has one of the worst accident records in the region. Claims of children's ghost sights on the road date back all the way to construction, with this linked to the spirits of kids who fell down the abandoned mine shafts in the area. Some phantoms even appear in vehicles, with a woman claiming to smell and then sight a rotting body in her car.
Preston Drove, Brighton
For the past 150 years the "white lady" has been spotted along Preston Drove with reports of paranormal activity. She is believed to be a nun removed from the church, haunting the area for not being buried in the correct way. Locals were so terrified that they gave a proper burial for the remains of the white lady in St Peter's Churchyard in an attempt to deter her appearances!
Road B3212 in Postbridge, Dartmoor
Drivers and cyclists report a pair of hairy hands suddenly taking their wheel and veering them off this creepy road. Most victims have survived but some perished, with one journalist requesting his story wait until after his death for fear of ridicule. To see this pair of disembodied hands, take a trip down hairy hands lane this October.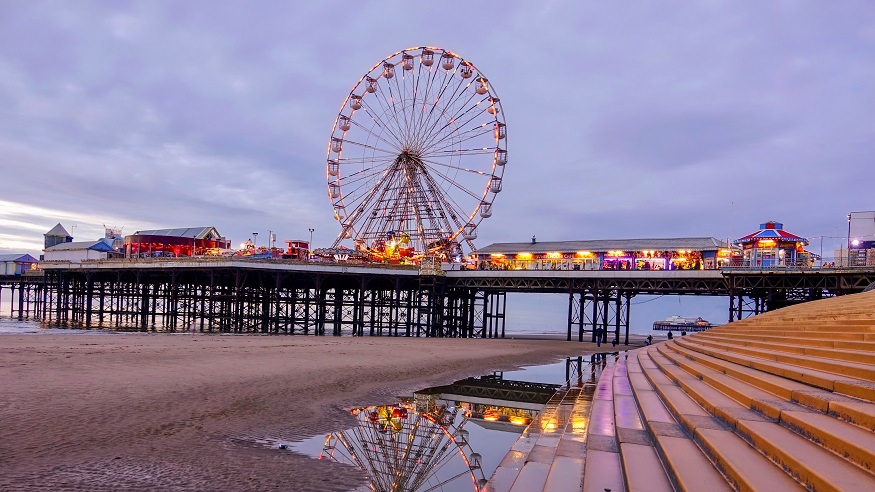 Blackpool Pleasure Beach, Blackpool
Several ghosts are reported to walk around the amusement park with footsteps, whispers and singing heard by the staff when nobody is around. The perfect spot for a Halloween adventure, we recommend visiting Watson Road where workers report feeling the presence of a strange unexplainable source.
Hangman's Hill, Loughton
Hangsman's Hill has gained its title for the unbelievable phenomenon of cars being able to roll up the hill. When up the hill, cars are faced with a bare field holding nothing but a single tree. This tree is said to be where a man was hung, with rumours that the force is taking drivers to the hangman to meet their fate!
Trent Barrow, Dorset
Within Trent Barrow you can find a wooded hill with a misty pond known, famously known for its creepy feel. Locals report that no one has discovered how deep the pond is, with coaches and horses being lost in the pond to never be seen again. With the sound of hooves reported as heard at night, this spot is perfect for a Halloween tour!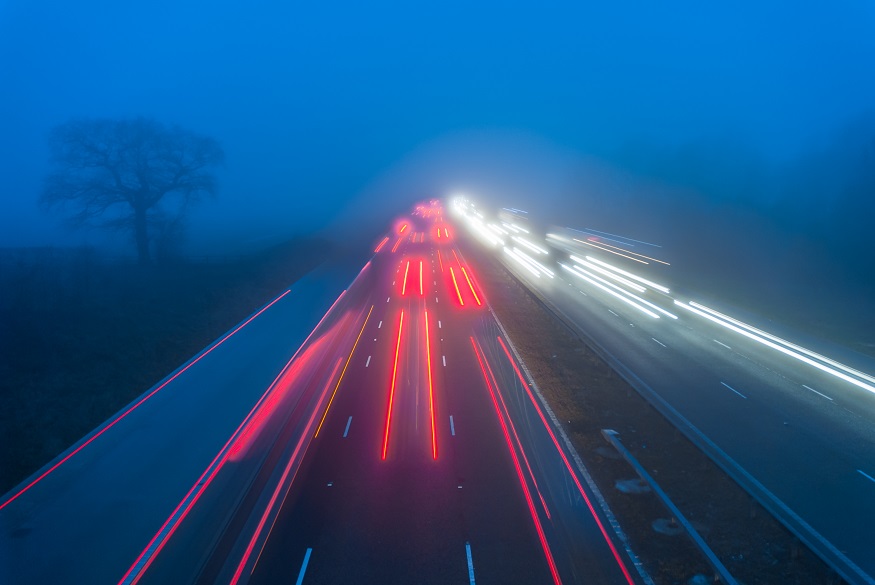 M6 motorway
Click here for exact locationKnown as the longest road in the UK, drivers on the M6 have reported spooky behaviour whilst taking a trip on this motorway. Stories include seeing a pair of eyes peering at them from the bushes and even witnessing Roman soldiers march across the 230 mile road!
Sally in the Wood, Bath
Known as the most haunted road in Somerset , Sally in the Wood is an area which locals claim houses the spirit of a girl murdered in the area. The birds in the trees in Sally in the Woods are reported as unable to sing and sunny afternoons are said to be pitch black, making it a good spot for mid day Halloween hunts.
Tunnel Road, Reigate
Paranormal investigators have been spooked by the Reigate Caves where the table they sat at began to spin with no explanation. After being pushed to the floor by unexplained forces and hearing choir music drifting from the empty church, they would label this one for the hardcore Halloween fans. Just be careful of the girl dressed in a pinafore walking toward the graveyard, she often disappears out of nowhere...
Monk's Walk, Thorpe
The "Storm Surge" ride by Thorpe Park had to be moved after fears that it disturbed an ancient burial ground. With sights of a headless monk in the paranormal area, this old footpath running from the ruins of Chertsey Abbey to Thorpe Church is enough to give anyone the chills!
Mary King's Close, Edinburgh
This street from the 17th century has been hidden under the City Chambers. After being closed during the plague, residents were left to die alone including a little girl named Annie. After losing her doll, Annie is said to haunt the street at night and tourists are asked to leave gifts for her spirit.
White Lady Road, Plymouth
The white lady is reported to walk the paths and streets around Radford Park, looking for her lover who she was banned from seeing. After sneaking out one night in a white dress to see him, they both drowned after their boat capsized in the middle of the lake. You can see her on White Lady Road where her ghost has been spotted helplessly searching for her lost soulmate.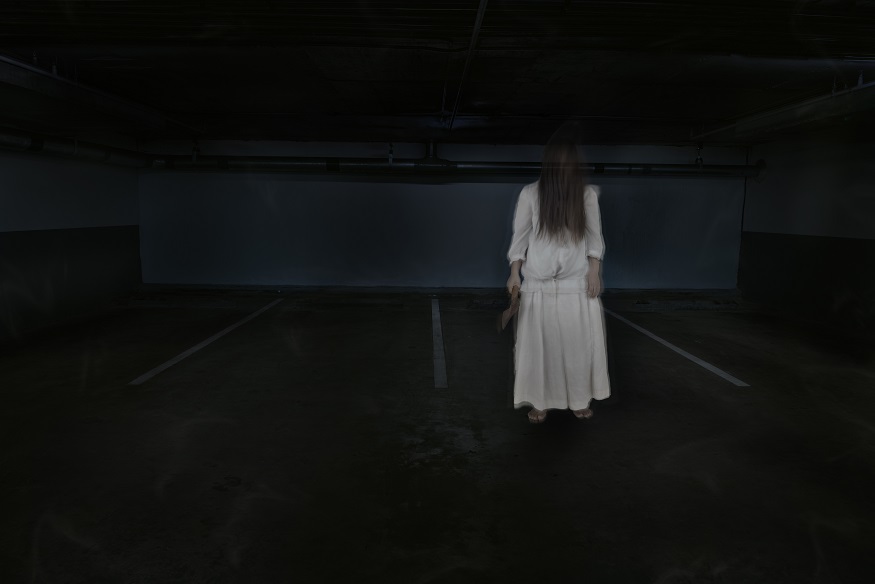 Dalmarnock Bridge, Rutherglen
A suicidal man in his 30s is often reported as standing on the bridge in Rutherglen, dressed in clothes from the 1930s. He is seen staring over the side of the 200 year old bridge before jumping and vanishing.
Nan Clark's Lane, Mill Hill, London
Rumour has it that Nan Clark worked in the local tavern with an incredibly jealous husband. One day in an outrageous fit of rage, he dragged her down the lane to the lake, drowning her in front of several punters from the pub. Nan Clark is said to haunt the fields and lane, giving the area an eerie feel especially on Halloween night!
Overtoun Bridge, Dumbarton, Scotland
Known as a bridge for "doggy suicides", Overtoun bridge is reported by local tabloids for close to 600 dog deaths. Walkers report experiencing their dog becoming possessed when on the bridge, running to suddenly jump off it. If you want to visit the bridge on Halloween, just watch out for the old lady said to haunt the bridge and lure dogs into her clasp!
Blue Bell Hill, A229 - Kent
This road is haunted by a young 22-year-old bride who was killed on the eve of her wedding, upon her journey home from the hen party. On the eve of 19th November 1965, Suzanne Browne and her friends died in a car accident on Blue Bell Hill in Kent. With over 50 reported sightings of the bride on this road, many report offering a young woman a lift, dropping her off, or seeing her suddenly vanish into thin air. So, if you do see Suzanne Browne on Halloween, be careful she doesn't disappear on you...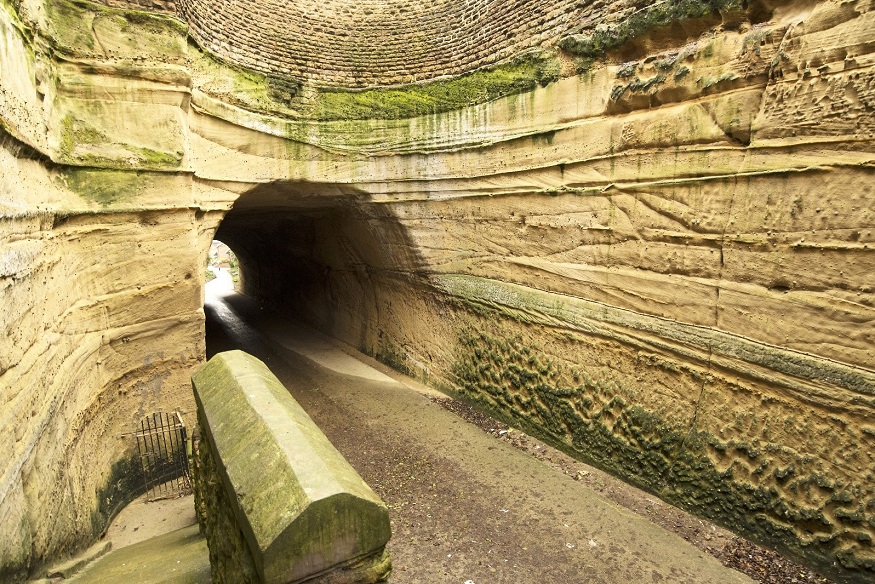 The Park Tunnel, Nottingham
Broad Chare offers a fright with a phantom woman playing scary tricks on victims. This ghost is said to walk around with a veil, lifting it as men approach to reveil her face with no features at all! Sounds like a spooky trick-or-treat to us...
Electric Brae, A719 - South Ayrshire, Scotland
One of our two haunted hills, Electric Brae sees cars in Scotland roll the wrong way "up" the hill when the engine is switched off. Thought to be surrounded by witches, this one is certaintly one to visit during the night if you are a fan of paranormal stories!
The Kinmount Straight, A75 - South West Scotland
Renowned for being the most haunted highway in Scotland, the Kilmount Straight stories began with the Ferguson brothers witnessing a hen fly into their windscreen and disappear. This was followed by an array of other animals including cats and dogs. Long distance drivers have also reported traumatic experiences including one who quit his job after discovering an endless parade of people walking by. Motortists commonly report knocking someone down only to realise there is no one there, so be careful when driving down the A75 on Halloween!

Blyth Road, Nottinghamshire
Interested in spooky stories with dogs? Blyth Road is the perfect fit for you. On this street a black dog with red glowing eyes was spotted way back in May 1991. The dog is reported to be dragging something across the road before disappearing suddenly into thin air...

River Ryton, South Yorkshire
After a phantom girl in a long pale dress was pulled from the river in the late 19th century, she now haunts the area. If you want to catch a glimpse of her walking the bank dripping with water, be sure to visit this creepy spot!
Clumber Park, Worksop
Disappearing into the mist when strangers approach, a woman in a long cloak floats around this park. This is said to be one of the spookiest parks in the area, so keep your eyes open for paranormal sights!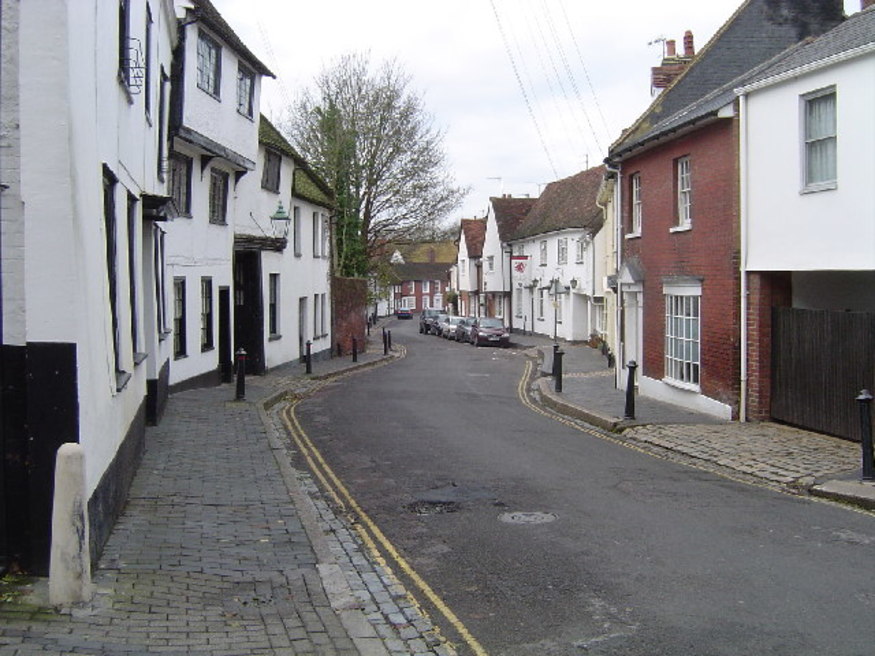 Fishpool Street - © Copyright Nigel Cox and licensed for reuse under this Creative Commons Licence
Fishpool Street, St Albans
This street is perfect for a Halloween visit, with numerous ghostly figures said to be visible in the late hours of the night. A carriage is drawn by two ponies, carrying four strange figures with one unhappy woman crying profousely. She is said to be distressedover the death of her child who was accidentally smothered to death during the 18th century.
St Ives, Cambridgeshire
"The River Ouse is overlooked Ferry Boat Inn pub, which featured in the Domesday Book and tradition maintains that Hereward the Wake used the ferry that operated there between the north and south banks of the River Ouse. But it is for its ghostly tales, rather than its history, that the pub is best known. On 17 March 1050 an attractive local girl named Juliet Tewsley, who was only 17 at the time, fell passionately in love with a forester called Tom Zoul. Sadly Tom didn't return her love, and Juliet hanged herself from a tree near the inn so that Tom would see her body on his way to work. Another version of her death relates how she drowned herself in the Ouse, instead of hanging herself. But whatever the cause of her untimely death, Juliet was buried in unhallowed ground close to the inn because of the stigma attached to suicide in the 11th century, and her grave was marked only with a plain stone slab."

Deangate, York
Bedern is an area haunted by its past of an Industrial Ragged School where orphans were sent to work. After the workhouse master crurely starved the children to death, he stored their corpses in a closet to maintain their allowance money. It is said that the sound of ghostly children can be heard in this area, playing and singing in the street for all to hear...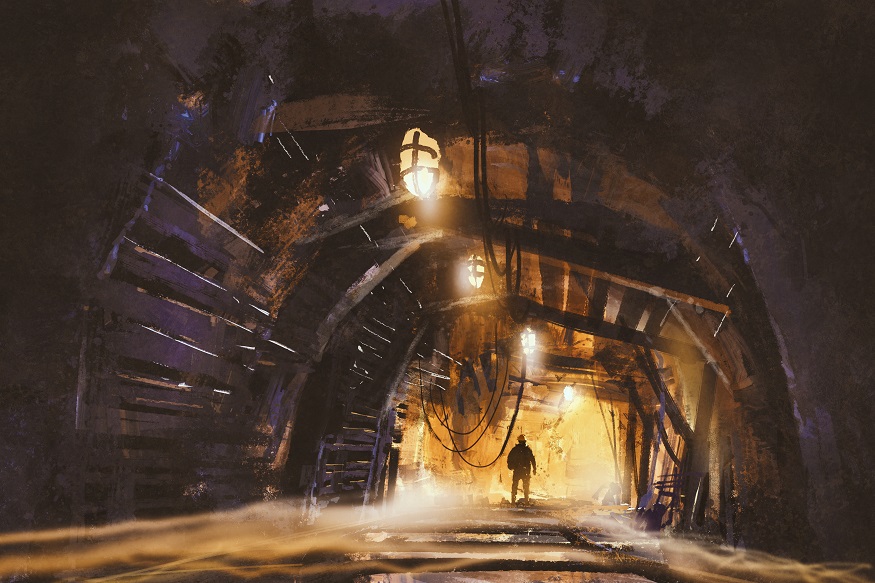 Platt Lane, Westhoughton
On the 21st December 1910, a mining disaster occured along Platt Lane where 344 out of 900 men and boys were killed. Well known for its eerie feel, Platt Lane has reports of witnesses seeing miners watching from the bushes, as well as sights of miners walking along the road with axes or mining carts.
A666 (The Devil's Highway)
Known as the Devil's road, with an association with 666, this major road is arguably the ideal fit for a Halloween trip. With a high accident rate as drivers swerve to avoid the dark shadows which suddenly appear at night, this certainly fits the bill as the Devils highway.
B1249 between Driffield and Staxton Hill
After real life wolves were hunted to extinction in the area, attention has turned to the supernatural wolves which witnesses are discovering. One of the earliest reports is from a lorry driver scarred for life after a creature with red eyes attempted to smash through his windscreen on the road. After another report in 2016, this is one road we would be keen to avoid...
A696 near Belsay, Northumberland
Two Gateshead-based radio presenters spotted a ghost dressed in RAF uniform on this road. After seeing what appeared to be a hitchhiker, they turned their car around only to discover he had disappeared.
Barford Bridge, A6003, Northamptonshire
The bridge along the road A6003 is said to be haunted by a bearded monk. The monk appears suddenly at night in front of drivers, making it an ideal destination for those looking for a Halloween scare!
The Old Tay Bridge, Dundee
The worst ever bridge disaster in Britain saw a carriage fall to the coast beneath as the Tay bridge collapsed. The entire train dropped, with the 75 passengers aboard all being killed. Locals say a ghost train can be seen crossing the old stretch of the bridge giving it a spooky and sombre feel.
A456, West Midlands
Although a series of ghosts have been reported on this road, the most common is a tin-hatted man on horseback who appears to be riding on the road. One sighting of this particular ghost comes from the local Detective Constable making it a pretty reliable source...
Church Road, Leicester
Belgrave Hall on Church Road saw two white figures captured on CCTV in 1998. Rumour has it that one is the daughter, Charlotte Ellis, of the former owner coming back to haunt the area. With shadows and mysterious footsteps spotted, this is one to watch out for on Halloween.