Celebrate Halloween October 31st not by trick or treating, but by showing off your Halloween costumes via the web. Wearing a face covering as part of your costume will help you stand out at your group Halloween party at home. This also has the added bonus of keeping you safe as well as making you look a little more spooky.
Be an undead doctor
Along with some scrubs and maybe a stethoscope, you can also apply fake blood to your cotton face mask for added gore. A white mask works best for this, but any pale coloured mask will do. If you don't want to ruin a reusable face mask, you can opt for a light coloured disposable face mask instead.
Paint a spiders web
This is a really easy one, and a great one to get children involved in. You'll need a white fabric mask as your base and some black fabric paint. You can use a marker pen to outline the web first and then paint over the top. You can also paint some spiders onto the web for added drama. Allow the mask to fully dry before ironing it (make sure you put a scrap piece of cloth over it first, to stop the paint from transferring to your iron).
Zombie look
If you want to get a little more creative, you can attach some false teeth to your mask with some string to go for a zombie look. There are many types available online; you can find sharp monster teeth, vampire teeth and missing teeth dentures. Douse your mask in some fake blood and wrap yourself in bandages to complete your zombie Halloween face mask look.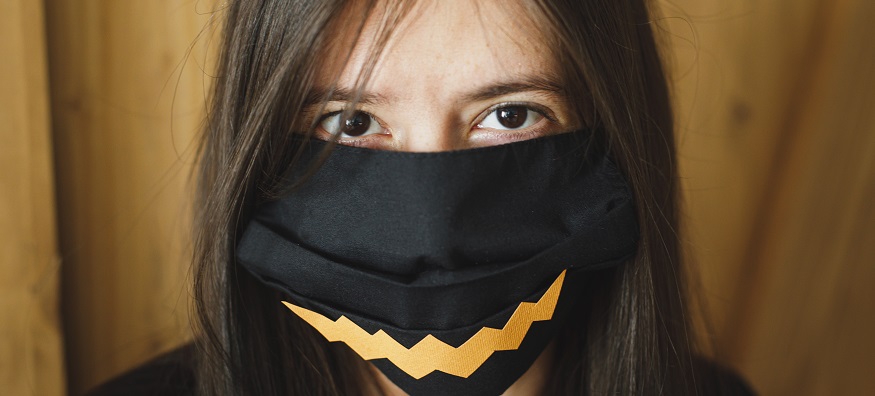 Pumpkin smile
With a dark, fabric face mask as the base (preferably black), you can create a pumpkin smile in two ways. The first is by cutting out a toothy smile from an orange coloured felt and sticking it on with glue; you can use any black mask for this, such as our AB Face Mask. The second way involves using orange coloured acrylic fabric paint. Once the paint has dried, you can apply a scrap piece of fabric over the top and iron it, to give your spooky look longevity.
Ready-made Halloween masks
There are also many places available online to buy ready-made Halloween face coverings. Crayola has some simple yet spooky offerings. You can also find a huge variety of scary masks from many Etsy sellers, Amazon and Redbubble where you'll find the typical scary offerings along with film favourites like The Nightmare Before Christmas, Pennywise and The Joker among others. You could also use glow in the dark fabric paint to make any of these Hallows Eve looks even cooler.