With coronavirus (COVID-19) still a part of our lives in the UK and the rest of the world, a lot of misinformation and fake news about coronavirus and how it can be spread is circulating online. Some believe that wearing glasses instead of contact lenses will lower their chances of contracting the virus, but this isn't true. Contact lens wearers are not more at risk of catching coronavirus than those who wear glasses.
What is coronavirus (COVID-19)?
There are many different types of coronaviruses, some affect humans, and some affect animals. The most recent outbreak of coronavirus is referred to as COVID-19.

According to the World Health Organization (WHO), "COVID-19 is the infectious disease caused by the most recently discovered coronavirus. This new virus and disease were unknown before the outbreak began in Wuhan, China, in December 2019."

It's important to wash your hands regularly if you've come into close contact with the public or touched any surfaces outside. Simply washing your hands with soap and water for at least 20 seconds will dramatically decrease the risk of getting infections.
What is coronavirus (COVID-19)?
Only look to reputable sources for information, such as the NHS, GOV.uk and World Health Organization websites. Eye care professionals Invision magazine said; "Contact lens wear is safe. Despite myths and misinformation that have arisen over the past 48 hours, contact lens wear remains a safe and highly effective form of vision correction for millions of people worldwide."

Some believe that wearing contact lenses increases your chance of contracting coronavirus, but there is currently no scientific evidence to suggest wearing your lenses will make you more at risk. Although, if you start to develop cold or flu-like symptoms, you should temporarily stop using your contact lenses until you start to feel better.

When it comes to contact lenses, good hygiene must be followed at all times. You should thoroughly wash your hands with soap and water (and dry them with a paper towel) every time you insert or remove contact lenses. Also make sure to thoroughly dry your hands as any residual water that transfers to your contact lenses will transfer bacteria that could cause an eye infection.

If you don't wash your hands before handling contact lenses, you risk transferring bacteria and debris to your eye, leading to infections. Dirt in your eye can also cause you to develop conditions like blepharitis. In very rare occurrences, poor hand hygiene could also put you at risk of more serious conditions such as acanthamoeba keratitis. This may result in permanent visual impairment or blindness and is very difficult to treat.

If you wear monthly or two weekly lenses, changing your lens case regularly is also important. Empty your case of old solution, rinse your case with fresh solution and air dry it upside down on a clean tissue.

Some important things to remember:

Always wash and dry your hands before you insert or remove your contact lenses and when handling your lens case
Always wash and dry your hands before applying a contact lens, even if the lens is new and directly from the packaging
Never wash or store contact lenses in tap water
Never reuse your daily disposable contact lenses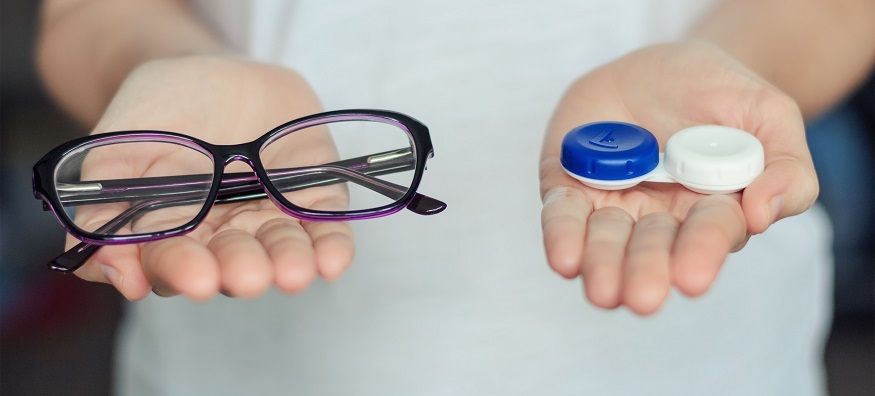 Wearing glasses won't offer any more protection against coronavirus
The American Optometric Association have said; "Glasses are not proven to offer protection. There is no scientific evidence that wearing spectacles or glasses provides protection against COVID-19 or other viral transmissions."

Amid fears of the contact needed to insert contact lenses, some now believe that contact lenses should be avoided, but there is no evidence to show that glasses protect against coronavirus.

This virus is easily transmitted from person to person, but also through contact with the surfaces the infected person has touched. The bacteria can stay on these surfaces for days if they aren't cleaned, which is why it's so important to wash your hands more regularly. You should also try not to touch your eyes, mouth, glasses and face in general.
How can I avoid getting coronavirus?
Most germs that lead to infections are spread from person to person or picked up from dirty surfaces. Only a small number are airborne. Bacteria from this virus can remain on surfaces for a significant amount of time, which is why it's so important to wash your hands regularly and avoid touching your face.

To limit the spread of coronavirus, we should all be washing our hands more often, as well as wearing masks and social distancing when possible. There are many hand hygiene-related campaigns such as the Clean Hands Count Campaign created, by the Centres For Disease Control and Prevention (CDC), to address the topic of hand hygiene and encourage better practice both within the health profession and wider public.

Soap and water are best for washing your hands, but if you aren't anywhere near a sink then hand sanitiser is a suitable alternative. Just ensure that you've rubbed in all of the sanitiser until it's absorbed, any residue on your hands could cause your eyes to sting when putting in your lenses.

According to research information collected by the CDC, teaching people about handwashing helps them, and their communities stay healthy. Frequent and thorough handwashing has been shown to:

Reduce the number of people who get sick with diarrhoea by 31%
Reduce diarrhoea-related illness in people with weakened immune systems by 58%
Reduce respiratory illnesses, like colds, in the general population by 16-21%

Should I throw my contacts away after covid?
If you test positive for coronavirus, you should stop using your contact lenses and temporarily switch to glasses. Any contact lenses that you were using when you realised you had COVID should be thrown away. You should continue to use your glasses until you have had a negative COVID-19 test. If you haven't got any glasses spare, you should buy some (so long as you have an up-to-date prescription) or get a sight test first.

You should also make sure to clean your glasses regularly. This is good practice anyway, but it is especially important during this time.
You can still get your contact lenses from us
No matter what the restrictions on essential shops and travel, you can always get your contact lenses delivered from us straight to your door. Your vision and eye health is important to us. You can still buy your contact lenses online at Feel Good Contacts. There's no need to leave the house to get your eye care essentials; we also offer next day delivery.