Rio 2016
Rio de Janeiro, is set to host 2016's Olympic Games; the world's oldest, largest and most prestigious sporting competition. A real triumph for Brazil considering that it is the first time that the Olympic games will have taken place in a South American city. If like us, you're looking forward to Rio 2016 with its guaranteed abundance of magnificence, splendour and the spirit of sportsmanship, then read on to find out some interesting facts about the Olympic tradition.
The First Olympics
The Olympic games began almost 3000 years ago in Ancient Greece as a religious festival in celebration of Zeus, king of the Greek gods. Back then, athletes competed fully nude in order to show off their physical attributes. This was thought of as an homage to Zeus and we can see from Ancient Greek art that the well-toned athlete was a frequent subject of sculpture and pottery. In order to protect themselves from the elements during the competition, athletes would cover themselves in olive oil and then sand. This would help to keep them cool under hot temperatures.
Athletic Heroes
Initially, the Olympics consisted of a single event: a 185 metre sprint. The very first winner was a cook who didn't get to take home a gold medal but instead, a wreath of wild olives. However inconsequential a prize that seems now, it endowed the winner and his family with honour and respect. It also brought glory to the people from his town or city who would treat him as a hero forever. Statues were often erected and the victor could expect to be immortalised in verse and even on coins.
Flame
The Olympic Torch is lit months before the opening ceremony. It takes place at the Temple of Hera where the torch is lit by the sun's rays which are concentrated via a parabolic mirror. Fire was a very important symbol for the Greeks, it was believed that Prometheus had stolen it from the gods to give to humanity. The torch for Rio 2016 was was the result of a nationwide call resulting in 76 submissions from Brazilian creative agencies. The winning design came from Chelles & Hayashi, a creative studio based in São Paulo.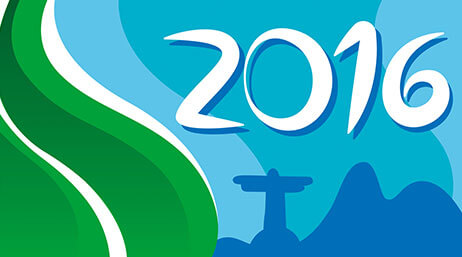 Good Luck
Feel Good Contact Lenses would like to wish Team GB a hearty 'good luck!' In 2004 we finished 10th with 30 medals, in 2008 that jumped up to 4th with 47 and at the 2012 London Olympics we finished 3rd with 65 medals, almost half of them gold! Hopefully this time, Team GB will be able to capitalise on recent successes and make yet another improvement.