Petr Čech
Petr Čech has represented the Czech Republic for 20 years at international level. Unfortunately though, his international success has not quite matched up to his club record with Chelsea and to a lesser extent, Arsenal. He's won four Premier League titles, four FA cups, one Europa League title and of course, the much coveted Champions League trophy. That's an impressive haul of silverware but did you know that Čech wears contacts? Five years ago, a training ground clash with defender Tal Ben Haim left Petr on the sidelines. In a strange sort of way though, despite the 50 facial stitches needed, it turned out to be a good thing, freeing him up of time in which he finally got an eye test. He felt something was visually amiss and he was correct. Today the goalkeeper wears corrective lenses and is the most capped Czech player of all time.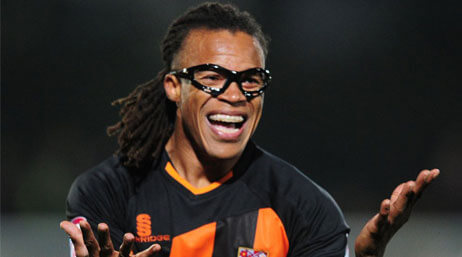 Edgar Davids
Edgar Davids is the man that Louis Van Gaal called 'The Pitbull' when managing at Ajax. The fearless Dutch midfielder won three domestic titles with Ajax plus a UEFA Cup and a UEFA Champions League title. As well as his intense skill and dreadlocks, Edgar Davids is frequently known for the wraparound glasses that he wore following a 1999 operation on his right eye to treat glaucoma. For such a condition, contact lenses are not a viable option. Davids had to seek permission from FIFA to wear the iconic glasses but did you know, he also got permission to use a special eyewash called Diamox that contains Acetazolamide A – a substance banned under Olympic guidelines?
Spare a thought for Newcastle and Netherlands forward Siem De Jong who almost lost his sight earlier this year in an unfortunate training ground accident. De Jong wears contacts and was poked in the eye. Ex-Newcastle manager Steve McLaren said at the time: "He wears contact lenses, and one of the contacts had come out and gone in his eye."
"There was a massive danger [he would be blinded], a big danger. He was rushed to hospital. It was the biggest black eye ever and headaches and everything." Fortunately his sight was saved but sadly, the Oranje failed to qualify this year, taking 4th place in a group of Czech Republic, Iceland and Turkey. A particular disappointment perhaps, given that this was the year the Euros was open to 24 qualifying teams rather than the 16 of previous years.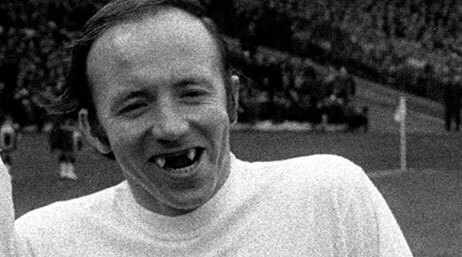 Nobby Stiles
Nobby Stiles is the legendary English goalkeeper that delivered England's solitary World Cup trophy, the infamous 1966 triumph. At just under 5'5", Norbert 'Nobby' Stiles was never the most obvious of England number ones, add to the mix, his false teeth and short-sightedness and you've got…well, Nobby Stiles.
"Matt Busby was so concerned about my short-sightedness, he sent me to a specialist and from then on I wore contact lenses when I was playing. " But play he did, and in the process, has inspired a generation of goalkeepers dying to replicate that international glory. Good luck, whoever you are supporting.
Why not have a look at the

World Cup 2018

footballers who wearglasses and contact lenses?
At
Feel Good Contacts
we always recommend that when undertaking sport activities, you should speak with your optician. If you need some friendly advice, email us at:
optician@feelgoodcontacts.com
Images sourced:
https://i.dailymail.co.uk/i/pix/2016/03/30/12/13B953A3000005DC-3515401-image-m-60_1459336489848.jpg
https://wrexhamfan.files.wordpress.com/2014/02/pa-149256561.jpg
https://america.pink/images/3/2/4/7/7/1/9/en/2-nobby-stiles.jpg