Wherever you're inspired to go, make sure that your eyes are protected by purchasing one of our magnificent pairs of
designer sunglasses
. We stock a wide range of frames for both men and women that suit all personal tastes and budgets. So, don't forget your summer shades when you're packing your luggage, and take a look at a few places you should consider visiting.
Egypt
Located in Northern Africa, Egypt provides travellers with a stunning mixture of culture, incredible food, music and most famously, symbols and structures of ancient history - still beautifully preserved and accessible to view to this day. One can explore The Great Pyramids of Giza, and the nearby Sphinx, before heading over to The Valley of Kings where you'll find 63 mysterious tombs and burial chambers.
Adventurous minds looking for an underwater thrill can travel to the Red Sea and discover dive sites filled with an incredible array of sea life, colourful corals and mysterious shipwrecks.
What to wear:
Chloe CE140S Gold Yellow 807 sunglasses perfectly capture the golden sands of Egypt and the ancient treasures buried beneath them. Bright yellow mirrored lenses are enclosed in a lightweight, thin gold metal frame. Glisten under the hot sun and protect your eyes from both direct and reflected UV rays in these ultra-stylish women's sunglasses.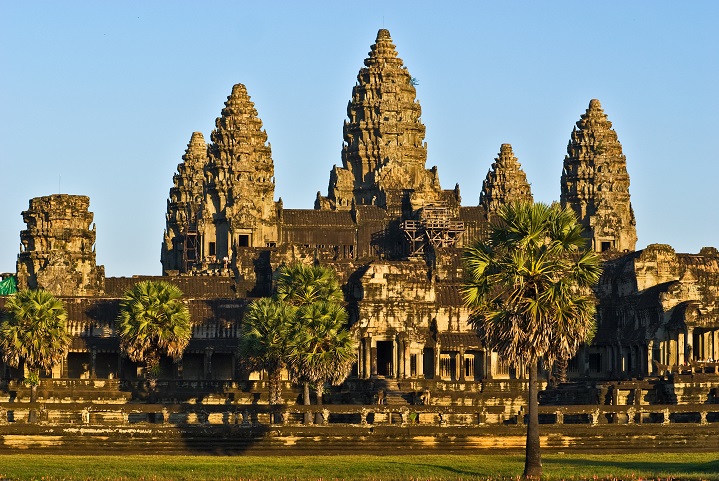 Cambodia
The best of Cambodia isn't necessarily located in its bustling capital of Phnom Penh, although there is plenty to experience there. The South East Asian destination is famed for its ancient temples, most notably Ankor Wat, which gained an incredible amount of pop-culture notoriety after Angelina Jolie's 2001 movie hit, Tomb Raider. Located away from Cambodia's capital, it is situated in the north western region of Siem Reap. The beautifully built structure is covered in some areas with the vines of Giant Banyan trees. Despite being a bit of a nuisance, the trees add to the visual aesthetic of the place and have made the temple a favourite among instagrammers and professional photographers alike.
Arrive early to watch the sunrise over the temple and be there before the crowds of tourists make it busy.
What to wear:
Keep it simple and practical with a pair of Superdry Shockwave 102 Matte Brown Tortoise sunglasses. The lightweight frame features an earth-toned tortoise frame and Superdry's signature Japanese graphics in florescent green along the temples. Suitable for both men and women, the casual frames will keep your eyes protected and are incredibly comfortable for all day wear.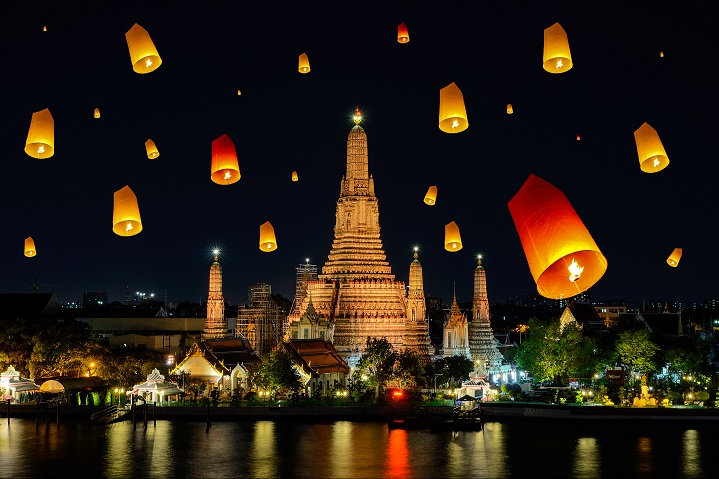 Thailand
Named 'The Land Of A Thousand Smiles', Thailand offers a diverse mix of things to do, see and taste. Most first timers head to the bustling city of Bangkok first, where you can find a modern luxurious skyline surrounding beautiful grand palaces, highlighting Thailand's cultural roots.
Northern Thailand offers a quiet and more spiritual escape. Here you'll find Chiang Mai and Chiang Rai, home to stunning temples and national parks that can be explored during the day, and glowing lantern festivals and events that light up the sky at night.
Backpackers seeking to disconnect from their phones and reconnect with nature can head down to the south where they'll find Khao Sok National Park. Experience a few nights of camping in a tropical jungle, and float down Cheow Lan Lake surrounded by rolling hills and mountains.
When you're ready to party, you can catch a ferry to Koh Phangan, which has the most vibrant nightlife of all of Thailand's islands. Most notably, there's the monthly Full Moon Party, which attracts tourists from all over the world. Other well-known islands include Ko Samui, Koh Chang and the Phi Phi islands, which all have their own unique characters. Curious divers should head to Koh Tao, home to some of the worlds best diving schools, it awards more PADI certifications than any other region in the world.
What to wear:
Thailand is full of colour and personality, so what better pair of sunglasses to wear than Oakley Frogskins OO9013 24-305 Polished Crystal Violet? The bright violet lenses offer 100% UV protection and create a strong contrast against the transparent and lightweight frame. Three-Point Fit technology delivers precise vision, ensuring that you'll receive a high level of performance alongside incredible style whilst wearing these sunglasses.