This year's theme for Children's Mental Health Week is 'Express Yourself' and aims to encourage children to express themselves by 'finding ways to share feelings, thoughts, or ideas through creativity.'

With the coronavirus pandemic's evolving situation, it seems especially important to highlight this week and look at ways to support children's wellbeing during this time.
What are the psychological effects of COVID-19 on children?
The Mental Health Foundation listed loneliness to be one of the main psychological effects of COVID-19 on children. Their article entitled 'Impacts of lockdown on the mental health of children and young people' links loneliness to mental health problems in young people and children. When referring to the coronavirus pandemic, it states that 'despite the shared experience of lockdown, children and young people are experiencing loneliness.'

The article also lists worries about the future and school as other factors influencing children's mental health and wellbeing during the COVID-19 pandemic. It suggests that young people's mental health is being affected by the following:


Feeling anxious about their education
Missing school
Career
Being away from school
Uncertainties about what the future holds
Academic demands
Boredom
Lack of interaction with others
How can I support my child during the coronavirus pandemic?
There are many ways in which you can support your child during the coronavirus covid-19 pandemic. Guidance for parents and carers can be found online to help children during these challenging times.

YoungMinds suggests keeping open communication, encouraging routine and activities and spending time together. They even have resources for wellbeing activities as well as special educational advice regarding homeschooling.
Coronavirus wellbeing activity ideas and tips
At Feel Good Contacts, we have some of our own suggestions for supporting children during lockdown, including the following:
1. Exercise
Exercise, such as a daily walk, is an excellent wellbeing activity for children during the lockdown. Not only does exercise release endorphins, but research shows that nature can do wonders for our mental health by reducing stress and anger and increasing pleasant feelings. In addition to this, nature and exercise can also improve your physical wellbeing.

If you plan on spending time outside, make sure your eyes are protected by wearing sunglasses with 100% UVA and UVB protection. If your child wears contact lenses, make sure they include a UV blocker. You can be sure to find contact lenses with UV protection for the cheapest UK prices guaranteed at Feel Good Contacts.
2. Keep in touch with family and friends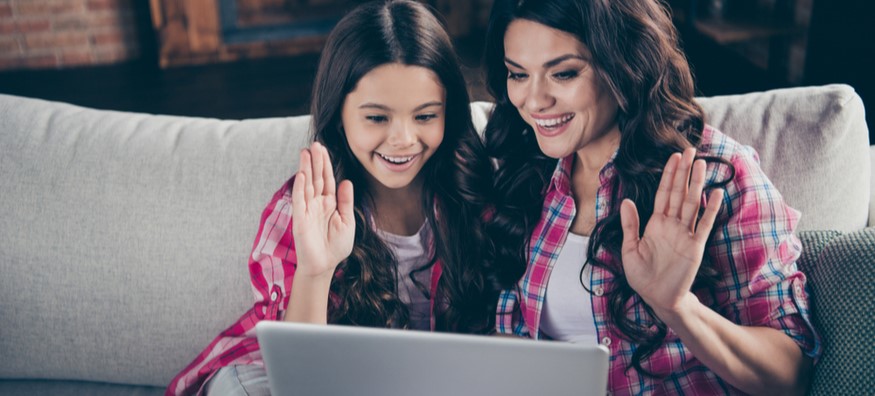 Making contact with family and friends is also important during lockdown. While social distancing measures are mandatory and it is not advised to make physical contact with people outside your household, modern-day technology means that we can still stay in touch over platforms such as zoom, skype and social media.

It is much tougher for children and young people to stay indoors than it is for adults, which is why having them interact with their friends via platforms like skype is especially important for their mental health.
3. Limit screen time
It's also crucial to be mindful of your child's screen time. With online learning becoming the new way of life during lockdown, children must take regular breaks from the screen to avoid computer vision syndrome.

Investing in a pair of blue light glasses can also do wonders to reduce the effects of prolonged screen time, including digital eye syndrome and a poor sleeping pattern which can contribute to low mood.
4. Cook healthy meals
Although it may be tempting to eat processed foods and treat your children to their favourite snacks while in lockdown, it's not good for their health in the long term and can lead to low mood and sluggishness.

Why not take some time to cook healthy meals together instead. If you're stuck for some healthy recipe ideas, take a look at our 'Easy recipes for eye health'.
5. Get creative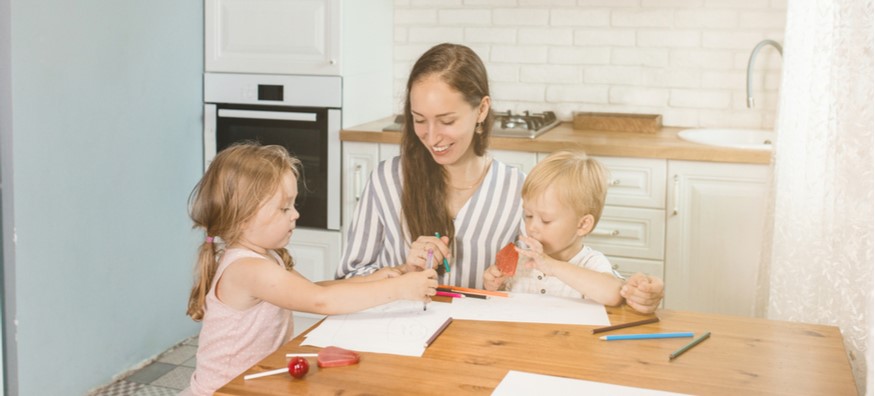 Place2Be suggest doing activities that make you feel good such as art, music, writing and poetry, dance and drama, photography and film.

There are many ways in which you can get creative with your child and boost their mental health. For example, you can try making slime with contact lens solution. Playing with slime is a therapeutic activity and is a great way to relieve stress and anxiety.
6. Limit media exposure
Being exposed to repeated media coverage on COVID-19 can cause immense stress, not just amongst adults but children especially. Limiting the amount of news exposure they have and not discussing the news with them too often can reduce stress and anxiety levels.
7. Listen and provide clear information on the current situation
Listening to your children and acknowledging changes in their behaviour can make you more in tune to their mental or emotional state. It is important to create a safe environment where they can communicate their feelings and feel heard.

Naturally, they will want to ask questions about the coronavirus outbreaks. Making time to listen and answer any questions they have openly and honestly can reassure them that you are in this together with them.
8. Look after yourself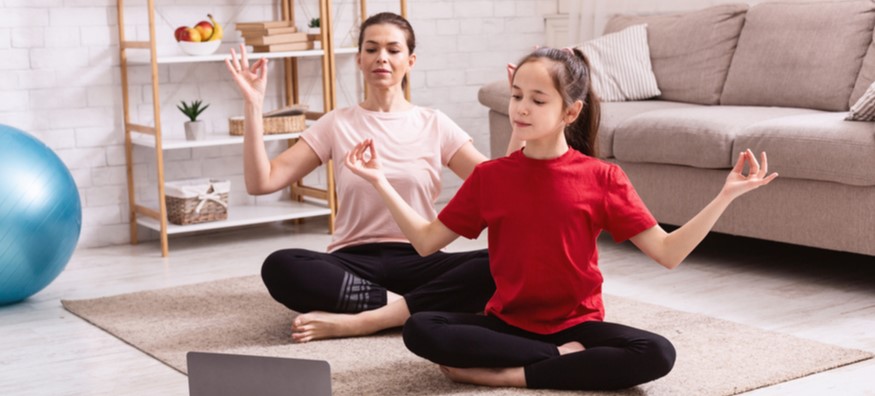 Looking after your wellbeing will ensure that you are in the best mindset when taking care of your child's mental health. Activities such as mindfulness and yoga will help to reduce stress and create a more relaxing atmosphere.

Many apps, such as Headspace and Calm, will take you through a guided meditation to help you get started. You can also watch yoga videos on YouTube for free or, if you want the added benefit of relieving tired eyes, why not take a look at our '5 eye yoga exercises for eye fatigue'