Pancake day is Tuesday 21st February this year. A versatile dish, pancakes can be eaten for breakfast, lunch, dinner or dessert. You could use a ready-made pancake mix, but it always tastes better when it's made from scratch.

Fortunately, maintaining healthy eyes through diet can be fun and tasty. These delicious pancakes count as 1 of your 5 a day. Healthy and delicious? A winning combination, we think you'll agree.
Blueberry and orange Dutch baby


Oranges are packed full of vitamin C, just like other citrus fruits such as grapefruit, kiwi and lime. Vitamin C helps keep the blood vessels in your eyes healthy, which can help reduce your risk of cataracts.

If you've never heard of a Dutch baby, it's a big, fluffy pancake with the texture of a Yorkshire pudding, typically topped with all the things that you'd put on top of pancakes.
Serves 4
Ingredients:
3 eggs
227ml milk
170g plain flour
1/2 tsp ground cinnamon
Pinch of salt
1 tbsp caster sugar or maple syrup
3 tbsp butter
1 orange cut into slices
Icing sugar (optional, as desired)
Preheat the oven to 220°C/200°C fan/gas mark 7/425ºF. Put your cast iron pan into the oven to heat up.
Mix the eggs, flour, salt, milk and cinnamon until you have a smooth batter.
Wearing a thick oven mitt, remove the pan from the oven, put the butter carefully into the hot pan or tin and swirl it to melt. Then, quickly pour in the batter and return it to the oven.
Bake until puffed and golden brown, usually 13 – 15 minutes.
Squeeze the juice of 1 half of an orange onto the Dutch baby and add a dusting of caster sugar (to taste). Top with fresh blueberries, orange slices, more caster sugar or maple syrup and a dollop of double cream. You can also dust with some icing sugar.
Carrot and courgette pancakes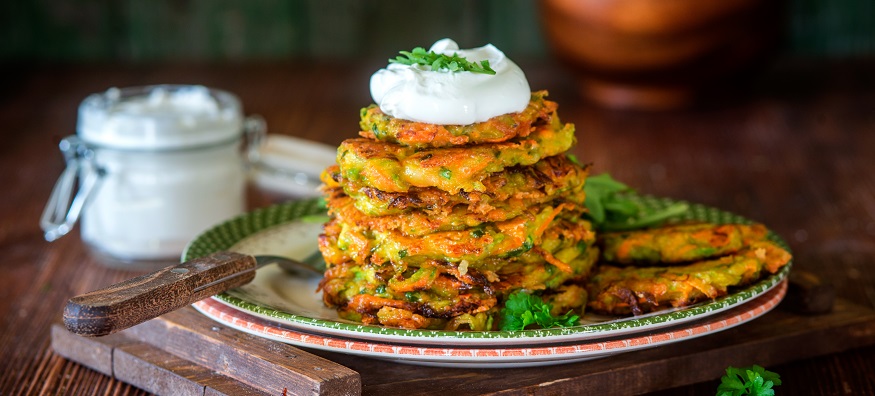 Carrots have long been associated with good eye health. The beta carotene inside carrots allows your eyes to function better in low light conditions. Although it won't give you full-blown night vision, it will protect your eyes from free radical damage.

Savoury pancakes are very underrated. These carrot and courgette pancakes are the perfect breakfast or lunch.
Serves 4
Ingredients:
400g courgette
400g carrots
½ cup green onions, sliced
1 tbsp fresh parsley, chopped
2 eggs
1 cup all-purpose flour
1 tsp baking powder
1 tsp salt
½ tsp black pepper
Olive oil for frying
Optional:
Smoked salmon
Cream cheese
Fresh dill
Poached eggs
bacon
Using a food processor with a shredder attachment (or a box grater), shred the courgette and carrot, then place both in a metal strainer with a bowl underneath. Add salt and mix. Set aside for 10 minutes.
Squeeze the grated courgette and carrot to drain excess liquid.
Combine with the ingredients.
Put a large frying pan on a medium-high heat and add a tablespoon of olive oil. Spoon some of the mixture into the pan, press down with a spatula to form a pancake. Add more pancakes but don't overcrowd the pan.
After a few minutes flip the pancakes, cook until golden-brown on both sides, about 3-4 minutes on each side.
Serve with poached eggs and bacon or smoked salmon, dill, and cream cheese.
Bonus points if you choose smoked salmon as your topping of choice, as oily fish consumption can help to reduce your risk of developing dry eye disease and age-related macular degeneration.
Crepes with spinach, ricotta, and mushrooms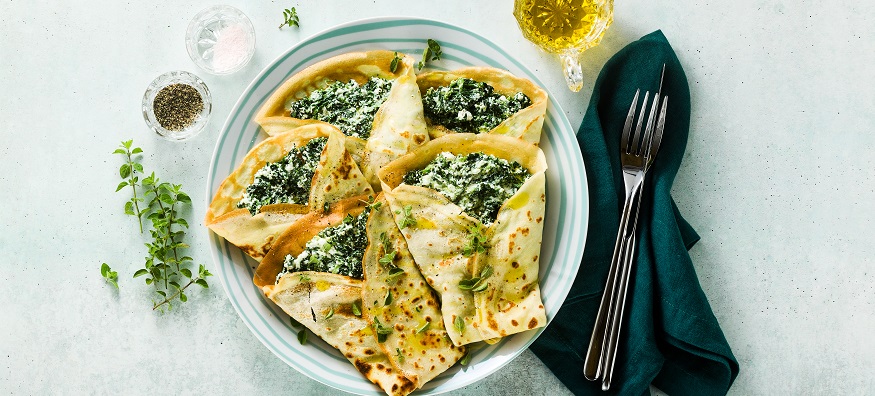 Crepes are a classic dish that never gets old, but why not experiment a bit with a savoury option? Spinach contains lutein and zeaxanthin, which protects against age-related macular degeneration as well as harmful UV rays from the sun.
Serves 4
Ingredients:
100g flour
2 eggs
Olive oil
225ml milk
For the filling:
1 tbsp olive oil
1 shallot
300g mushrooms
100g spinach
100g ricotta
40g Parmigiano Reggiano
70ml skimmed milk
Put a frying pan onto a medium heat.
Add the flour, oil, milk and eggs to a bowl and whisk until smooth.
Add a teaspoon of oil to the pan and add enough batter to coat the pan in a thin layer.
Cook for a few minutes on each side.
Repeat this process until you have run out of batter. You should have enough to make about 8 crepes, depending on the size of your pan.
For the filling, fry diced shallots, mushrooms and spinach until golden, then add ricotta, cheese, salt and pepper. Stuff the crepes with this filling and serve.