This guide should help you find the best face mask to fit your lifestyle. Whether you are a glasses wearer, a dedicated runner, or on the market for a stylish or eco-friendly face mask, you are guaranteed to find one to suit you.
With more of us now travelling on public transport, more of us now need to wear face coverings. Face masks are recommended while travelling to protect yourself and others against coronavirus.
Luckily we're no longer in short supply of masks, as more and more retailers are selling their own versions.
Face masks for glasses wearers
As it's now mandatory to wear face masks in supermarkets and shops, more of us than ever are experiencing foggy glasses from wearing masks. Some foggy glasses solutions are:
- Wear
contact lenses
instead
- Ensure your mask fits firmly enough not to let air escape from the top
- Use a mask with a mouldable nose piece
- Use double-sided tape to seal the mask to your face
- Wash your glasses in soapy water
- Use
The AB Mask Anti-Fog Cloth
to keep your lenses free of fog
If the hot air from your breath steams up your glasses, some of the foggy glasses hacks above should help stop this. One of the easiest ways to avoid foggy glasses is to just opt for contact lenses instead. This will help you avoid having cloudy vision when it is most important, such as on public transport or in crowded areas when social distancing is most needed.
Where can I buy n95 face masks?
You can no longer buy n95 face masks; these medical-grade masks are now reserved for health workers. You can still purchase disposable and reusable masks in the UK from many fashion retailers as well as pharmacies and some local newsagents.
How often should you use face masks?
Preferably, cloth masks should be washed after every use. Disposable masks can only be used once and should be discarded after a day's use. Remember to wash your hands before applying your mask as well as before taking it off. The World Health Organization has more information on how to use masks correctly.
Face masks are now an essential part of most people's lives to protect yourselves and others against coronavirus. If you are a glasses wearer suffering from foggy lenses, you can always switch to contact lenses for clear vision when you need it the most, such as in busy areas or on your daily commute. Shop our range of cheap contact lenses today.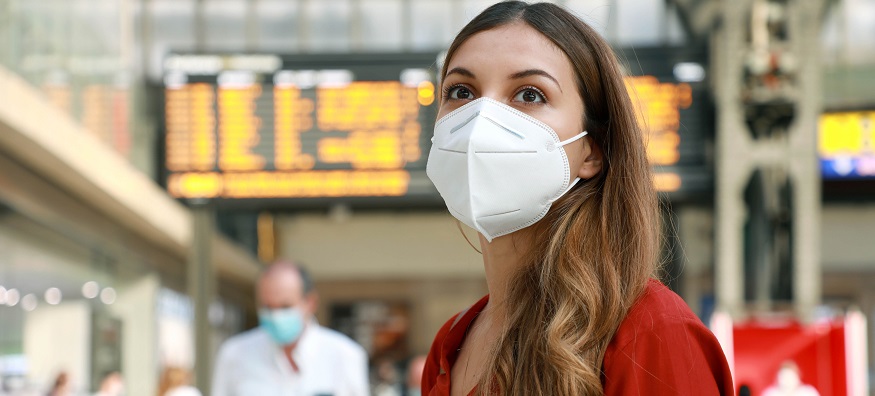 How long can you wear disposable face masks for?
There is no official designated time limit for how long you should wear a disposable face mask. If your mask gets wet then you should dispose of it and use a new one, as the damp fabric can compromise the mask's ability to work properly. Try not to talk while wearing the mask as this can transfer saliva onto the mask and cause it to be less protective

Stylish face masks
Patterned masks
There is a wide range of stylish masks available from shops such as Boden, Revolve and Asos among many others. The variety of prints and colours on offer is huge. You can buy face masks printed with clouds, flowers, slogans and a whole range of other things. There's a mask out there to suit every personality.
You can also get some affordable and stylish face coverings from Feel Good Contacts. Our Feel Good Face Mask in Navy is a classic and chic option for those that find beauty in simplicity. Our Feel Good Face Mask in Navy Triangle is a geometric patterned mask to add personality to your every day look. For a more abstract look, you can wear our Feel Good Face Mask in Navy Scatter.
Personalised masks
If you want people to know you aren't miserable underneath your mask (even if you are), then the internet has answered your call by creating personalised face masks. Websites like Not on the Highstreet allow you to upload an image of your face to be printed on your mask.

Best face masks for running
If you don't encounter many people on your run (or you stay far away from them if you do), then a face mask may not be entirely necessary for you. However, if you run in an urban area or at a time of day when it's busy, a mask will help protect those around you. It's also important to protect your eyes from UV rays by wearing sunglasses. Discover our wrap sunglasses which are ideal for runners and cyclists.
A breathable face covering is essential while running. Some choose to use bandana's as these can be easily adjusted while moving and are more breathable at the lower portion of the face. Sporting companies like Reebok, Adidas and Nike have created masks, as well as snoods, that are soft, breathable and sweat-wicking.
Another way you can make running as comfortable as possible is to use The Body Doctor AB Mask Ear Saver, which helps relieve the chaffing and pressure that wearing face masks for prolonged periods can sometimes cause.
Eco friendly face masks
Although medical face masks (sometimes called surgical face masks) are convenient, they are bad for the environment because they must be thrown away after one use. The coronavirus pandemic has already produced lots of single-use plastic due to disposable face masks, disposable cleaning wipes and plastic packaging for hand soaps/hand sanitisers.
Although disposable face masks are not the most eco-friendly, for those who do not travel very often, they might be a more cost-effective option. After using these disposable face coverings, be sure to cut the ear loops, this will stop the mask from endangering wildlife. Wearing a face mask made from cloth is a much more sustainable option. These machine-washable versions can be cleaned after use and re-used.