With long gaps between pay days, post-Christmas debt and the realisation that it's time to work on those new year's resolutions, January for many can be a little bleak. Having something to look forward to at the end of the month might just provide the motivation to stay on track.
Here at Feel Good Contacts, we've crunched the numbers* to create a comprehensive guide of all the UK locations where you can enjoy a two night 5* hotel stay for two from Friday, January 24 - Sunday January 26 for less than £100 a night. This weekend comes just before January pay day for many and follows Blue Monday (January 20) - a day dubbed 'the most depressing day of the year'.
While the average cost for a weekend away at a 5-star hotel in January is £359, at £65 per night, Glasgow's Ardoch House came out as the most inexpensive luxury hotel costing just £130 for the weekend, based on a couple sharing a bedroom. The bed and breakfast has an 'excellent' rating on Trivago, with almost 400 reviews - many of which praise the value and cleanliness of the property, and friendliness of the staff.
While this guide only includes properties that market themselves as 'hotels' as opposed to B&Bs or serviced apartments, for example, each of the sites listed was rated as "very good" or better based on guest reviews!
Jordon Cox, Britain's Coupon Kid, provides some of his tips for grabbing a bargain:
"January is one of the cheapest times of year to travel. After the Christmas period, money is tight and businesses feel the pinch, meaning they lower their prices to entice customers.
"If you want to fly somewhere in the UK, you can often find flights for dirt cheap. Most will be under £50 return with either Ryanair or Easyjet (and even cheaper midweek).
"Getting a cheap 5* hotel is possible. Make sure you look on hotel comparison websites to find the cheapest place to buy. No matter which travel agent you book through, you can usually get cashback from hotel stays on websites like TopCashback and Quidco. You can get up to 10% back on your stay.
"If you're okay with an element of mystery in your hotel, you can always go onto 'secret' hotels, where you don't know what hotel you are staying in until you book. It'll give you a description of the hotel before booking, which you can usually google to decipher which hotel it is referring to. You can easily save between 20-30% and not sacrifice quality"
Christmas, and subsequently returning back to work after the break, can be a stressful period for many - so what could be better than treating yourself to a weekend away at a 5-star hotel? You'd think you'd have to burn a hole in your pocket to afford a night of luxury - especially in one of the UK's top cities. We wanted to show how inexpensive a staycation can be if they need a little break to look forward to once Christmas is over, great for anyone who is a little cash-strapped in January.
Here is our full list of the 5* two night stays you can get for less than £200, as well as the full guide about each location.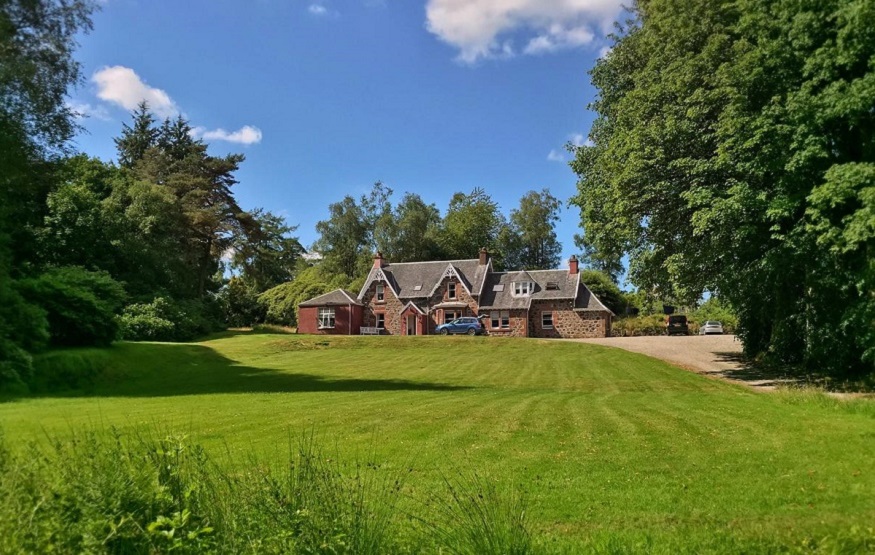 (Photo Credit: Ardoch House, Glasgow. Via Booking.com)

Ardoch House,Glasgow - £130
With a DIY breakfast and external bathroom, this 5-star property is a home away from home for any guest. Ardoch House has charmingly different rooms on offer, from safari tents and chalet caravans to luxury and superior suites. The mountain views and Scottish character make this ideal for adventurous couples whereas the short drive to Loch Lamond and the Scottish Highlands make it perfect for young families. As the cheapest hotel available on our 5-star listing, this is a must-try for our readers.
Hotel New Inn,Clapham - £130
In the heart of the Yorkshire Dales, The New Inn Clapham offers a relaxing stay in the Yorkshire countryside. Filled with character, each room is unique in its window seats, oak beams and views. As a 'Three Peaks Village', this inn is ideal for those attempting the three peaks challenge or families who love a bit of adventure. The New Inn Clapham also offers early morning breakfast and packed lunches for walkers or adventure seekers who require sustenance for their long journey ahead.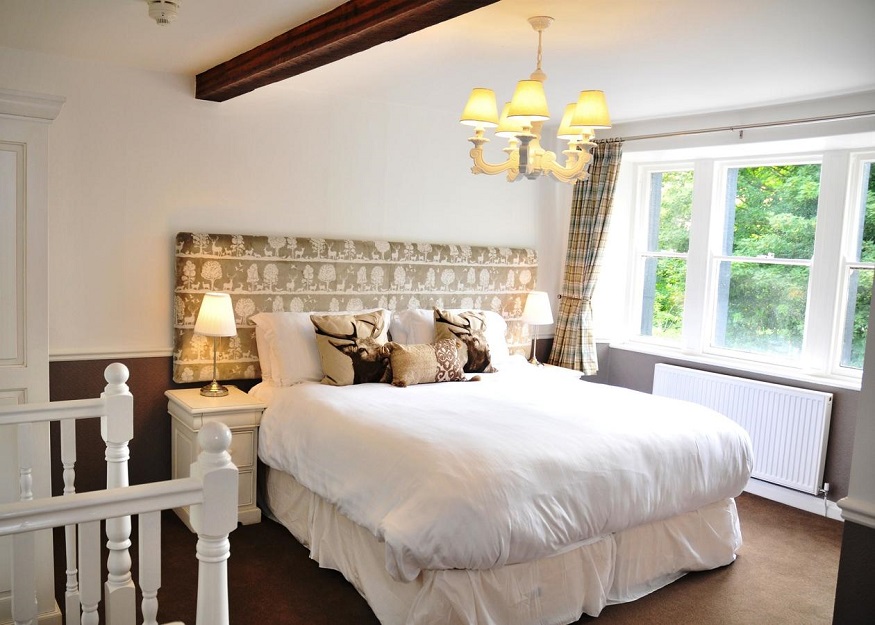 (Photo Credit: Hotel New Inn,Clapham. Via Booking.com)

The Olde Bell, Hurley - £138
Famous as one of the oldest inns in the world, The Olde Bell has become a favourite for celebrities and well-known faces. Slightly outside of London (40 minutes), the hotel is a perfect English experience with classic interiors and an award-winning restaurant, although perhaps not suitable for those seeking to explore central London. With furniture dating past 1135, the charming inn is a unqiue location for couples, weddings and family trips.
The Marston, Torquay - £150
Located in South Devon, just a stone's throw from English Riviera, you will find The Marston hotel. Self-proclaimed as a luxury boutique hotel, the villa has undertaken a significant refurbishment to the delight of its guests. With attentive staff and a landlady of the year, the customer service at The Marston has not gone unnoticed.
The Roseate Reading Hotel, Reading - £153
For those seeking a hotel adorned with luxury, The Roseate Reading Hotel is a pretty good fit. Located in an Italian-style building, classic rooms are available with dining areas, stone fireplaces and stereo systems. This 5-star hotel offers spa treatments to guests, along with a gym, as well as its own award winning bar, all just 1km from the centre of Reading.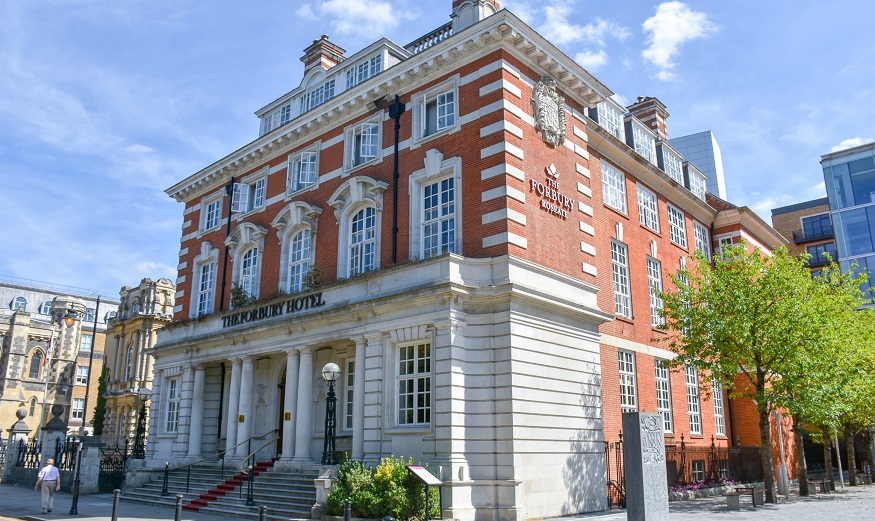 (Photo Credit: The Roseate Reading Hotel, Reading. Via Booking.com)


Hotel 21, Southport - £153
With luxury apartments and rooms for guests, Hotel 21 features clean elegant decor at a reasonable price. These spaces are heavily targetted at families, offering cinema rooms with plush couches and classic films. Each bathroom is fitted with luxury baths or wetroom showers making it an easy stay for all guests. If you prefer a larger apartment to a hotel, this is definitely the pick for you.
The Eiders, Cromer - £154
Just a 35-minute drive from Norwich International airport, Eiders Hotel is ideal for customers with an early morning flight. The sundeck, outdoor swimming pool and beauty treatments also suit those seeking a relaxing and romantic weekend in a luxury environment. As a coastal town, Cromer is perfect for families seeking a sunny trip to a more traditional seaside location.
Boulevard Hotel, Blackpool - £158
Alongside their 2 night stays, the Boulevard Hotel also offers customers bed & breakfast with one-day wristbands to Blackpool Pleasure Beach. With an ideal location on Ocean Boulevard, the hotel is ideal for those looking to explore the sights of Blackpool during their stay. As one of the cheaper hotels from our 5-star list, this particular choice offers fantastic value for money!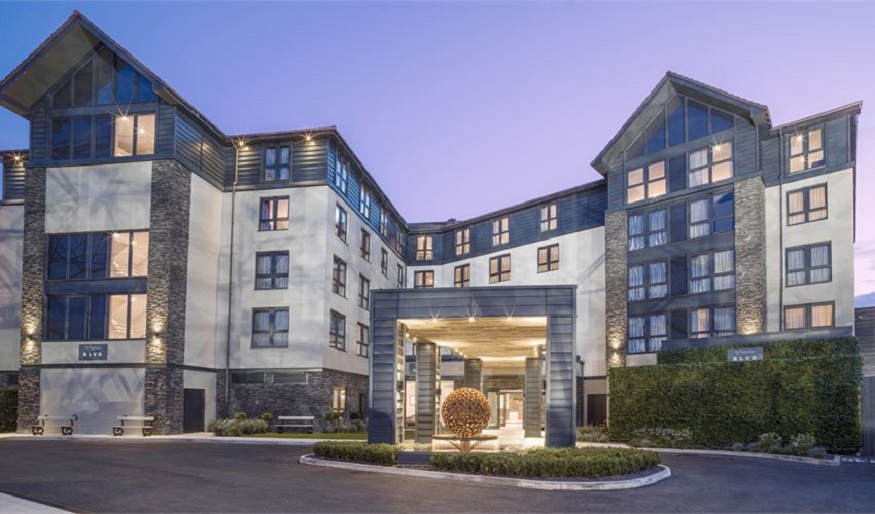 (Photo Credit: Boulevard Hotel, Blackpool. Via Booking.com)
Hotel Colessio, Stirling - £160
For explorers of central Scotland, Hotel Colessio provides an elegant and comfortable stay in an ideal location. With large beds and luxurious spaces, even the double rooms in this hotel exceed the expectations of its guests. Offering afternoon tea and a chic cocktail bar, Hotel Colessio provides plenty of ways for customers to spend a little extra during their stay.
Briarfields Hotel, Torquay - £160
Only accepting adults, Briarfields is a stylish guest house offering free parking and locally sourced breakfast to overnight stayers. Just a short walk to Torquay seafront, this hotel is in a great location for customers seeking to explore the inner and outer harbour during their stay.
Silverstone Golf Club and Hotel, Silverstone - £164
Located closely to both Milton Keynes Snowdome and Silvertone motor racing circuit, this hotel is perfect for adventurous couples and families. The golf lessons and courses for guests provide a fun activity to accompany a beautiful stay.


(Photo Credit: Silverstone Golf Club and Hotel, Silverstone. Via Booking.com)



The Millstone Hotel, Blackburn £178
With low ceilings, sloping floors and twisting staircases, The Millstone Mellor Hotel is filled with a character which charms guests. The country rooms are large and the food is freshly sourced which adds to the family feel this former 17th-century coaching inn possesses. For customers seeking a modern clean look, this is not the hotel for you.
The White Hart, Great Yeldam - £180
This 15th-century coaching inn located within the countryside is an idyllic, award-winning hotel. Spacious grounds and beautiful flowers surround the 13 en-suite rooms which are located away from the main building. This means a secluded and quiet stay, perfect for those seeking a romantic weekend.
3 Norfolk Square, Great Yarmouth - £180
Specifically for adults, 3 Norfolk Square claims to be the first and only 5-star guest house in Great Yarmouth. With the same advertised rate offered all year and free parking opposite the hotel, this guest house certainly prides itself on a fair price. The locally sourced freshly cooked breakfast and seafront views attract tourists who are charmed by the spacious rooms and luxurious facilities.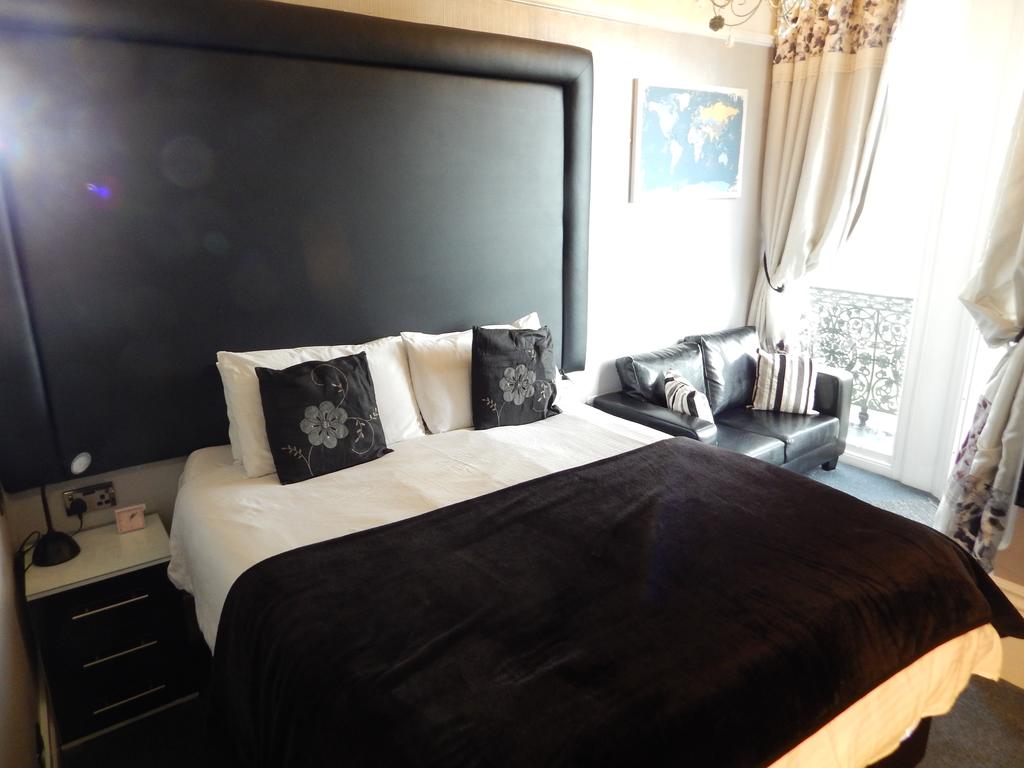 (Photo Credit: 3 Norfolk Square, Great Yarmouth. Via Booking.com)


Moss Lodge, Rochdale - £180
Built-in 1848, Moss Lodge is an award-winning guest hotel located in a former mill. The lodge offers an intimate experience surrounded by landscaped grounds, creating the ultimate relaxed atmosphere. Moss Lodge also provides a cardiovascular gym with treadmill, cross trainer, rowing and cycling machines. For breakfast, locally sourced food is offered and for evening meals, a luxury dining option is available. Located only 10 miles away from Manchester City Centre, there are a number of days out at your fingertips with this stay.
The Lodge @ Carus Green, Kendal - £180
As a converted Lake District farm building, the Lodge @ Carcus Green offers a unique tasteful and comfortable stay for golfers, couples and families. For golf lovers, a discounted green fee is offered alongside a night stay, making this ideal for a combination of fun and relaxation. Meals are not included for this price, however, customers can sample the locally sourced menu for an additional cost.
Worthenbury Manor, Wrexham - £180
With antique four-poster beds, writing bureaus and classic armchairs featuring in the luxury period bedrooms, Worthenbury Manor offers an old charm to guests. As well as this charm, the hotel also offers a free breakfast to those booking through the website, a breakfast menu worthy of winning awards. The location, within the Welsh Marches, means guests can explore North Wales, Cheshire and Shropshire at their leisure. Alternatively, they can stay in this secluded country house surrounded by beautiful grounds for the perfect romantic break.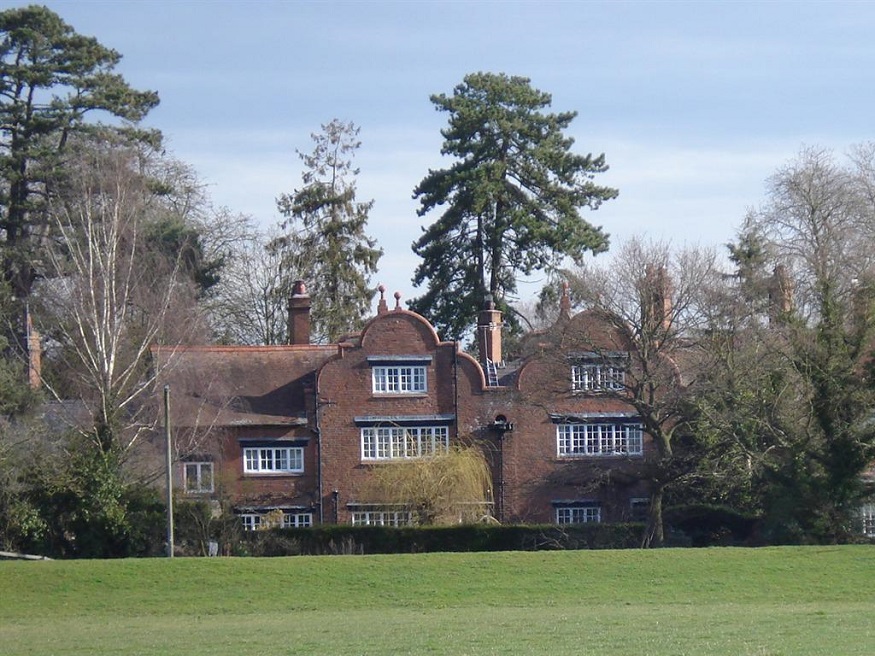 (Photo Credit: Worthenbury Manor, Wrexham. Via Booking.com)


Just B, Edinburgh - £181
Offering a relaxing hot tub and organic food, Just B prides itself on the immersive retreats it provides for visitors. Located in the foothills of the Pentland National Park in Edinburgh, this cottage is surrounded by trees with direct access to Edinburgh City Centre. The motto of "relax, unwind and JustB" encompass the atmosphere this hotel creates for any customers, with hiking experiences, delightful cuisine and beautiful bedrooms.
Winckley Square Hotel, Preston -£186
Winckley Square Hotel in Preston offers luxurious and unique experiences to customers who stay. This hotel, unlike most, allows guests to choose the apartment in which they stay based on their own preferences. With "The Den" aimed at letting your inner child play, "The Lodge" being the largest apartment in the hotel, or "Mayfair" inspired by the affluent area in London, there is certainly something for everyone at this hotel. The in-hotel restaurant is also a popular choice for guests, offering a memorable dining experience with a beautiful atmosphere.
Slebech Park, Haverfordwest - £190
One of the more expensive hotels on our list, Slebech Park Estate is located in the heart of the Pembrokeshire Coast National Park. With 700 historic acres of private estate and a host of wildlife through the seasons, guests can wander through the meadows, woodlands and river undisturbed whilst exploring. The luxury dining experience offers lunch, afternoon dinner and tea within the award-winning 2 Rosette restaurant. A perfect romantic spot, Slebech Parl Estate hosts a historic reputation which is hard to replicate.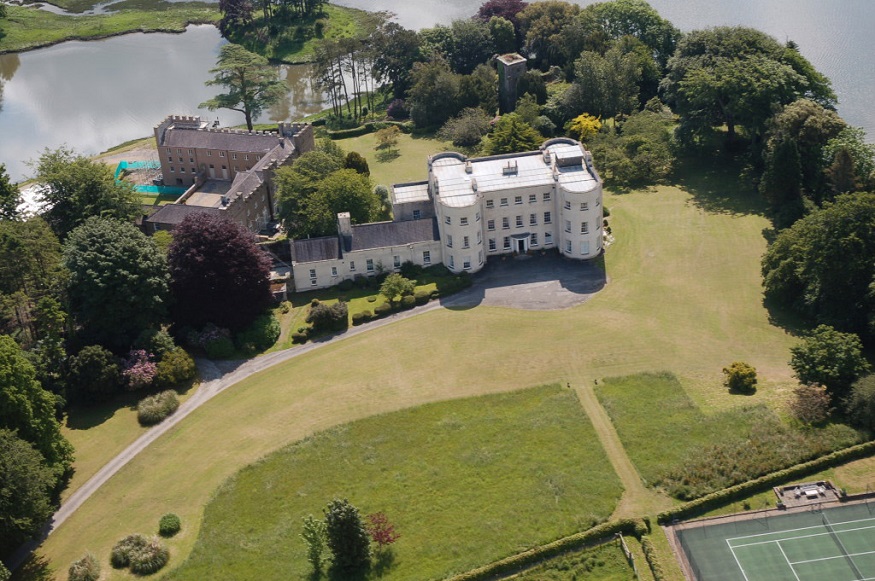 (Photo Credit: Slebech Park, Haverfordwest. Via Booking.com)
The Club Hotel and Spa, St Helier, Jersey - £190
With one Michelin star and 5 AA rosettes, this hotel in Jersey offers a 5-star experience to guests throughout their stay. The restaurant has an, St He infamous reputation for excellence, with the delightful cuisine exceeding the expectations of anyone who visits. Located within walking distance from some of the most beautiful beaches in Jersey, this hotel also offers its own pool terrace and sun loungers for those looking to relax within the hotel itself.
Claverton Country House Hotel, Battle, East Sussex - £197
Originally built in 1910, Claverton Country House Hotel is an elegant Edwardian property located in East Sussex. With a wealth of history tied in with World War Two, this hotel has a charismatic feel which leaves visitors intrigued. This hotel offers king-sized four-poster beds as well as sleigh beds, providing guests with a comfortable and luxurious stay.
Piran Meadows Resort and Spa, Newquay - £198
Piran Meadows is a unique facility set in the heart of Cornwall. Recently redesigned as a holiday destination, this resort offers an outdoor splash zone, Go Active programme, heating indoor swimming pool, sauna and a steam room. With modern two bedroom caravans available as well as larger cottages, Piran Meadows Resort allows guests to design a personalised holiday which is right for them. Whether it is a relaxing holiday or an active family trip, this resort can cater for it.
Once you've decided when you want to relax, don't forget your eyecare. Monthly and two-weekly contact lens wearers can shop our travel pack sized solutions here. Perhaps consider daily contact lenses for ease of wear and no cleaning and storing routine.