Guide to Biofinity Contact Lenses
Biofinity contact lenses are the perfect answer for office workers and anyone used to long days that suffer tired and dry eyes from digital screen use. The Biofinity family are made up of monthly disposable silicone hydrogel contact lenses, developed by eye care experts CooperVision. Their range of lenses are designed to offer plenty of oxygen for all day comfort to stand up to your busy schedule.
These monthly contact lenses can be worn daily for up to a month or 29 nights of continuous wear, provided this is approved by your optician. Correct myopia (short-sightedness), hyperopia (long-sightedness), presbyopia and astigmatism with the Biofinity range. They also have an extended range for wearers who have more extreme prescriptions.
Biofinity vs Biofinity Energys
Biofinity contact lenses and Biofinity Energys are designed to correct both short-sightedness and long-sightedness. They share the same water content and oxygen permeability but what pulls them apart is that Biofinity Energys uses Digital Zone Optics. This feature helps wearers switch focus on and off screen more comfortably. This is beneficial for people who spend most of their day in front of their computer or mobile screen.
The same breathable design is found in Biofinity Multifocal for presbyopic correction and Biofinity Toric for astigmatic correction. For people with higher powers Biofinity XR and Biofinity XR Toric provide a wider range of parameters to choose from.
How does Biofinity compare?
Biofinity vs Air Optix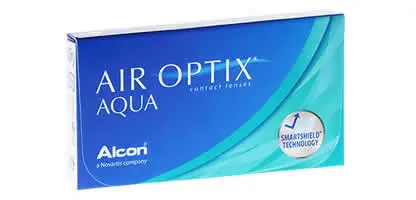 We understand if you're torn between choosing Biofinity or Air Optix Aqua, as they're both popular monthly contact lenses. They are designed to promote comfort and longer lens wearing experience by allowing more oxygen to reach the eye compared to other contact lenses. However, Biofinity is favoured more for its higher water content of 48% and oxygen permeability of 160 Dk/t. Whereas, Air Optix Aqua has a water content of 33% and oxygen permeability of 138 Dk/t.
Biofinity Toric vs Air Optix Astigmatism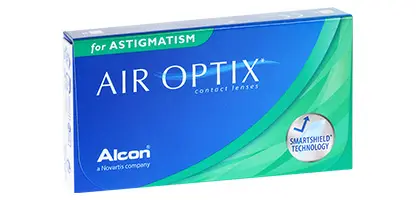 With toric contact lenses, stable vision is key, and both monthly contacts feature stabilising technology to ensure the lenses don't move around. What sets Biofinity Toric from Air Optix for Astigmatism is its combination of both a silicone hydrogel design and Aquaform technology. This helps the eyes stay hydrated for longer, promoting more comfort and lens breathability.
Biofinity vs Acuvue Oasys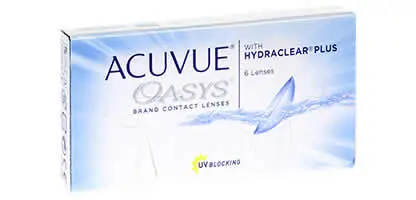 Like Biofinity, Acuvue Oasys is a high performing silicone hydrogel lens and uses a wetting agent. The significant difference between the two lenses is that Biofinity is a monthly disposable and Acuvue Oasys is a two-weekly disposable. So, while Biofinity has a higher water content and allows more oxygen to pass through the lens, Acuvue Oasys can be considered a healthier lens to wear. This is because it offers a shorter wearing schedule which is a more hygienic way of wearing your contact lenses. Acuvue Oasys also offers UV protection. Technicality aside, Biofinity is slightly cheaper in cost but this is simply because Acuvue Oasys provides more lenses compared to Biofinity for three months.