1. The struggle of choosing a pair of frames
Choosing a pair of frames can be a major life decision for glasses wearers, as choosing the wrong pair is like having to wear the same bad outfit for a year at a minimum. A pair of glasses is also a fashion statement these days.

At Feel Good Contacts, we are all too familiar with this struggle which is why we have plenty of guides to help you decide on a pair of frames such as our 'Glasses Frame Size Guide' and 'What glasses suit me'.
2. Foggy glasses
Those who wear glasses know how frustrating it is when they become foggy, which can happen pretty easily. For example, when opening the oven or the dishwasher, drinking soup or even a hot drink. Luckily, you can purchase The AB Mask Anti-Fog Cloth to help you tackle this annoying problem.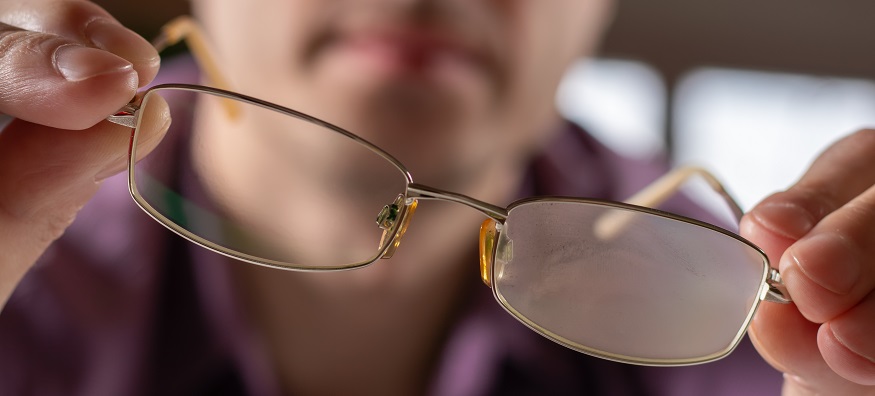 3. Being unable to see during the middle of the night
This can be pretty scary if you wake up suddenly in the middle of the night and can't figure out your surroundings. Objects can appear as frightening figures, and getting to the toilet can become an obstacle course.
4. Applying makeup
Yup, even applying eye makeup can present itself as a challenge, especially for those with strong prescriptions who can't see their eyes at a distance when looking in the mirror.
5. The fear of switching to contact lenses
With numerous horror stories about, it's no wonder that those who wear glasses are fearful of wearing contact lenses. Many of these horror stories are, in fact, myths, and if you're thinking about switching to contact lenses for a bit, you can find some helpful articles on our Eye Care Hub.
6. Those handy cleaning cloths are often misplaced or lost
Losing your cleaning cloth can be a nightmare, especially if you're out and about and find smears on your lenses. While you may think that using your shirt is a good idea, this should be avoided at all costs as it can result in fine scratches and streak marks. Our Feel Good Pouch is a handy accessory for on the go. Not only can it be used to store your glasses in, but it also doubles up as a cleaning cloth and is harder to misplace.
7. Weather complications
People who wear glasses are all too familiar with the complications the weather can present. Humidity causes foggy lenses, the sun means having to carry a second pair of prescription sunglasses, and rain equals droplets that obscure your vision; there is just no winning!




Fear not; while the weather can present various problems, eyeglass lens coatings can offer various solutions. You can choose from anti-fog lenses, a hydrophobic coating (which resists water droplets) or photochromic lenses (transition lenses), which act as prescription sunglasses and turn dark when exposed to UV rays, blocking 100% of UVA and UVB light.
8. People asking to try on your glasses
You'll know how frustrating this is if you're a glasses wearer. The fingerprints and unsolicited opinions are enough to drive us just a little bit mad, not to mention the fear that they'll be placed face down afterwards.
9. Lying on your side while watching a movie or reading a book
If you're a glasses wearer, you'll know the pain of trying to snuggle up on your side to watch a movie or read a book. It's just not happening without getting a bruise or your glasses being shoved uncomfortably against your nose.
10. 3D movies are no fun
Sitting through a 3-hour long 3D movie wearing 3D glasses over your regular glasses makes you wonder if it's worth it.
11. Forgetting what you look like without glasses
On the odd days that you don't wear glasses, you'll often be surprised by your reflection. In addition to this, it's not uncommon to be greeted by commentary such as 'you look so different without glasses'. These awkward comments leave you wondering whether this is a good or bad thing, and you're never quite sure how to respond.
12. Losing your glasses but needing to find your glasses
This happens all the time for glasses wearers, which is why we always recommend having a spare pair that you keep somewhere safe such as in your car or at your desk. At Feel Good Contacts, you can buy glasses online for the lowest prices, so why not take advantage and grab two pairs!
Choose Feel Good Contacts for affordable glasses
If you're looking for designer brands at the most affordable price, choose Feel Good Contacts. They stock a wide variety of well-known and sought-after brands such as Ray-Ban, Prada and Oakley. If you're looking to adopt the designer look without the huge price tag, look no further than their own affordable Feel Good Collection.

The glasses from the Feel Good Collection are inspired by designers, made from excellent materials to the highest standards, but sold at much more reasonable prices. Even if you don't require vision correction, why not buy a pair of blue light glasses to protect your eyes in the evening? Not only do you have the huge savings from buying online, but you also have the convenience of having your accessory delivered straight to your door.