Recycle your contact lenses with us

Calling all eco-warriors! Feel Good Contacts is proud to partner with Terracycle so that you can recycle your contact lenses and contact lens packaging.

We often overlook the impact that small things, (such as contact lenses) can have on the environment. In addition to this, the process of recycling contact lenses is not widely advertised, so at Feel Good Contacts, we wanted to highlight this by providing a simple way for you to recycle your contact lenses and packaging.

Whether you have purchased your contact lenses from Feel Good Contacts or elsewhere, we welcome and encourage everyone to find their nearest Terracycle drop off location and recycle their contact lenses.


PLEASE DO NOT SEND YOUR CONTACT LENSES TO US USING THE RETURNS LABEL INCLUDED IN YOUR ORDER. USED LENSES AND PACKAGING SENT VIA THIS METHOD WILL NOT BE RECYCLED.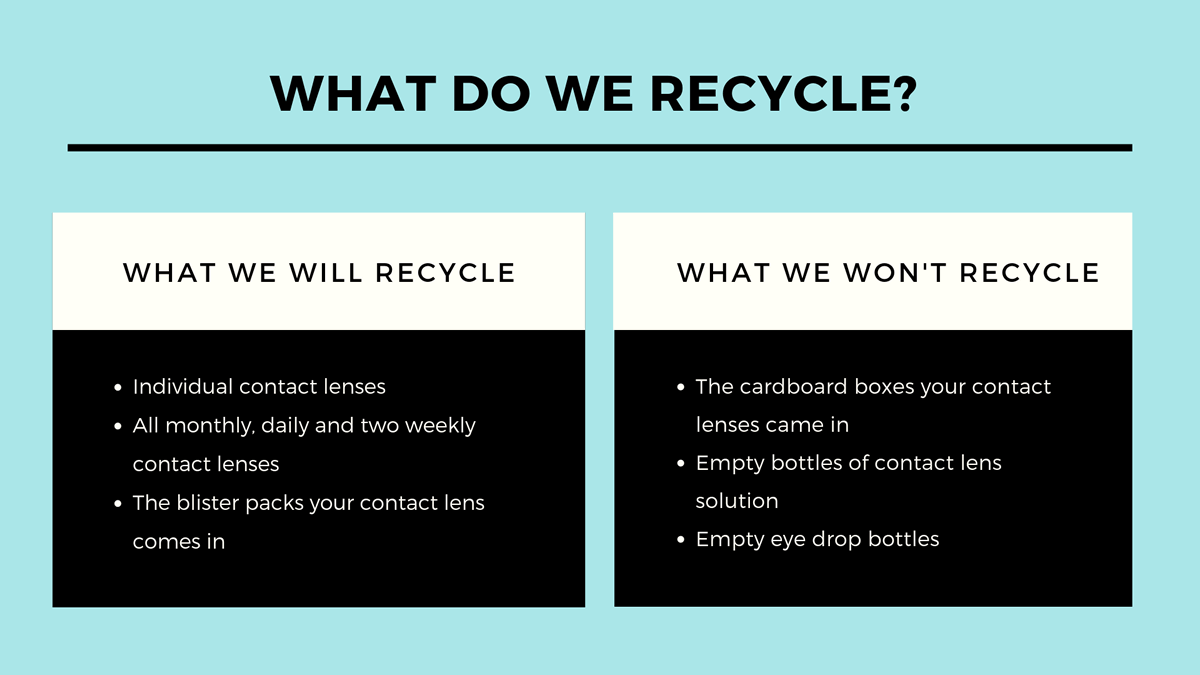 How to be eco-friendly with your contact lenses
Here are some more things you can do and things which you can avoid if you wish to take an eco-friendlier approach with your contact lenses and cannot make it to a Terracycle drop off location.
Avoid throwing lenses down the toilet or the sink
Put carboard packaging in your recycling bin at home
Don't forget to recycle your contact lens solutions bottles too. These can also go in your recycling bin
Opt for weekly or monthly contact lenses to reduce the number of lenses you throw away
Click here to read more about how to dispose of your contact lenses and the impact of badly disposed of contact lenses on the environment. Help contribute to a waste-free world and start recycling your contact lenses.