Guide to PureVision Contact Lenses
PureVision contact lenses are designed by eye care specialists Bausch & Lomb, to keep up with today's digital environment, working professionals and contact lens wearers who spend long hours in front of a screen. The highly breathable lenses ensure comfort throughout the day with flexible wearing schedules to suit your lifestyle.
The PureVision family are made up of an extensive silicone hydrogel contact lenses range. They can be worn as monthly disposable wear or for up to 30 days and nights of continuous wear, provided this is approved by your optician. Whether you need to correct myopia (short-sightedness), hyperopia (long-sightedness), presbyopia or astigmatism, PureVision has a contact lens for you.
Correct short-sightedness and long-sightedness with PureVison2 contact lenses. The silicone hydrogel design allows more oxygen to reach the lens to your eye compared to standard hydrogel contact lenses. This helps prevent the onset of dry eyes and combined with ComfortMoist technology, wearers will enjoy a comfortable and hydrated lens wear. You also have the option to stock up with PureVision2 (6 Pack).
Bausch & Lomb have discontinued PureVision Multifocal contact lenses, however they have been replaced by PureVision2 for Presbyopia. This is an exceptional addition to the renowned PureVision range, as these multifocal contact lenses utilise impressive technologies. 3-Zone Progressive Design ensures clear and consistent vision at all distances. Whilst, its thin lens design boasts outstanding comfort and even a 'barely-there' feel for wearers. For added convenience, these monthly contact lenses are also available in a 6 Pack edition.
PureVision2 for Astigmatism contact lenses provide freedom from glasses and a longer wearing time to keep up with your busy day. Made with Auto Align Design, these PureVision toric contact lenses deliver clear, stable and consistent vision with no interruptions. You can also be sure of incredible comfort from start to finish, making these perfect for anyone who needs a lens to keep up with their day without their astigmatism getting in the way.
How does PureVision compare?
PureVision vs Air Optix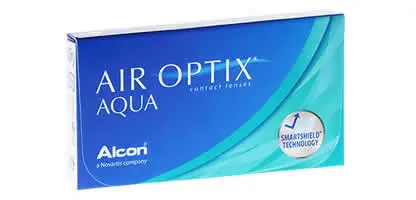 PureVision2 and Air Optix Plus HydraGlyde are both silicone hydrogel lenses and can also be worn as extended wear contact lenses. They offer a longer contact lens wearing time than other hydrogel lenses and suitable for up to 16 hours of wear. They even share a similar water content, so what sets them apart?
Air Optix Plus HydraGlyde allows a slightly higher amount of oxygen through the lens to your eye compared to PureVision. And, Air Optix uses SmartShield technology to prevent the build-up of protein and deposits on the lenses. This contributes towards a healthier and hydrated lens wearing experience which is highly beneficial for contact lens wearers of today's digital environment.
PureVision vs Acuvue Oasys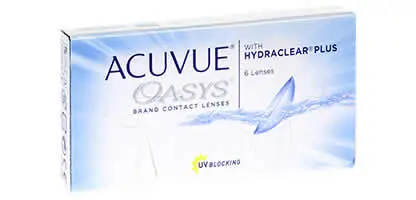 Acuvue Oasys contact lenses are considered a healthier wearing option than PureVision2 and has a higher DK/t value of 147. Thus, allows more oxygen to reach the eye for a more hydrated and breathable lens wear.
Acuvue Oasys also shares a silicone hydrogel design like PureVision2 but offers a two weekly disposable wearing schedule and up to one week of extended wear. This is beneficial for wearers who tend to experience dry eye and avoids the uncomfortable lens feeling that most monthly disposable wearers do at the end of each month. Thus, offers a healthier and more hygienic way of wearing your contact lenses.
Both lenses have a visibility tint for easier handling, while Acuvue Oasys features a clever 123 inside-out indicator for additional support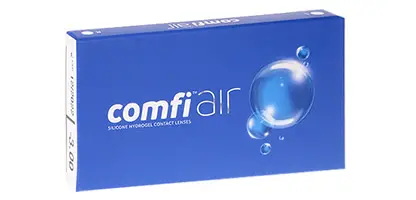 Both monthly lenses, PureVision2 and comfi Air contact lenses share a silicone hydrogel material and offer a high oxygen intake. However, comfi Air allows an exceptional oxygen consumption of 190 Dk/t for even longer hours of contact lens wear, reducing dryness and maintaining all day comfort.
In addition, comfi Air contact lenses holds a higher water content compared to PureVision, ensuring a more comfortable and wettable lens wear that's combined with UV protection for safety against the sun's harmful rays. Both contact lenses deliver high performance but it's clear comfi Air is available at a more affordable price point for lens wearers.