Guide to Opti Free Contact Solutions
Opti Free contact lens solutions provides three unique multi-purpose solutions for your individual lens care needs. Created by leading eye care manufacturer Alcon & Ciba Vision, you can rely on these all-in-one solutions to rinse, clean, disinfect, store and recondition your monthly or two weekly contact lenses.
The Opti-Free family is compatible with both hydrogel and silicone hydrogel contact lenses. Please discuss with your optician if this contact lens solution is suitable as they will likely suggest what's best for your eyes.
Express
For a gentle formula that's designed for sensitive eyes, Opti-Free Express is a perfect choice that doesn't compromise on a deep clean. Instead, the solution ensures an excellent disinfection as its proven effective against bacteria and fungi. While, it even contains a wetting agent to keep your contact lenses fresher throughout the day. Enjoy better value for money when you purchase Opti-Free Express Twin Pack.
RepleniSH
With an effective dual disinfection system and use of TearGylde reconditioning system, Opti-Free RepleniSH contact lens solution provides a combination of healthy and comfortable contact lens wear. The formula is designed to work with the tear film and lock in moisture from your natural tears on to the lens surface. So, you can be sure of long-lasting lens surface moisture. Save when you buy Opti-Free RepleniSH Twin Pack or grab the Opti-Free RepleniSH Travel Pack for on-the-go.
Puremoist
Perfect for a modern, busy lifestyle, Opti-Free Puremoist delivers outstanding comfort from morning till night. Designed with HydraGlyde Moisture Matrix technology, Opti-Free Puremoist provides up to 16 hours of contact lens wear. The solution works by surrounding your contact lenses in a cushion of moisture, this layer creates a barrier to reduce the build up of deposits for long-lasting contact lens wear. You can choose to opt for a Twin Pack to save money or a Travel Pack which complies with airport regulations.
How does Opti Free compare?
Opti Free vs Biotrue
Compared to Biotrue, Opti Free contact lens solution has three different solutions to provide a specific type of clean that you need for your contact lenses. Whilst, Puremoist offers 16 hours of contact lens wear, Biotrue provides 20 hours of comfortable wear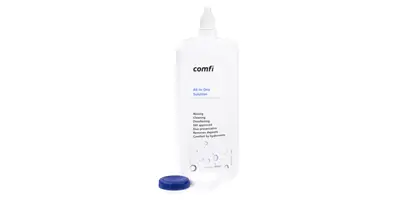 Both solutions are available in different pack sizes to cater to your lifestyle needs, but comfi All-in-One Solution is found more affordable without compromising on premium quality or comfort. comfi is also considered more letterbox-friendly as it is packaged in a flatpack bottle for added convenience.