Guide to FreshLook Contact Lenses
FreshLook contact lenses are one of the most popular brand of coloured contact lenses, manufactured by leading eye care experts Alcon & Ciba Vision. They are designed to work for people with both light and dark coloured eyes, to enhance your eye colour for either a subtle or dramatic look. FreshLook have an extensive range of convenient wearing options and colours to choose from, so you can create a look to suit your look and lifestyle.
FreshLook offers prescription contact lenses for myopia (short-sightedness), hyperopia (long-sightedness) and available for people who do not require a prescription contact lenses, in plano form. Coloured contact lenses are classed as a medical product and you will need supervision of an eye care professional before trying them out to ensure they are suitable for your eyes.
FreshLook Monthly
FreshLook Colorblends is one of the bestselling coloured lenses on the market, with a remarkable range of twelve colours to choose from. These monthly contact lenses are the first ever to feature a technology that combines three colours into one, to create a natural blend. Today, people usually prefer a natural and subtle change of colour, which you can find with Blue, Gray, Green, Pure Hazel, Amethyst and Brown. While, Honey, True Sapphire, Gemstone Green and Brilliant Blue offer a more bold and noticeable change.
FreshLook Colors is designed specifically for darker or brown eyes that are after a more dramatic change. These lenses come in six stunning colours, including Blue, Green, Hazel, Violet, Misty Gray and Sapphire Blue. While, FreshLook Dimensions (6 Pack) is suited for lighter coloured eyes. If you are looking to naturally enhance the colour of your eyes, the lenses come in Caribbean Aqua, Pacific Blue and Sea Green. For plano form, FreshLook Dimensions (Zero prescription only) is worn for cosmetic purposes.
FreshLook Daily
FreshLook One Day contact lenses much like FreshLook Colorblends, features a 3-in-1 colour technology but in the convenience of a daily disposable. They are beneficial for people who occasionally wear coloured lenses or after a more hygienic way of wearing contact lenses. FreshLook One Day is available in Pure Hazel, Grey, Blue and Green.
Enlarge the look of your eyes with FreshLook Illuminate contact lenses. They offer a bigger and bolder look for people who have dark coloured eyes. They have been designed with a unique starburst pattern and a dark outer ring to add depth and definition the eyes.
How does FreshLook contact lenses compare?
FreshLook Illuminate vs Acuvue Define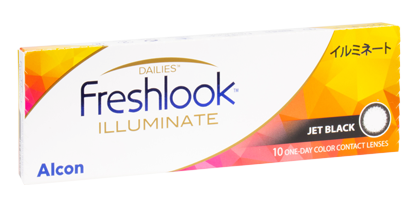 Johnson & Johnson have discontinued 1 Day Acuvue Define in Shimmer and Sparkle, but you will find limited prescriptions still available on our site. An alternative contact lens you can try is FreshLook Illuminate contact lenses.
Both lenses are designed to offer a bigger and brighter look, without compromising on comfort. 1 Day Acuvue Define is made with Lacreon technology to lock in moisture, while FreshLook Illuminate delivers all day comfort through its Blink Activated technology to keep lenses hydrated all day.
FreshLook One Day vs comfi Colors 1 Day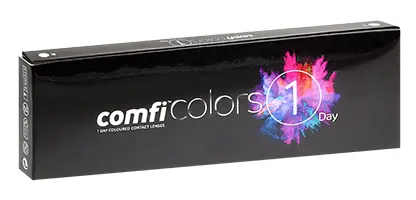 Both FreshLook One Day and comfi Colors 1 Day are daily coloured lenses that offer a natural enhancement. However, comfi Colours is favoured over FreshLook One Day for a number of factors.
comfi Colors 1 Day is popular for its enlarging effect that showcases a bigger and brighter look of your eyes. They are considered more advanced in comfort as they can be worn for up to 12 hours a day. For added convenience, they can be purchased in a Rainbow Pack, giving you the option to try all five colours in one go without buying them individually.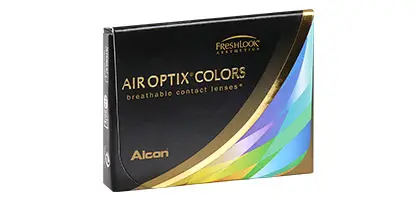 FreshLook and Air Optix Colors are created by the exact same manufacturer and both use the infamous 3-in-1 colour technology. The significant difference between the two coloured contacts is that Air Optix Color is made from silicone hydrogel material. This allows a higher supply of oxygen to reach the eye, to keep your eyes hydrated and even more comfortable. This is beneficial for busy individuals who wear their lenses for longer hours of the day.