Ocular Mucous Membrane Pemphigoid: Understanding a Rare Autoimmune Eye Disorder
Medically reviewed by Tina Patel, Contact Lens Optician at Feel Good Contacts
Ocular Mucous Membrane Pemphigoid (MMP) is a rare autoimmune eye disorder that can profoundly impact a person's vision. The article sheds light on the complexities around MMP, its association with chronic ocular inflammation and its impact on the eye surface. Learn about its symptoms, diagnostic methods, treatments, ongoing research and future outlook.
What is ocular mucous membrane pemphigoid?
Ocular Mucous Membrane Pemphigoid (MMP), also known as ocular cicatricial pemphigoid is a rare autoimmune disorder where the immune system generates damaging autoantibodies. These autoantibodies damage the skin and mucous membranes, particularly of the eyes, leading to Ocular MMP. This condition mainly affects the conjunctiva, the thin membrane covering the eye's surface, leading to conjunctivitis, scarring, and chronic ocular inflammation. This condition impacts both eyes, but in most cases, one eye suffers more. Timely diagnosis is essential for severe cases, as effective treatment can control symptoms and ensure better eye health and comfort.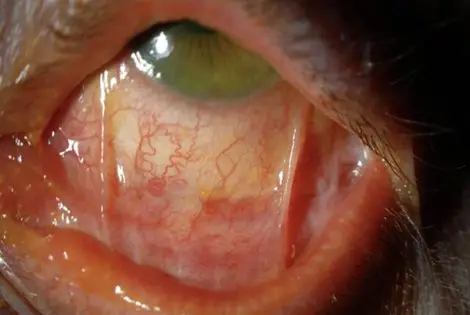 Source: Wills Eye Hospital
What causes mucous membrane pemphigoid in the eye?
Although the exact cause of Ocular MMP remains unknown, a genetic element is thought to contribute in some cases. It is important to understand that Ocular MMP is neither contagious nor an inherited eye condition. In this condition, the immune system automatically attacks other body parts, such as the mouth. The autoantibodies attack the layer beneath the mucous membrane or skin, resulting in chronic ocular inflammation and scarring. While blisters generally do not form in the eyes, they can emerge in other body parts. This condition usually affects people over 40. It rarely affects children, but it has been found among young adults.
What are the symptoms of ocular pemphigoid in the beginning?
The symptoms of ocular mucous membrane pemphigoid commonly start with conjunctivitis; the affected person may experience red, painful, light-sensitive and teary eyes. These symptoms can be persistent and range from mild to severe. Conjunctival scarring emerges early and cannot be seen with the naked eye until it is prominent on the affected person.
As inflammation and scarring escalate, the conjunctival fornix (the space between eyelids and eyeball) can shrink, turning eyelids inwards, and making eyelashes scratch the ocular surface. This condition is known as trichiasis. Scarring and chronic ocular inflammation can affect tear-producing glands, resulting in dry eyes.
Please note that ocular MMP cannot be treated with antibiotics or eyedrops, ointments, etc.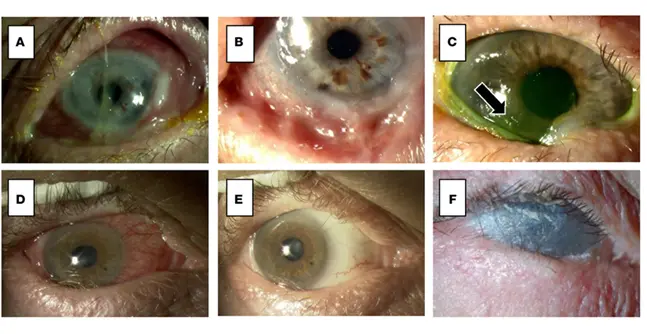 Source: ResearchGate
How is ocular pemphigoid diagnosed?
Due to the rarity of ocular mucous membrane pemphigoid (MMP), it is difficult to diagnose this condition. According to the NHS, this condition develops in about 8 to 10 million individuals yearly. A biopsy report of the affected mucous membrane is obtained to confirm an ocular MMP diagnosis. Furthermore, direct immunofluorescence (DIF) and serology tests are conducted to detect autoantibodies.
MMP diagnosis may require visiting an ophthalmologist, this may be the result of a referral from a general physician or dermatologist. Usually, these tests show good results for body parts like the mouth, nose, and skin. But for eyes, they work well in only about half of the cases and can sometimes cause problems. Despite such complexities, timely diagnosis and thorough eye care is essential in managing this condition. Those with other body parts affected by mucous membranes, such as the mouth, larynx, food pipe and genital areas, can be affected by blisters due to MMP. They may be referred to medical specialists to monitor the condition's intensity.
How do you treat ocular mucous membrane pemphigoid?
Treatment for ocular mucous membrane pemphigoid depends on the progression and severity of the condition. About 20% of patients have mild symptoms of ocular MMP and do not require treatment.
Your ophthalmologists can prescribe immunosuppressive drugs such as azathioprine, cyclophosphamide, dapsone, methotrexate, mycophenolate, sulfasalazine and prednisolone. These drugs aim to balance immune activity and fight infection. In severe cases of MMP, rituximab, truxima, or intravenous immunoglobulin (IVIG) might be prescribed by the ophthalmologist due to potentially serious side effects of the drugs.
As Ocular MMP is a chronic ailment requiring prolonged medication, routine check-ups are recommended. In certain cases, this condition turns eyelids inwards, causing eyelash abrasion on the cornea, which may require surgery.
Although eye drops and ointments are ineffective in treating ocular MMP, they can be beneficial when it comes to helping with side effects; this majorly includes dry eyes and blocked eyelid margin glands. To mitigate such side effects, lubricating gels, drops, or ointments can be applied on dry eyes, along with practices like hot compresses and lid margin cleaning to maintain good eyelid hygiene.
If you experience any symptoms of this condition, it is best to consult your ophthalmologist. They will be able to advise you on the best course of treatment based on the severity of your condition.
Can ocular mucous membrane pemphigoid be cured?
Ocular mucous membrane pemphigoid does not have a cure. However, proper treatment and coping strategies can slow the condition's progression. If diagnosed at an early stage, with suitable treatment, its severity can be mitigated to a large extent.
Coping with ocular mucous membrane pemphigoid
To manage ocular MMP, it is essential to take prescribed medicines on time and inform your ophthalmologist of any side effects you're experiencing. Removing inward turning eyelashes with the help of your optometrist or local GP nurse will reduce corneal abrasions. Those who are suffering from chronic ocular inflammation must opt for regular treatment. Make eye drops and ointments a part of your daily routine to help keep your eyes moist and hydrated.
Due to the severity of this condition, it is crucial to address the complications revolving around it with your friends and family. There are several support groups to assist people suffering from ocular mucous membrane pemphigoid, such as PEM Friends, a UK-based support group for people suffering from ocular MMP. You can also get help from International Pemphigus and Pemphigoid Foundation, an international MMP support group.
Research and future outlook
According to the American Academy of Optometry research, testing specific tear proteins using a membrane can help health care professionals to understand how well the treatment for ocular MMP works for the patient. Using cells from the mouth to fix eye surface problems has been effective, called cultivated oral mucosal epithelial transplantation and seems promising for treating ocular MMP. A unique eye implant, like the Boston Keratoprosthesis (KPro), can help with vision in some severe cases.
Ongoing research about ocular MMP guides us towards a brighter future for affected individuals. Advances in understanding its underlying mechanisms can lead to more targeted and effective treatments. Collaborative efforts among medical professionals, researchers and patients play a vital role in developing a positive outlook on this condition. By staying informed and advocating for awareness, we can contribute to the hope of improved outcomes for individuals suffering from ocular MMP.