Medically reviewed by Tina Patel on 15 December 2022
What is ocular migraine?
Ocular migraine or retinal migraine is a rare eye condition that causes temporary blindness or vision loss in one eye. This attack usually fades within 10-20 minutes and shouldn't last for more than an hour. Other names for this condition are visual, retinal, ophthalmic, or monocular migraine. Although the patient tends to lose their vision for a short period of time, it is natural for people to get anxious or worried. However, there is usually nothing to worry about.
These episodes are harmless, short-lived and symptoms should fade away withing an hour. Ocular migraine can develop with or without the accompanying pain of a regular migraine attack and usually affects one eye.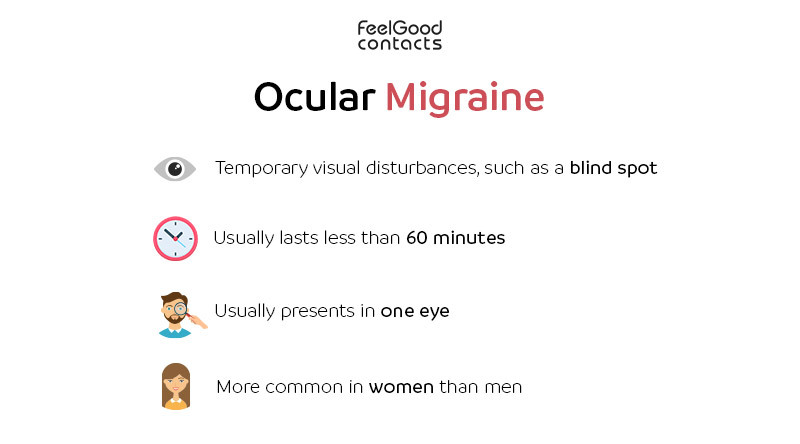 Symptoms of ocular migraine
The symptom of retinal migraine include:
Partial or total loss of vision in one eye
Blind spots or coloured halos in one eye
Headache
Nausea
Vomiting
Sensitive to light and sound
Any movement will make you feel worse
Different people experience different vision disturbances in this condition; some might experience blind spots, while others might experience halos, flashes of light, mosaic like pattern of blank spots etc. However, the common experience would be gradual blurring or dimming of the vision towards total sight loss for a short time.
Usually, the episode should end within 10-20 minutes. It is unusual for an episode of vision loss to last more than one hour. If someone experiences this, they should consult their optometrist or GP right away; this could be due to a serious condition that isn't related to migraine. Best to stay up-to-date with your health!
Causes of ocular migraine
This eye condition is caused by the sudden narrowing or spasming of blood vessels that are connected to the eye in the retina. When there is a sudden contraction, the blood flow to the eye is blocked/ reduced for a short time, causing blind spots or flashes. Once the contraction diminishes, the blood vessels relax. This resumes blood flow and the pain fades away gradually as a result. The sight usually returns to normal within an hour.
Triggers
Studies are still ongoing for ocular migraine; according to the NHS, this eye condition may be triggered by:
Smoking
Oral contraceptive pills
Exercise
Dehydration
Stress
High blood pressure
Low blood sugar level
Excessive heat
Sudden bending over
High altitude
Genetics
Genetics can also play a big part in this eye condition. Studies show that a family history of regular or ocular migraine increases the chances of passing this eye condition to the next generation. However, a clear pattern of inheritance has yet to be identified.
Gender
Ocular migraine tends to be more common in women compared to men. In general, people under the age of 40 have more chances of getting this eye condition.
Other conditions
People suffering from diseases such as lupus, sickle cell disease, epilepsy, giant cell arteritis and hardening of the arteries have more chances of getting ocular migraine.
Please note that ocular migraine is not the same as a migraine with aura. Migraine with aura includes blind spots, and flashing lights, and usually affects both eyes. This differs to ocular migraine which affects one eye.
How is ocular migraine diagnosed?
During an episode of ocular migraine, it is likely to be difficult to get to an optometrist to get your eyes examined. It is most likely for your doctors to examine you based on your symptoms in an eye test after the event.
After answering a series of questions regarding your symptoms, the doctors will be able to rule out other conditions that could cause similar problems such as giant cell arteritis which is a problem that can lead to visual problems and blindness due to inflammation in blood vessels.
Treatment for ocular migraine
There is no cure or permanent treatment for ocular migraine, however, it mostly involves taking painkillers and staying away from any triggers. The NHS recommends taking the following painkillers when experiencing ocular migraine episodes:
Aspirin – reduces inflammation and pain
A tricyclic antidepressant – neurotransmitters affect pain signals sent by nerves
Beta-blocker – stabilised heart rate and regulates blood flow
Calcium channel blocker – might help prevent blood vessels from constricting
Anti-epileptics – might help prevent migraine
It is also recommended to keep track of what triggers this condition each time you experience it, such as if there's a pattern every time a similar episode happens etc. Doctors will certainly conduct a thorough examination, but it will be more beneficial if you keep a track of any reoccurring pattern, that may help the doctors to identify the problem and suggest medications accordingly.
Headache vs ocular migraine
It is important to not get confused between regular headache and ocular or retinal migraine. Normal migraine can happen because of external stimuli such as loud sounds/music, sensitivity to bright light (photophobia), too much screen time or side effects of some medications. If you're getting frequent headaches, this might be an indication for you to get your eyes tested. If a prescription is found, your optometrist or optician will provide you with advice and a copy of your prescription so that you can opt for glasses or contact lenses that are appropriate for your needs.
On the other hand, an ocular migraine happens as a result of contraction in the blood vessels in the retina, causing short-term vision disruption such as blind spots or visible halows. This eye condition may or may not occur with a headache.
When should I worry about ocular migraines?
If you're experiencing frequent, severe headaches or sudden loss of vision or vision loss for more than an hour, you should consult your doctor immediately and seek professional advice. If this is the case, your symptoms may be caused by something other than ocular migraine and should be investigated further by a medical professional.