Understanding Hemianopia: Causes, Symptoms and Coping Strategies
Medically reviewed by Khuram Sarwar, Dispensing Optician at Feel Good Contacts
Hemianopia is characterised by the loss of half of the visual field in one or both eyes. Let's delve into the intricacies of this condition, explore its origins in stroke-related visual impairment, shedding light on its causes, symptoms and uncover effective coping strategies for navigating life with Hemianopia.
What is Hemianopia?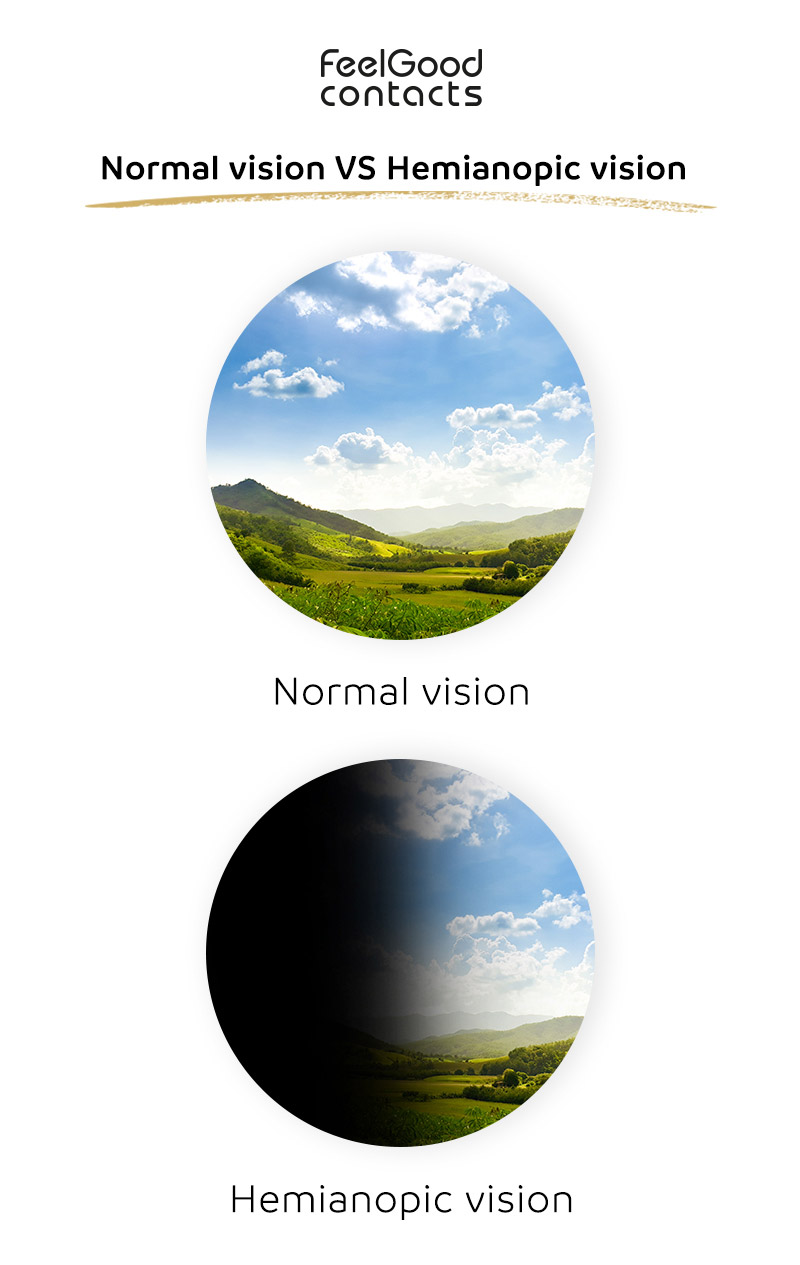 Hemianopia is a condition where half of a person's visual field is lost due to factors like stroke, brain injury or brain tumour. Despite not affecting an individual's entire visual spectrum, this condition significantly impacts daily life and self-reliance. Activities such as reading, driving or dealing with things in motion become challenging. The condition stems from neurological disruptions, be it inflammation or stroke. The former though, bears far more potential for recovery. In stroke-related cases, damage to specific brain regions can lead to Hemianopia. Although this condition may endure permanently, early detection and management can bolster people to adapt their lifestyle with the condition. By recognising and addressing the condition promptly, people can experience enhanced quality of life.
What is the cause of Hemianopia?
The primary reason for Hemianopia is often a stroke. However, any condition that impacts the brain such as tumours, inflammation or injuries can be a major contributing factor. According to research conducted by the British Journal of Ophthalmology, 70% of Hemianopia cases stem from blockage in supply of blood (stroke). Approximately, 15% occur from tumours and 5% from bleeding in the brain. Males aged 50 to 70 most likely face the highest risk due to issues in circulatory system.
What are the symptoms of Hemianopia?
If a person is unaware of the nature of Hemianopia, it may be difficult for them to recognise it because it might appear that one eye is in a functioning state instead of a complete vision loss. Hence, paying attention to each individual symptom is critical in identifying if you have this condition.
Key symptoms of Hemianopia mainly include:
Colliding with objects or overlooking things on the side of Hemianopia often jeopardises daily life activities
Inability to read the Hemianopia side of text
Inclination to drift the head or body away while walking from the Hemianopia-affected side
Misinterpretation of shapes and structures on the Hemianopia side of the eye
These signs and symptoms are crucial in determining the existence of Hemianopia and guiding proper coping strategies.
How do you diagnose Hemianopia?
Hemianopia can be diagnosed in the following ways:
A confrontation visual field test - the patient will be asked to focus on a target in front of them while observing lights flashing above, below, to the left and to the right of the target, creating a graphical representation of their peripheral vision.
Magnetic resonance imaging (MRI) - can help determine the magnitude, location of the brain injury and obtain a suitable therapy to restore brain function as well as an individual's visual abilities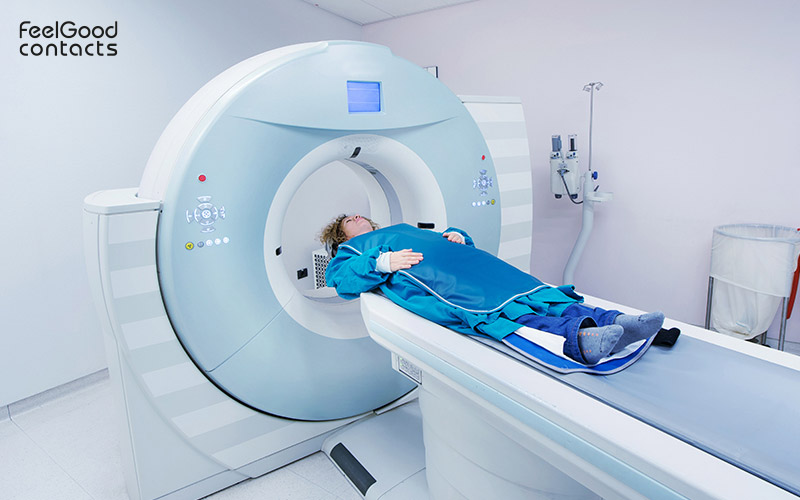 How do you deal with Hemianopia?
Coping with Hemianopia entails practical approach to enhance quality of life. Visual aids, such as prism glasses, can expand the visual field, allowing individuals to see their surroundings better. Modifying environments to reduce hazards and employing adaptive techniques further contribute to independence and safety. Enrolling in visual rehabilitation programs and occupational therapy empowers individuals to regain confidence and navigate life effectively. Here are a few ways to cope with Hemianopia:
Train for expanded eye movements covering each word within the visual field before reading
Focus on intact visual field when moving; swivel head to mentally take in the surroundings
Make larger eye movements to search blind field; have a partner guide walk
Choose appropriate seating in cinemas
Embrace a healthy lifestyle by abstaining from smoking and alcohol
Manage conditions increasing stroke risk, such as hypertension, stress and diabetes.
How is Hemianopia treated?
Treatment for Hemianopia doesn't involve medication or surgery. It mainly focuses on visual rehabilitation programmes through experts such as:
Driving specialists are responsible for restoring people's capability to drive safe
Certified Occupational therapists help in tracking, scanning, balance and better coordination
Therapy improves quality of life and functional performance, helping individuals manage visual symptoms effectively.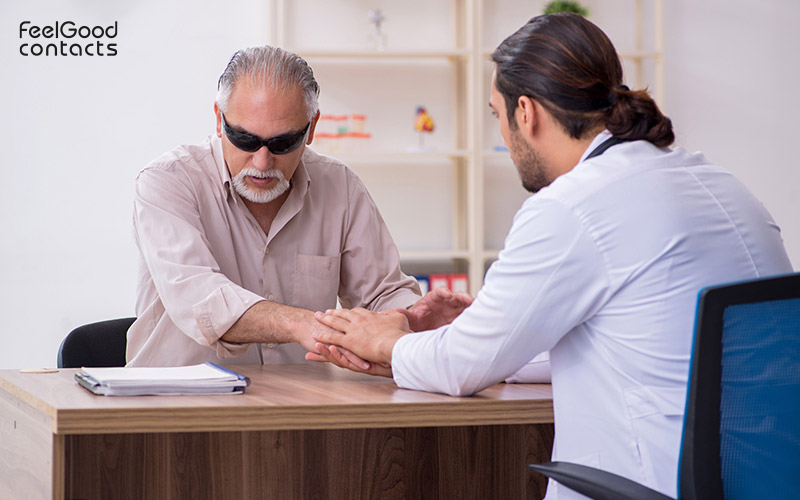 In cases of brain injury, surgery or medical intervention for inflammation or brain tumour can help in improving visual problems.
Optical aids such as Hemianopic Prisms are special transparent plastic sheet-like object customised to fit your glasses. Training with prisms, expands field of vision and helps in progressing with aid in daily life activities such as sitting, walking, driving and so on.
Living with Hemianopia
There are ample of support groups and online resources that offer insights into engaging activities like reading, driving and navigation. These platforms also provide mental support and encouragement from individuals facing similar challenges. Addressing mental health symptoms and conditions linked to brain injuries is important for maintaining a positive outlook and motivation for recovery.
Here are a few ways in which one can strive and thrive dealing with Hemianopia:
Inform family, friends, and healthcare providers about your visual impairment, so that they place objects within your visibility and position themselves accordingly during conversations
Acknowledging the emotional challenges of visual impairment, tap into local and national services like NHS, Henshaws and RNIB for discussions about feelings and experiences
Obtain a "Certificate of Visual Impairment" and register as "Sight impaired" or "Severely sight impaired" through a certified Ophthalmologist if you are suffering from this condition
Driving standards mandate a horizontal visual field of 120 degrees, with at least 50 degrees on both sides. As most Hemianopia sufferers can't meet the criteria, it's generally unsafe to drive. Drivers unable to meet vision standards must refrain from driving and notify the DVLA
Research and Future Outlook
Research indicates that merely 17-19% of Homonymous Hemianopia patients regain vision within a month of the occurrence, with decreasing chances over the time. Bitemporal Hemianopia from pituitary tumours can yield visual field improvements (79-95%) after resection. Yet, recovery extent highly depends on preoperative and operative factors.
Recovery and prospects for Hemianopia differ for everyone, depending upon the time span between a stroke and diagnosis, the extent of brain injury and its location. In certain instances, Hemianopia can show significant improvement. The UK's National Health Service (NHS) cites that about half of those with visual field loss might witness great improvement. It generally happens within 3–6 months post-stroke. Progress can be tracked through visual field tests conducted by an ophthalmologist.
Hemianopia is a unique visual impairment that requires attention and thorough understanding. By understanding its causes, recognising its symptoms and adopting effective coping strategies, individuals affected by Hemianopia can lead fulfilling lives. Early intervention and professional guidance are paramount, ensuring that individuals receive the care they need to overcome challenges. If you or someone you know experiences symptoms related to Hemianopia, seek an expert advice for accurate assessment and personalised support on this journey.