Eye Emergencies: Understanding and managing ocular trauma
Medically reviewed by Tina Patel, Contact Lens Optician at Feel Good Contacts on 31 July 2023.
Eye emergencies are very common, and they can be caused by a number of situational factors which result in significant damage to a person's eye health. Ocular trauma is the term given to describe any eye damage that might be sustained during an eye emergency.
So, understanding ocular trauma (type, severity and causes) endured during and after an incident is important for the patient to receive the best chances of recovery.
While sometimes the problem is treatable, more than 1.6 million people worldwide suffer from permanent vision loss due to ocular trauma. As such, it is important to seek the help of a medical professional as soon as the injury is sustained, or when you suspect considerable damage is possible.
What is ocular trauma?
Ocular trauma refers to any injury that causes damage to the eye, usually characterised as an eye emergency. Injuries may be sustained by mechanical trauma (blunt or penetrating impact), exposure to chemicals or radiation (ultraviolet as well as ionising).
Also referred to simply as 'eye trauma', ocular trauma events can lead to a number of eye complications such as cataracts and glaucoma, which cause vision impairment. Ocular trauma is largely under-recognised as a significant cause of vision loss in the developing world.
Recognising eye emergencies
If you notice a problem in your eye, it is important to deal with it as quickly as possible as it could be a sign of an eye trauma that will result in serious damage to your eyes. There are lots of reasons why you could be experiencing eye pain, so it's important to understand the risks to be able to identify the severity of the condition. Some eye trauma symptoms can be subtle at first and get progressively worse until permanent damage is a real possibility.
Common eye trauma symptoms to look out for:
1. Corneal abrasions
A corneal abrasion is a scratch on the very thin clear layer at the front of the eye, known as the cornea. Corneal abrasions are commonly caused by impacts to the face (being hit in the face or falling over), sports related injuries, scratching your eye, or by abrasion from foreign objects such as dust and sand. Rough insertion and removal of contact lenses can exacerbate the risks.
2. Foreign body injuries
Foreign body injuries can happen in a wide breadth of severity, depending on the object and the penetration depth. The further the object penetrates the eye, the more severe the injury and the more difficult it is to treat.
Sometimes, a large penetrating foreign body may penetrate the eyelid as well as the eyeball, leading to eye trauma complications. Smaller foreign bodies such as dust and sand from the environment can also cause damage to the front sections of the eye, including scratches to the cornea which can result in infection as well as vision loss if left untreated. The deeper the particle penetrates the cornea, the higher the chance of infection.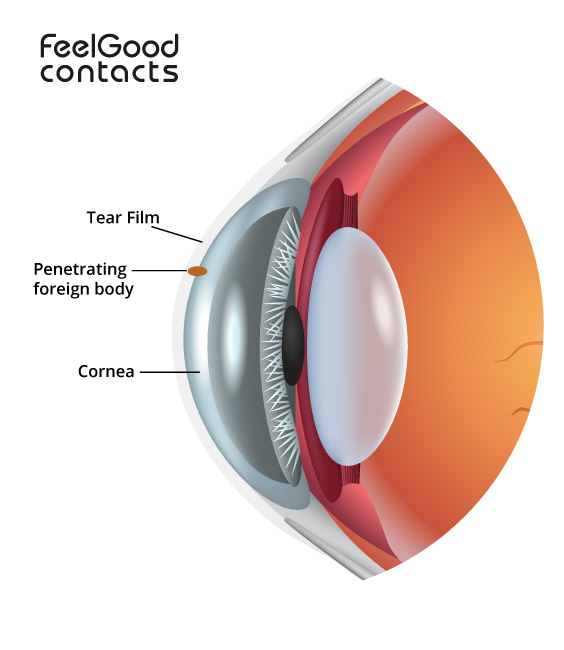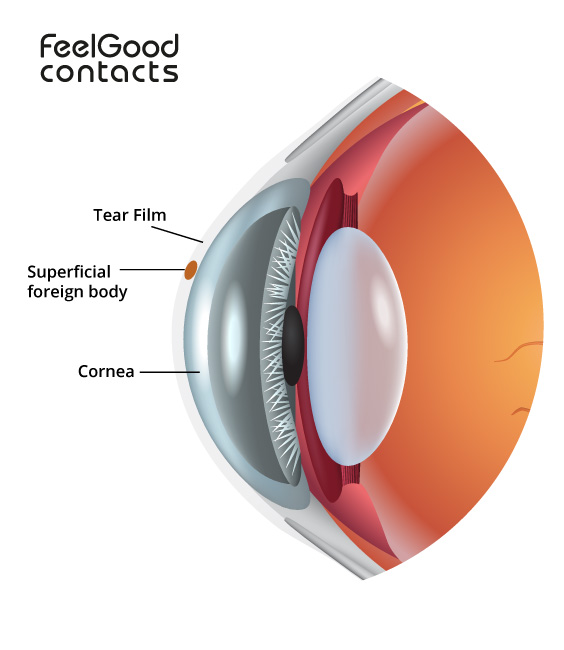 3. Chemical burns
Exposure to harsh chemicals in any part of the eye or eyelid may cause a burning sensation that can indicate an injury. Even if there is only minor discomfort, every chemical burn to the eye should be taken seriously as the damage can be life-altering and permanent.
The severity of the burn will depend on the substance and the length of exposure time with that substance. Any immediate steps following exposure will impact the success of recovery. Damage is usually limited to the cornea, conjunctiva and the internal eye structures. The most severe cases of ocular trauma occur when the injury penetrates deeper into the eye, often resulting in cataracts and glaucoma.
If you see the below chemical warning symbols on any substances you are using, be very careful to avoid contact with your skin and eyes. In the case of contact, emergency first aid will be necessary.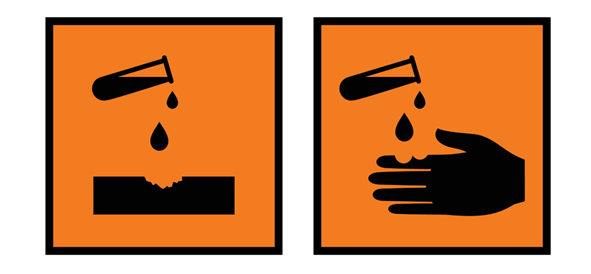 Retinal detachment
Retinal detachment occurs when the thin layer at the back of the eye becomes loose and peels away. This thin layer of the eye acts as a receptor for the optical nerve and plays an important role in making vision possible. Retinopathy describes any retinal damage, including a torn retina or a detached retina, both of which result in severe vision deterioration.
Signs of retinal detachment include:
Short bursts of light flashes (visual)
Blurry and distorted vision
A single large floater appearing in your vision
A sudden increase in floaters
Reduced peripheral vision (sensation of a curtain veil)
Open globe injury
An open globe injury is characterised by full-thickness defects of the eye wall. It can create a deflated appearance in the eye. Some signs that the injury is an open globe injury include:
Penetrating lid injury
Bullous subconjunctival haemorrhage (benign bleeding in the white of the eye)
Shallow anterior chamber (distance between iris and cornea is smaller than usual)
Hyphema (blood in the anterior chamber)
Peaked pupil
Iridodialysis (iris disinsertion)
Lens dislocation
Vitreous haemorrhage (also an indication of vitreous haemorrhage or retinal detachment)
Retrobulbar haemorrhage (RBH)
Retrobulbar haemorrhage (RBH) occurs when blood accumulates in the retrobulbar (behind the eye). This rare emergency eye condition progresses rapidly and is sight-threatening. Untreated, where this condition causes stretching of the optic nerve, blood passages in the eye may become blocked.
First aid and immediate response
A shock from sustained eye trauma can make it difficult to react in a proactive, helpful way. However, if you can, there are always certain steps to take as an immediate response to ocular trauma.
Depending on how the injury has been sustained, there are different methods of assessing the damage. For example, when an injury due to chemical exposure occurs it is important to rinse the affected eye thoroughly as a first port of call and you should seek medical advice as soon as possible.
In the first instance, basic first aid for eye emergencies includes:
Eye irrigation – Eye irrigation is an essential method of treating chemical contamination in the eye. The procedure involves flushing the eye with saline or water at room temperature and aims to remove/dilute contamination from the eye. This will help to limit long-term eye trauma complications. When chemical burns occur, eye irrigation should not be delayed.
Use an eye cover – If your eye is sensitive to light, a loose eye covering might help to ease discomfort before seeing a doctor. Similarly, if you have an open wound, an eye cover may help to protect your eye from further contaminants in transit to the hospital.
Diagnosis and treatment
When considerable damage has been sustained by the eye, emergency response is sometimes needed. A medical professional who specialises in eye health will be able to assess the severity of any ocular trauma suffered by a patient. They are able to run specific tests that demonstrate the level of eye function that remains.
These tests are very similar to a standard eye exam to test whether you need glasses, which includes:
Visual acuity test
Astigmatism test
Near vision test
Colour vision test
Post-ocular trauma tests will include eye health checks using:
Slit-lamp examinations – Uses a slit lamp biomicroscope to measure for underlying eye problems such as macular degeneration
Imaging studies - Using photography and computer imaging technology to examine eye anatomy
Depending on the severity of the eye injury diagnosis, as well as whether it is chemically-induced or impact-related, eye injury treatment will vary. The treatment needs to be specific to the patient and their individual case of ocular trauma.
A medical professional will be able to decide the best course of action for eye injury treatment and ocular trauma management, so it is essential that you seek out expert help as soon as possible. Some of the solutions may require immediate surgery, medication or simple lifestyle changes to help manage the symptoms and risks associated with ocular injury.
Medication
In cases where there is a risk of infection, medication may be necessary immediately. When a patient has sustained a violent foreign body ocular trauma or a long-term foreign body ocular trauma, open wounds expose the inner eye layers to infection.
Antibiotics may be prescribed or they can be administered via an intravenous catheter if necessary.
Surgery
If the impact of a foreign body eye injury has been great enough, surgery may be necessary for removal or tissue repair. Under local or general anaesthetic, surgery may be necessary to remove a large foreign object that has pierced the eyeball. Sutures are sometimes needed to repair tissue and surrounding skin.
Specialised intervention
For relatively easily-cured instances of ocular trauma, lifestyle alterations may be suggested by a healthcare professional or optician. During the recovery period, it may be necessary to wear an eye patch to protect and heal the eye from chemical exposure. Prevention strategies may also be recommended to help with occupational hazards that may lead to future ocular injuries. These can include changes to contact lens wearing modality.
In severe cases, where eyes have been damaged too badly to function, patients may be given a cosmetic solution such as a glass eye to help with the physical appearance of the injury.
Prevention and safety measures
Ocular trauma should be avoided at all costs. Although, it may seem unavoidable once it has occurred, there are some precautions you can take before engaging in activities that introduce risk. Some suggestions for eye trauma prevention during activities include:
Sports
There are specialised eyewear options depending on the sport. Cyclists and skiers often opt for wrap-style sunglasses to help protect their eyes from the sun. This will help to avoid a crash situation that might result in ocular trauma.
Conversely, for contact sports like rugby and boxing or team sports like football and basketball, glasses are not advised due to the risk of impact on the head or eyes. Instead, a pair of prescription contact lenses are recommended for those who experience myopia, hyperopia, presbyopia or astigmatism in order to avoid collisions on the pitch/court.
Contact lenses are available in a range of prescriptions and modalities. For first time contact lens wearers, we recommend booking an eye tests and contact lens fitting appointment with a qualified optician. Once you have a prescription and approval from your eye care professional, try our affordable range of excellent quality contact lenses which come in daily and monthly wearing modalities.
comfi Daily Disposable daily lenses
Premium quality daily lenses for less, switch to comfi Daily Disposable lenses for hassle-free every day.
For an upgrade, why not try our silicone hydrogel version which offers greater comfort and a more premium experience?
By reducing the likelihood of a powerful impact during sports, the risk of an impact-related ocular trauma can be reduced.
Work
During work, depending on your occupation the risks will be different. Those who work around harsh or hazardous chemicals, perhaps for cleaning or for industrial purposes, should use appropriate protection when doing so.
Protective equipment includes disposable safety gloves and frequent rinsing of hands after use of chemicals to avoid contamination when touching the eyes. They may also use a pair of safety goggles, which are easy to find on the market inexpensively and should usually be provided by your employer if handling chemicals is a requirement of the employment.
Recreational activities
Most simple recreational activities come with some risk to the eyes. But like many simple problems, there are simple solutions.
For example, hikers should invest in a good pair of UV400 protection sunglasses. Polarised lenses offer advanced protection against glare, whereas a wrap-around style pair of glasses or sunglasses will also help to protect eyes against environmental foreign objects such as pollen and debris.
Those who wish to avoid the necessary steps to address ocular trauma with emergency eye care, must familiarise themselves with the risks. Hopefully, the information provided here will help with ocular trauma prevention and to react to ocular trauma when it occurs.
First aid for eye injuries can certainly help in managing ocular trauma and potentially prevent eye trauma complications from developing. However, only a medical professional who specialises in eyes can provide the best urgent care for eye emergencies. Understanding ocular trauma is the first step, but when you encounter it, you must seek help from the appropriate specialist.