Blackout comfi Colors Crazy 1 Day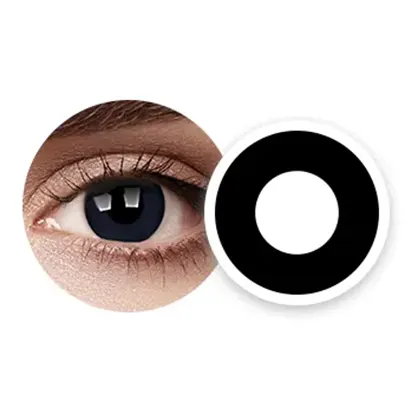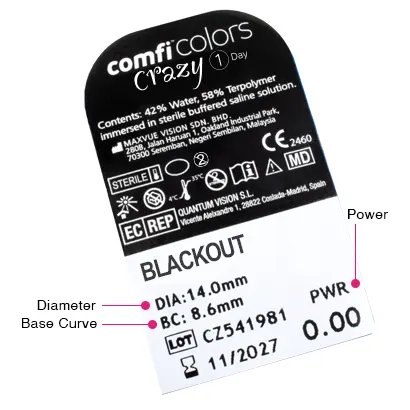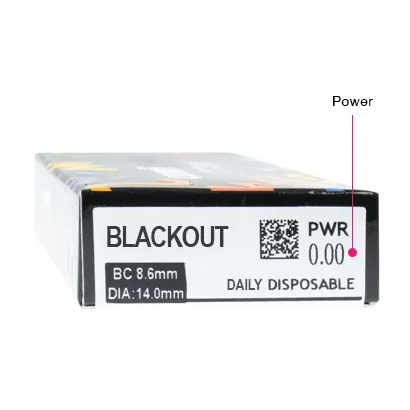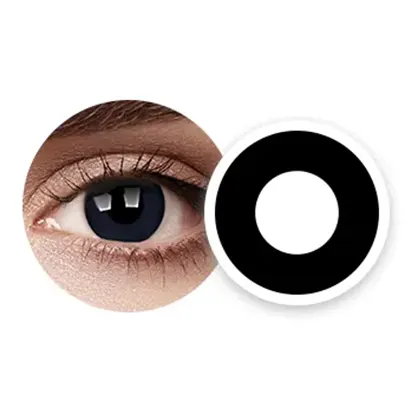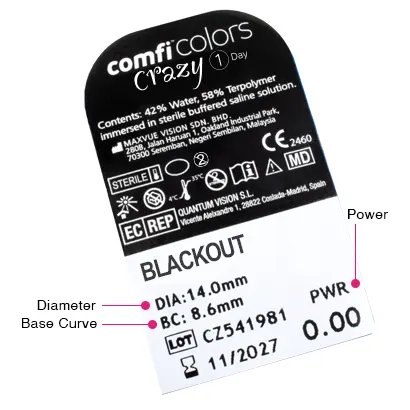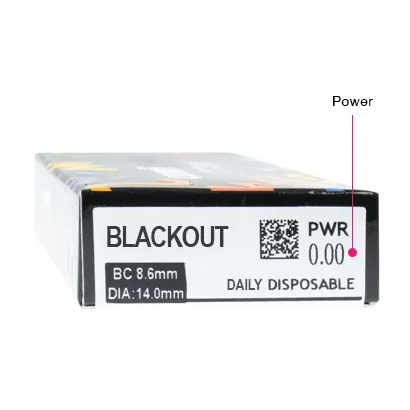 Blackout comfi Colors Crazy 1 Day Benefits and Features
Can be worn for up to 12 hours
Available in range of 20 designs
Throw away after one use
Hassle-free and convenient
Recommended For
All eye colours
Demonic looks
Halloween, theme parties and fancy-dress parties
Alternative to Blackout comfi Colors Crazy 1 Day
Product Description
Complete your vampire, demon or mysterious creature of the night look with our Blackout comfi Colors Crazy 1 Day contact lenses. These pitch-black contact lenses will shadow your eyes with complete darkness, casting an enchanting spell on everyone. The black contact lenses are designed to give your iris a black appearance, to create a scary and intimidating look.
Looking for some Halloween inspo? Pair these lenses with a classic witch's hat, long flowing robes and a broomstick to turn into the perfect wicked witch.
Blackout comfi Colors Crazy lenses are designed to be worn for up to 12 hours. These blackout lenses are all you need to give your eyes the ultimate spooky edge this Halloween.
Bloodshot comfi Colors Crazy 1 Day Parameters
| | |
| --- | --- |
| Manufacturer | comfi |
| Brand | comfi |
| Wearing type | Daily Contact Lenses |
| Power range | 0.00 |
| Base curve(s) | 8.6mm |
| Diameter(s) | 14.0mm |
| Lens material | Hydrogel Terpolymer |
| Water content | 42% |
| Oxygen permeability | 20 Dk/t |
| Pack size | 2 Pack |
Further Optical Advice
Will Blackout comfi Colors Crazy contact lenses suit all eye colours?
Yes, these blackout coloured lenses are designed to suit all eye colours.
Will the dark colour of the Blackout contact lenses impact the visibility?
You will still be able to see through the lenses and they will not interfere with your vision. However, if you require a prescription-powered lens, these lenses will not be suitable for you as they offer zero power. You can instead browse a range of prescription coloured contact lenses at Feel Good Contacts.
What else should I know about comfi Colors Crazy lenses?
As always, you should check with your optician before purchasing new non-prescribed lenses.
We do not recommend driving in comfi Colors Crazy lenses as the design may cover parts of your pupil and affect your vision.
In Stock
Estimated Delivery
Tomorrow