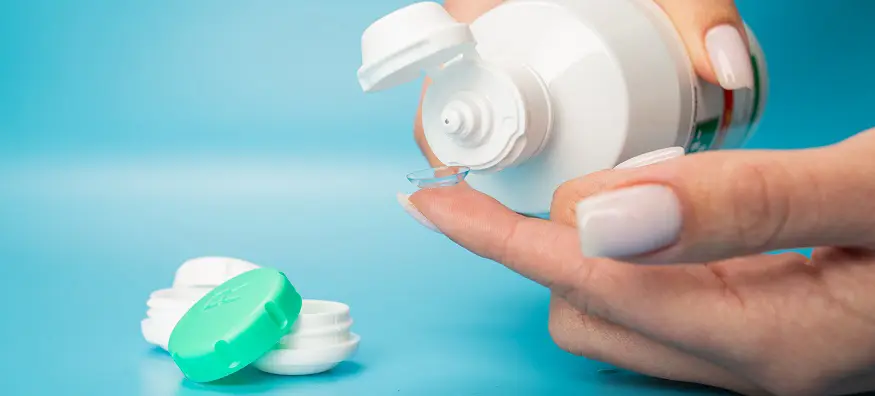 Contact lenses are an easy and convenient way to correct your vision. Contact lenses are medical devices and should be treated with care. Looking after your lenses properly will reduce your risk of developing eye infections. Despite various horror stories about contact lenses in the news, the chance of getting an infection while wearing them is still incredibly low.

They can also be caused by not efficiently cleaning, storing and disinfecting lenses properly, or wearing lenses whilst in water and failing to remove them. Most people will never have any issues with infections whilst wearing contact lenses and aren't any more or less likely to get an infection as someone that doesn't wear lenses. A simple daily cleaning routine and common sense will prevent any issues whilst wearing contact lenses. Listed below are some of the most commonly asked questions about contact lens hygiene.
These are some of the most commonly asked questions that our team of opticians are asked.
Why do my contacts get blurry?
Lipids and debris from your tears can build up on your lenses throughout the day, causing your vision to go blurry, but dryness can also be a cause. To see if dryness is the cause, blink a few times, if your vision improves then you should correct the dryness by using some re-wetting drops. Try Blink-N-Clean eye drops to re-hydrate eyes on the go. If this doesn't work, your sight may have worsened over time, if so, visit your optician for an updated prescription. You should also visit your eye doctor if your vision is still blurry when you remove your contacts, as this could be a symptom of a more serious eye problem. If you wear two-weekly or monthly lenses, you should ensure that you clean and disinfect your lenses each day to eliminate the build-up of dirt and deposits.



How long can you wear contact lenses in a day?
For most two-weekly and monthly lenses, you shouldn't wear them beyond 12-14 hours a day, depending on the lens type. You can wear extended wear contacts for longer but they must be prescribed by and worn under the supervision of your optician.
How many hours can you wear daily contacts?
For good quality daily disposable contact lenses, you can wear them for up to 16 hours with an average of 12 hours. Some people may only be able to wear their lenses for 8 hours, it will depend on the sensitivity of their eyes and how dry they get over the course of the day.

You should never wear your daily disposable lenses for longer than what is recommended by the manufacturer or your optician. A single-use lens is not designed to be worn for more than one day. The lens will not be able to withstand build-up of bacteria like a two-weekly or a monthly lens. If you try to clean this lens in solution to be used for another day, the cleaning will be ineffective, it will cause the lens to deteriorate, putting your eyes at serious risk of infection.
How do you clean your contact lens?
Wash your hands and make sure they are dry. Place the lens in the palm of your hand, apply a few drops of disinfecting solution and use your finger to rub the lens gently. Rubbing and rinsing is the most effective way to clean your lens. Do not use your nails, this can tear the lens and transfer bacteria. Rinse the lens with fresh solution and then transfer to your lens case. Be sure to fill your case with fresh solution with every use.

Below we list some of our top tips for looking after your lens in a hygienic way.
How do you take care of contact lenses?
Follow good hand hygiene
Before inserting or removing your contact lenses, you should wash your hands with mild soap and clean water each and every time you handle them, then dry your hands with a lint free towel/tissue paper.

If the seal of your contact lens blister is already broken before you open it, do not use the lens as it will not be sterile.

You can read our full guide on how to properly insert and remove your contact lenses.
Only wear your lenses for the wearing time suggested
The wearing cycle for each lens will be fully stated on the packaging. Most hydrogel daily contact lenses can be worn between 10-12 hours a day, with some silicone hydrogel lenses such as Dailies Total 1 suitable for wear for up to 16 hours. If you fall asleep in your lenses, avoid trying to remove them immediately. Give your eyes a few moments to create tears and drink some water to re-hydrate yourself.

Those who wear weekly contact lenses or monthly contact lenses should wear them for their respective wearing cycles, remembering to clean, disinfect and store them every evening during that time with fresh solution.

If you wear extended wear lenses, you should only wear them for the duration stated on the packaging or suggested by your optician. Regardless of which lenses you wear, if you experience discomfort, redness, itchiness or irritation at any point, it's advised you remove your lenses and seek the advice of an optician.



Use the correct solution when storing lenses
If you wear a two weekly or monthly lens, you'll need to clean and store your lenses every day, so it is important that you use the correct solutions to clean your lens.

The most convenient and hassle-free form of contact lens solution is multi-purpose solution. These all-in-one formulas will clean, rinse, disinfect and store your lenses overnight, without you having to purchase multiple products. We stock a wide variety of contact lens solutions, including our value for money comfi All-in-One Solution, which comes in a one-month supply, three-month supply and handy travel pack.

An alternative to a multi-purpose solution is to use both a peroxide solution for disinfecting and storing, and ideally a saline solution for rinsing. Using saline to rinse your lenses before inserting them will reduce irritation.

If you wear rigid gas permeable lenses, you should use solution that is specially made for these lenses, as most solutions are made for soft hydrogel lenses. Boston Simplus and Total Care are the two main brands for those who wear rigid gas permeable lenses.
Replace your contact lens case
Your contact lenses should be stored in a clean contact lens case, and you should replace your case at least every 3 months, ideally every 30 days. Most manufacturers include a contact lens case with their solution, or you can purchase our very own Feel Good Contact Lens Case, so there's no excuse not to change the case regularly.

Most eye infections are minor and can be treated with mild eye drops or anti-biotics. More severe conditions such as Acanthamoeba Keratitis (although incredibly rare) need more intensive treatment and can cause permanent eye damage.

Prevention is always better than a cure and following basic hand hygiene will ensure that your eyes have no troubles when wearing contact lenses.