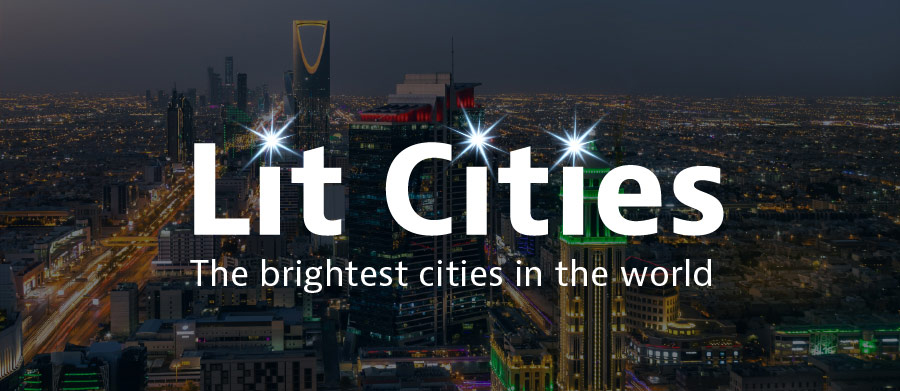 From New York's Times Square to London's office lights, some cities are famous for being lit.

Increasingly, more cities over the world are installing LED and artificial lights to advance technologically and reduce energy consumption.

Although revolutionary in some cities, research shows that the growing prevalence of LED lights could be seriously impacting our vision.

Feel Good Contacts analysed the average number of daylight hours, light pollution levels, artificial brightness levels, and the number of Instagram posts showcasing the city's lights, revealing the world's brightest cities.
The brightest cities in the world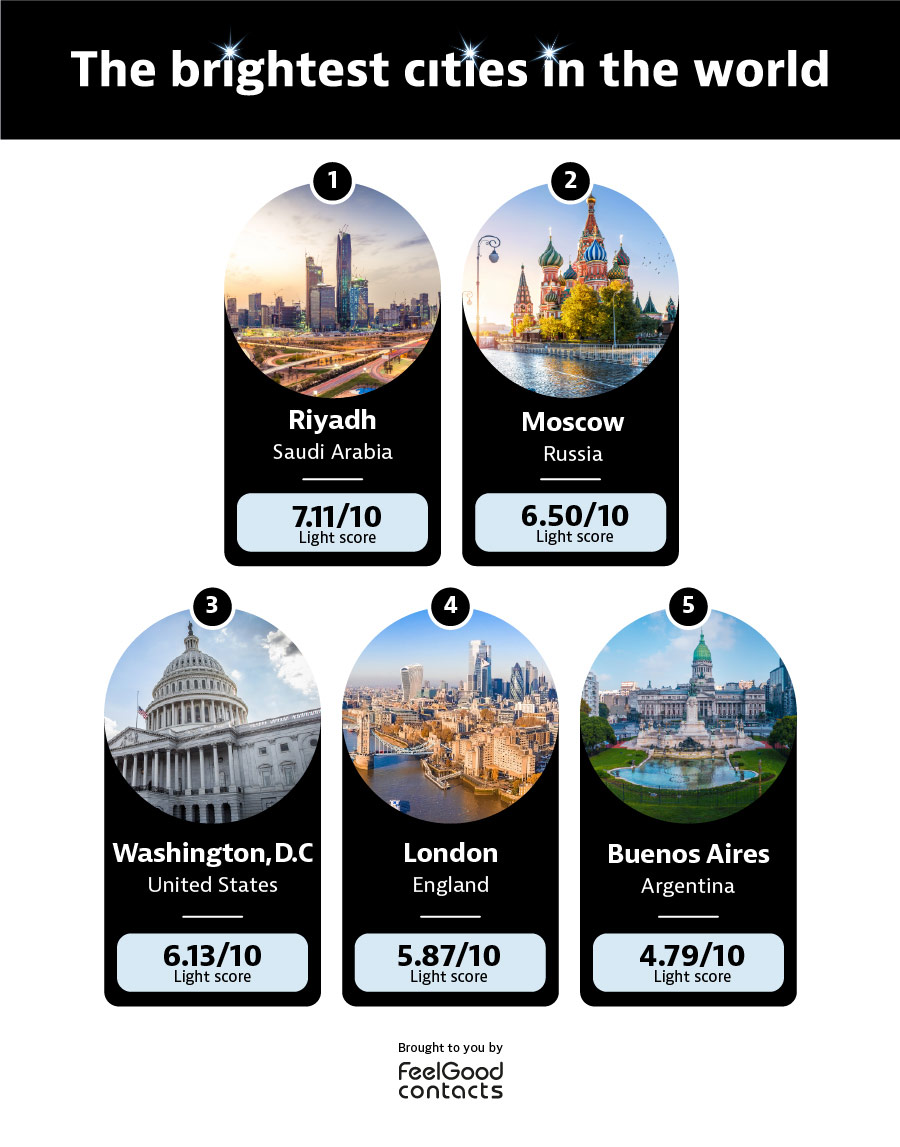 1. Riyadh, Saudi Arabia

The brightest city in the world is Riyadh in Saudi Arabia. The country's brightest and most populated city is located in the middle of the An Nafud desert - an open sandy plane covering 103,600km².

The Middle Eastern city faces long, hot and bright summers, contrasting the short winter season. Averaging over eight hours of sunlight per day, Riyadh is naturally one of the brightest cities on the planet.

Benefitting from not only natural light, Saudi Arabia's financial hub is also illuminated by street lights, office buildings and the annual light festival Noor Riyadh. This is clearly shown in its light pollution level which is almost 19mcd/m².

2. Moscow, Russia

Famous for its Christmas lights, Russia's capital city is the second brightest in the world.

Although Moscow only gets five hours of daylight on average, the city is lit by masses of man-made light. With a light pollution level of just over 20mcd/m², it is the highest on our list in this category.

It's no surprise that this city covered in skyscrapers and known for its New Years display ranks amongst the planet's brightest. Over 11,000 posts on Instagram have the hashtag #MoscowLights, showing the success of festive light shows.

3. Washington, D.C., United States

Washington D. C, ranks in third place - averaging at almost seven hours of sunlight per day the city is naturally luminous.

At Christmas, the city lights up in an array of light shows from the Winter Walk to Zoolights at the National Zoo.

During the rest of the year, the 75,000 streetlights around D.C. keep the city bright. Washington D.C.'s light pollution level is nearly 18mcd/m², the third-highest of the world's capital cities!

4. London, England

London is an unlikely contender for the brightest city in the world, with England so often associated with gloomy skies, rain and short summers.

Despite averaging just under 4.5 hours of daylight, London is one of the world's brightest cities. What this city lacks in natural light, it makes up for in street lights and festivities.

London's light pollution level is just over 11, yet its light festivals secure its place in the world's top five brightest.

From the New Year display to festivals like Illuminature, social media just can't get enough of #LondonLights, with over 62,000 posts under the hashtag!

5. Buenos Aires, Argentina

South America's red wine and steak capital is also one of the brightest cities on the planet.

Buenos Aires gets just under seven hours of sunlight per day on average and has the fourth-highest natural light pollution level.

Although Argentina's capital city is covered in man-made lights - its light pollution level is over 12mcd/m²!

In 2019, Buenos Aires finalised its transition from old sodium lights to 100% LED street lighting. The project saw over 160,000 street lights installed across the city, in pedestrian areas, green spaces and side streets.
The darkest cities in the world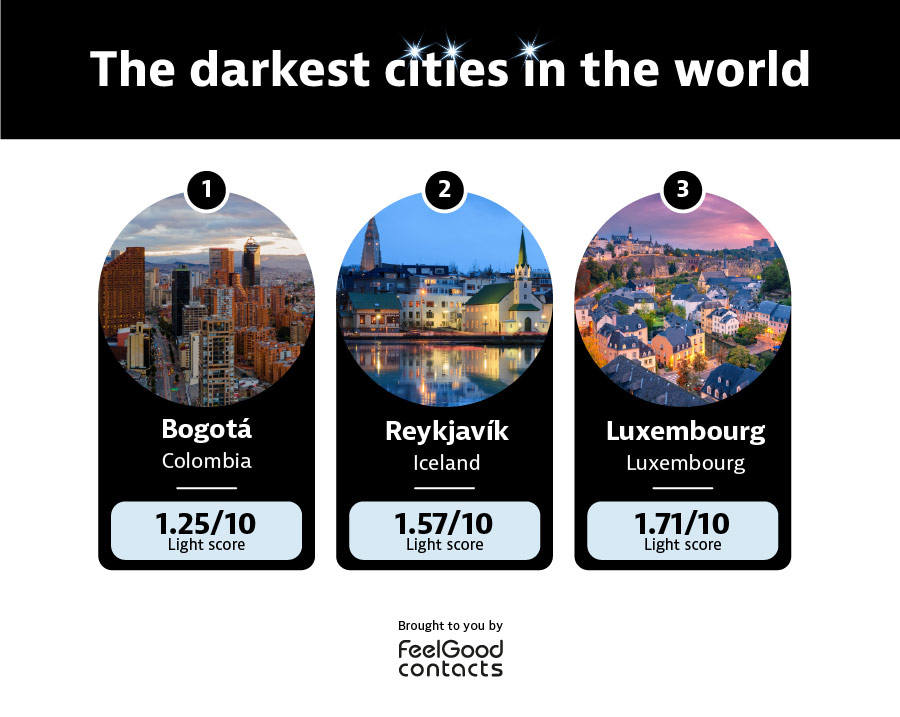 1. Bogotá, Colombia

Colombia's capital Bogotá is ranked the darkest city in the world!

However, it's not all dark across the country. Barranquilla in the north of Colombia averages seven hours of sunlight per day, while near the southern hemisphere in Bogotá the figure is just over 3.5 hours.

Botogá's light pollution level is just under 3mcd/m², placing it towards the bottom of the ranking. It also has one of the lowest levels of artificial brightness at just under 3,000μcd/m².

Despite its famous Christmas lights festival and glowing Ruta Navideña, there are only 65 Instagram posts tagged #BogotáLights.

2. Reykjavík, Iceland

It's little wonder how the second darkest city in the world is Iceland's capital, Reykjavík.

If you've heard of the famous 'midnight sun' season where days can last up to 22 hours and the sun never fully sets, you might be surprised to see Reykjavík so far down the list.

However, Iceland's long and dark winter months can mean some cities get just a few hours of sunlight in the snowy season! This gives a yearly average of under four sunlight hours per day in Reykjavik.

Iceland also has some of the lowest levels of artificial light, likely a result of its low population and natural desert landscape. Reykjavík's artificial brightness score is just over 4,000μcd/m².

3. Luxembourg, Luxembourg

Nestled between France, Germany and Belgium, Luxembourg City ranks as the third darkest capital in the world.

Luxembourg's capital gets on average just under five hours of sunlight per day - a result of short winter days. The natural brightness level is astonishingly low at 3.5, showing how little daylight falls on Luxembourg.

The street lights are also scarce - with an artificial light level of just over 3,000μcd/m² it makes Luxembourg one of the globe's darkest cities.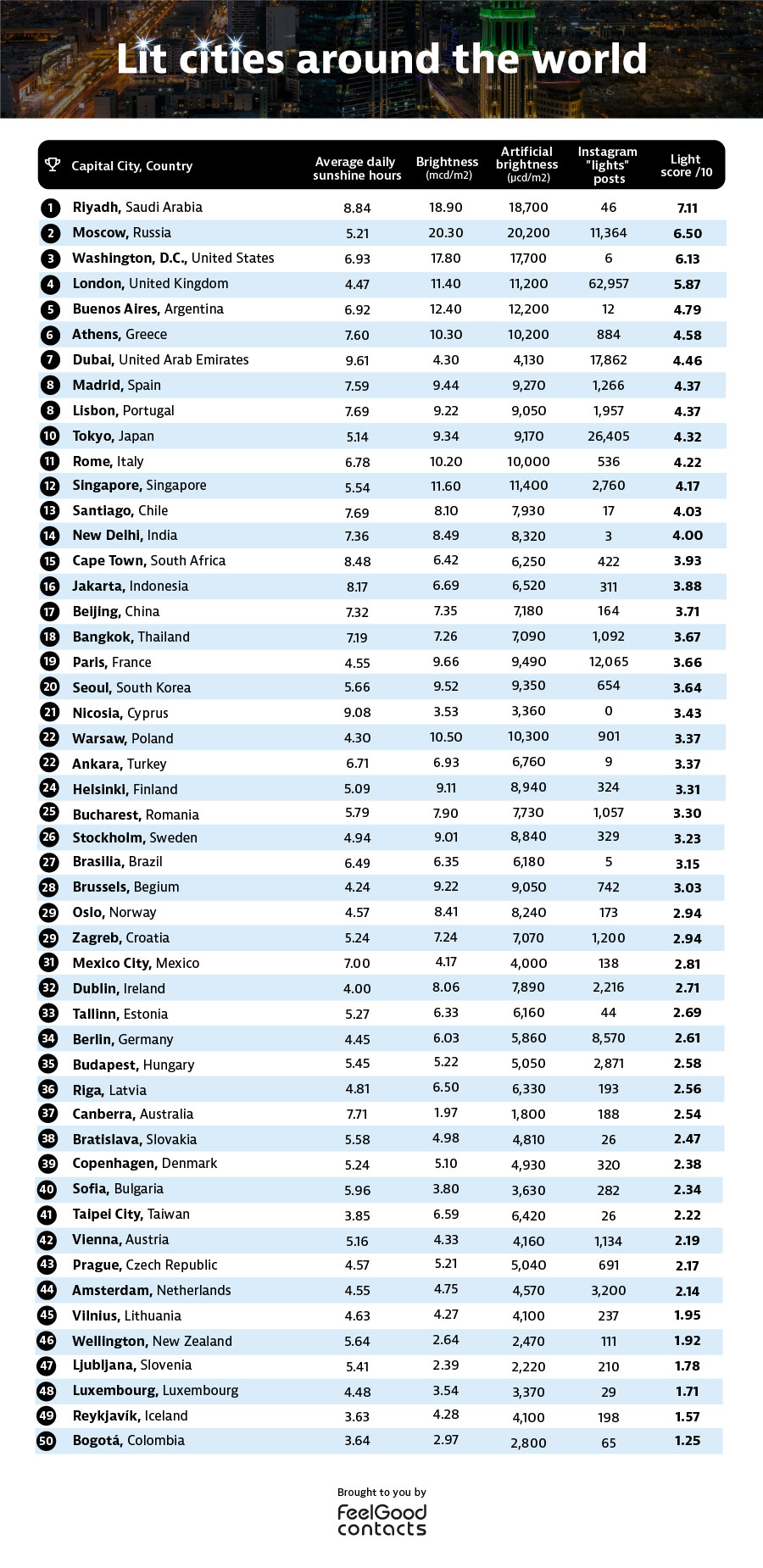 City lights around the world
The world's brightest cities are dominated by large cities with high populations - most wouldn't be surprised to see advertising hotspots like London and Dubai towards the top of our list.

However, Saudi Arabia tops the list - since it was largely an open desert until the recent growth of urban cities, it receives unmatched levels of sunlight.

All five brightest cities, except Buenos Aires, are located in the Earth's northern hemisphere which gets more hours of direct sunlight per day.

The data also shows in the countries of the darkest cities, vision loss rates are generally low. In 2020, around 4% of Iceland's and Luxembourg's populations experienced loss of vision.

In comparison, over 12% of Saudi Arabia's population faced the same fate while the figure is over 14% for Russia.

Methodology:

A list of 50 capital cities across all continents of the world was taken and Lightpolutionmap.com revealed the light pollution level and artificial brightness level of each city.

From a list of cities by sunshine duration, the annual number of sunlight hours for each city was taken and divided by 365 to reveal the average daily number of sunlight hours.

The search term '#(city)lights' was used on Instagram, and the total number of posts under each hashtag was recorded.

From the International Agency for the Prevention of Blindness' Age-std prevalence of all vision loss by country 2020, data was obtained on the rate of vision loss by country in 2020.