From its roots in Milan, Italy, Versace has captivated the fashion world since 1978. This esteemed fashion house is synonymous with extravagant creations, earning widespread admiration for its opulence and finesse.

With the brand's popularity in glasses and sunglasses markets, it is no surprise that ingenuine retailers attempt to sell fake Versace products. But fret not; we are here to help you differentiate between real and fake Versace eyewear.
How to tell if real Versace items are fake?
If you are wondering how to tell if Versace items are real, the following factors will help you distinguish genuine products from fakes.
Start with the logo check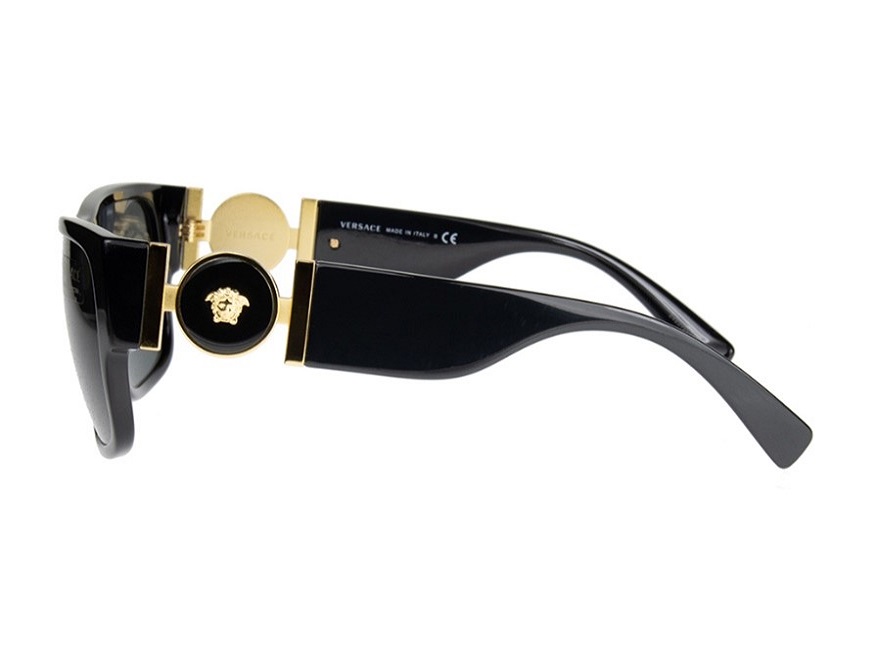 When it comes to Versace sunglasses, one of the first things to check is the logo. Look closely at the logo, which usually has the Medusa head. The logo is smoothly engraved on real Versace sunglasses and features minute details. You can compare it with the logo on the official Versace website to be sure.
Check the serial number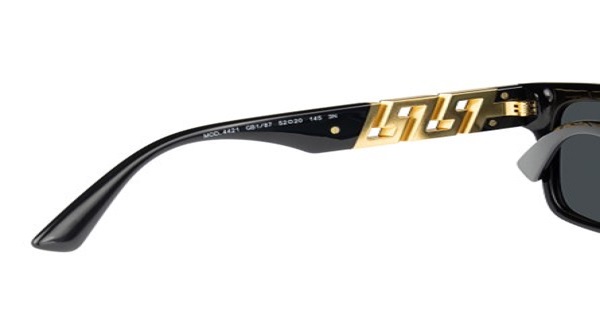 Another important check to determine the authenticity of Versace sunglasses is the presence of a serial number. Newer models of Versace sunglasses typically come with a unique serial number, which can be found on the inside of the right lens. The serial number should be clean, finely engraved, and free from any irregularities. It's worth noting, however, that older models may not have a serial number, so its absence doesn't necessarily indicate fake glasses.

For example, on authentic Versace sunglasses like the VE4421 GB1/87, brand detailing should be present on the inner side of the temples, displayed as "MOD. 4421 GB/87 52-20 145 3N". If these details are absent, poorly crafted, or different from the format we have identified, it could indicate a fake product.
Examine the temple details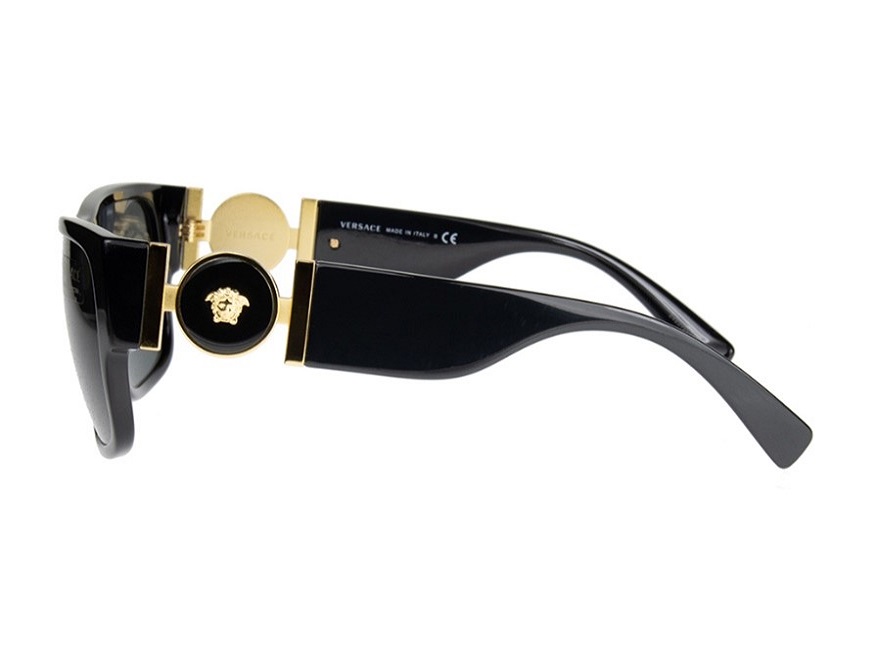 The next check involves taking a closer look at the temples of Versace sunglasses. Inspect the inside of the right temple, where you should find the words "VERSACE" followed by "MADE IN ITALY." Additionally, many newer models feature the "CE" mark, indicating compliance with EU production guidelines.
Examine the packaging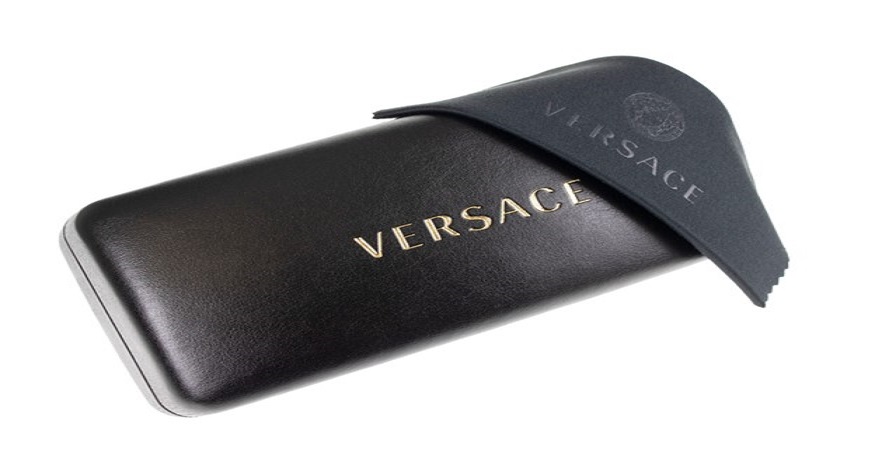 When checking if Versace sunglasses are genuine, look at the packaging. Genuine ones come in an official Versace box, and they include a sunglasses holder and a certificate of authenticity. If the sunglasses you received do not have these items, including the Versace logo and accurate manufacturer information, they might not be genuine. Fake Versace sunglasses often lack the complete packaging associated with the brand.
Assess the quality
Examine the materials of the sunglasses. Touch the plastic and metal parts. They are likely to be fake if they feel cheap, lightweight, or flimsy. However, if the materials seem to be of high quality, sturdy, and strong, they are likely genuine. Also, look closely at the quality of decorative pieces on the sunglasses. The craftsmanship of these elements can indicate whether they are authentic Versace sunglasses or knockoffs. Let us be more specific about each aspect:
Materials
You can take the frames in your hand and manually check the quality of material. The frames should feel solid, well-balanced, and durable. If they appear brittle or insubstantial, the product could be counterfeit.

For example, real Versace sunglasses, such as the Versace Medusa Charm VE2199 1002/81 and the Versace VE4421 GB1/87, are crafted from high-quality materials like acetate. If we talk about the difference between acetate and plastic eyeglass frames, acetate frames are hailed superior due to their lightweight and hypoallergenic qualities, providing comfort for those with sensitive skin, unlike certain plastic frames.
Lenses
Examining the lenses is another crucial step. Authentic Versace lenses are durable and resistant to scratching. Furthermore, the wide range of Versace glasses and sunglasses not only exemplify elegance and refinement but also prioritize optimal eye safety. These authentic products offer 100% UVA and UVB protection, ensuring the wearer's ocular well-being. Therefore, any absence of these protective features in Versace glasses should raise concerns regarding their authenticity.
Hinges
Inspect the hinges closely. They should be robust, made of sturdy metal, and securely attached to the frames. Any signs of glue, melted plastic, or flimsy construction could indicate that the product is not an authentic Versace.
Nose pads and high nose bridge
When choosing sunglasses like the Versace Medusa Charm VE2199 1002/81, it's important to consider certain features. Models with nose pads should be transparent and of good quality. These sunglasses should fit comfortably on your face, ensuring you can wear them throughout the day. It's worth noting that not all Versace models have nose pads, so the absence of nose pads on sunglasses like the Versace VE4421 GB1/87 doesn't necessarily mean they are fake.
Spotting authentic Versace eyewear
Distinguishing between real and fake Versace glasses or sunglasses involves careful product inspection. Always check the material of the frames, the quality and markings on the lenses, the construction of the hinges, and the presence of specific Versace brand details. Remember, discrepancies or inferior quality in these aspects could indicate a fake product.

Wut Win, a distinguished Dispensing Optician within the Optical Team at Feel Good Contacts, emphasises the gravity of the escalating counterfeit eyewear market. "The trade in counterfeit glasses and sunglasses not only undermines the integrity of the optical industry, but also poses grave safety risks to consumers. The absence of essential elements such as UV protection exposes unsuspecting buyers to significant health hazards. This issue resonates beyond the economic disruption to legitimate manufacturers, casting a serious shadow over public eye health."
Where to buy authentic Versace glasses and sunglasses
We at Feel Good Contacts are proud to be an official distributor of Versace, a legendary brand that is synonymous with luxury and style. When you shop with us, you can rest assured that you are purchasing genuine Versace glasses or sunglasses and making significant savings. With discounts up to 60% off, securing your favourite pair has never been more affordable.

We have also made the selection process as user-friendly as possible. Browse our extensive range, select your preferred frame, and use our virtual try-on feature to ensure your chosen pair perfectly fits you.

Once satisfied, proceed with your purchase, and add a touch of Versace's timeless elegance to your look. Rest assured, you will not have to worry about counterfeit products when you shop with us.