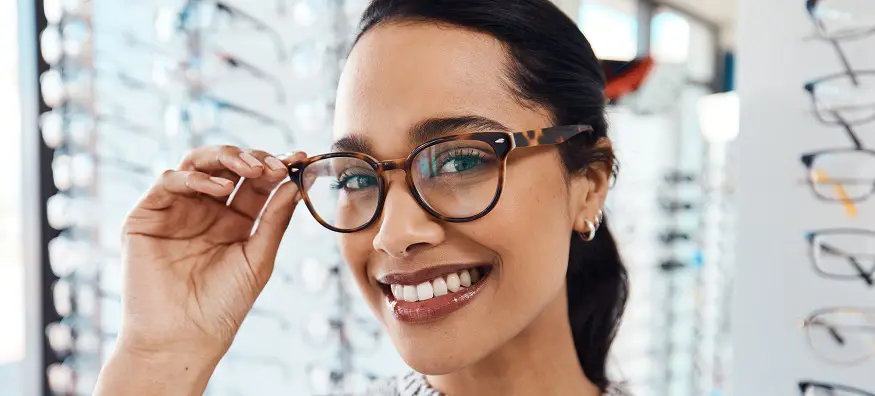 The choices are endless when shopping for an eyeglass frame. While it's nice to be spoilt for choice, choosing a pair of glasses can sometimes be a little overwhelming. When considering what material to choose, you may notice that many frames are made from acetate and wonder what the difference is between acetate and plastic.

In short, acetate, also known as cellulose acetate is made from plants. It is a nylon-based plastic that is hypoallergenic. Regular plastic is made from petroleum-based nylon pellets.

In this article, we'll uncover the pros and cons of acetate and plastic frames, explaining the differences in more detail.
What is cellulose acetate?
Acetate is also known as cellulose acetate or zylonite and is made from wood pulp and cotton. It was one of the first synthetic fibres and was developed by the scientist Paul Schützenberge in 1865. In 1940, cellulose acetate was introduced as an eyewear material after years of research.

This new innovative material earned a reputation for its durability and striking colours. It has also became known for its ability to be adjusted easily to create a custom fit. Opticians and eyewear manufacturers favoured it over plastics which they found challenging to work. This was due to brittleness and other problems.
How is cellulose acetate made?
The manufacturing process for acetate is responsible for the unique qualities that distinguish it from regular plastics.

Clear sheets of acetate are combined with organic dyes and acetone to achieve vibrant colours and exciting patterns. This creates the perfect material for an eyewear frame.

Large rollers then press the acetate, and it is cut into smaller pieces before being pressed again with other colours. This produces the sheets used for making eyewear frames.

A CNC milling machine is used to cut out a rough shape. This is then sent off to a craftsman who will finish it by hand and polish the frame.
Special features of Acetate Frames
Acetate frames are special for multiple reasons—one being that they feature colours and patterns which are embedded entirely throughout the frames. The manufacturing process means that the desired look can be achieved without using paints.

By layering acetate to combine many layers, various opacities and patterns can be achieved for a depth and richness. These aesthetics make them a more desirable option than regular plastic frames.
Which is better, acetate or plastic frames?
Acetate frames are lightweight and often considered better and higher quality than plastic frames. They are known for their hypoallergenic qualities and are therefore a popular choice amongst those with sensitive skin. Unlike certain plastic frames or some metal frames, they are less likely to cause irritation.

It is possible to find plastic frames of extremely high quality. However, they are usually a less favoured choice than acetate frames due to the following reasons:
The manufacturing process makes plastic frames more brittle than acetate frames
Plastic glasses are much harder to adjust due to the absence of metal wires in the temples
Colour and pattern choices are less diverse
Nevertheless, you'll find that acetate frames are typically more expensive than regular plastic frames.
Are plastic eyeglass frames good?
Plastic eye frames are a great choice in some instances. There are some scenarios where they outperform acetate frames. For example, they are a much better option when it comes to playing sports and are also much cheaper.

TR90 Grilamid is a high-quality plastic. Like acetate, it is hypoallergenic and incredibly durable with plenty of flexibility. This makes them perfect for vigorous activities.

Plastic frames designed with athletics in mind usually include rubber nose pieces. These are present in many Oakley glasses. Oakley calls this their 'unobtanium' technology which becomes tackier when sweating and playing sports to produce a firm grip.
What kind of plastic are eyeglass frames?
Most eyeglass frames are made from cellulose acetate or propionate plastic. Plastic frames can also consist of different types of plastic, including polyamide, nylon, SPX , carbon fibre and Optyl (epoxy resin).

You can now see that there are many differences between acetate and plastic eyeglass frames. Both frames provide different functions to serve the wearer. Plastic eyeglass frames are ideal for playing sports while acetate eyeglass frames tend to win aesthetically but are also more expensive.

At Feel Good Contacts, we stock both plastic and acetate frames crafted to precision by leading eyewear designers. Shop Ray-Ban, Oakley, Gucci and more and get 10% off your first order.